For the first time this year, the Yankees have lost three consecutive games. They were the final team to do so in 2013. It's the latest into a season they've without a three-game losing streak (51 games) since … wait for it … 1955. Yeah, it's been a while. The Mets walked off with their second straight 2-1 win on Tuesday night.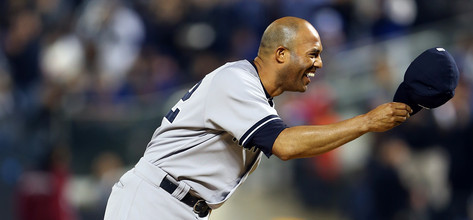 Blown
I don't get upset when Mariano Rivera blows a save and takes a loss. The other team beat the best and they deserve some credit. David Wright and Lucas Duda had solid game-tying and game-winning singles following Daniel Murphy's bloop-ish ground-rule double, so a tip of the cap to them. Mo was a perfect 18-for-18 in save chances coming into this game, and as Joe Girardi said afterwards, "you knew at some point (a blown save) would probably happen."
This was the first time in his career (!!!) that Rivera failed to retire a batter in a save opportunity. First time ever! It's the third time he's done it overall, with the other two times coming in 1995 and 2008. The Yankees had been a perfect 28-0 when leading after eight innings coming into this game. Like I said, it happens. Mo has earned a perpetual pass in my book.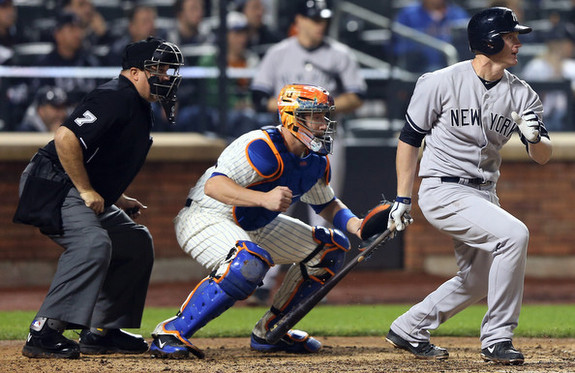 At Some Point You Have To Score More Than One Run
Eighteen innings in the series, two runs scored. The Yankees needed an outfielder miscue to score their only run for the second straight game, as Marlon Byrd misplayed Brett Gardner's leadoff single and allowed him to advance to second. Lyle Overbay plated him with a two-out single later in the inning. That was it, there's the run.
The Yankees actually had some chances against Matt Harvey, stranding runners at first and second in the third, a leadoff runner at first in the fifth, and runners on the corners in the eighth. Their offense consisted of seven singles and zero walks, and yes, I know Harvey is excellent, but this lineup sucks. Especially now that the blush is off the Vernon Wells rose and Ichiro Suzuki has to play everyday.
Gardner (Temporarily) Saves The Day, Again
This one wouldn't have left the yard, but for the second straight night, Gardner made a brilliant running catch in left-center field to rob Murphy of an extra-base hit. This one came after a real tough at-bat with no outs and a man on first in the sixth inning, so at the very least the ball would have put men on second and third with no outs had it dropped. More than likely, it would have scored the runner (Ruben Tejada) from first. To the video:
That is every bit as good as Monday's homer robbery. Maybe it won't get the same recognition because hey, robbing homers is cool, but the degree of difficulty is basically the same. Gardner had to run full bore with no time to slow down and settle under the ball. He caught the ball towards the end of his glove as he was twisting around and crashing into the wall. Pretty spectacular.
Leftovers
Ho hum, another day another stellar effort from de facto staff ace Hiroki Kuroda. The veteran right-hander limited the Mets to four singles in seven shutout innings, walking zero and striking out seven. He threw 72 of 110 pitches for strikes (65%), including first pitch strikes to 20 of 25 batters. Sixteen of his 21 outs were recorded on the infield. Kuroda deserved better.
Another gem of a game for Chris Stewart, Miracle Catcher™. He took a nice 0-for-3 with two strikeouts at the plate (willing to give him a pass because of Harvey) while committing his second passed ball in as many nights. It didn't cost them in this game. What did cost them, however, was Stewart's inability to corral Gardner's throw home on Wright's game-tying hit, allowing the go-ahead run to move into scoring position. As Girardi said after the game, that ball "has to be stopped."
I thought Reid Brignac quietly had a nice game. He went 1-for-4 at the plate and made a handful of nice, rangy plays at shortstop. Balls Derek Jeter, Eduardo Nunez, and Jayson Nix couldn't dream of getting to. Brignac also made a nice tag on a pickoff play at second to end the sixth inning — he blocked the bag and Tejada didn't get his hand on the base until well after the tag. The ump initially ruled him safe too, but then changed it up and correctly called him out. Nice little game for Brignac.
David Robertson rebounded from Monday's rough outing to throw a perfect eighth with one strikeout between Kuroda and Mo. Gardner was the only Yankee with two hits, and he hit the ball hard in all four plate appearances against Harvey. He's been playing very well on both sides of the ball of late.
Oh by the way, Mariano Rivera passed Dennis Eckersley on the all-time appearances list in this game. He has now appeared in more games than any right-hander in baseball history. Think about that.
Box Score, WPA Graph & Standings
One thing I hate about WPA is the lack of context. At the highest point, the Yankees had an 85.2% chance of winning according to the stat. That doesn't account for Rivera being historically great, however. I feel like the win expectancy, even with the little one-run game, was like 95%. Oh well. MLB.com has the box score and video highlights, FanGraphs some other stats, and ESPN the updated standings. Both the Red Sox and Orioles lost, so the Yankees remain tied atop the AL East in the loss column (percentage points behind Boston) and three up on Baltimore.

Source: FanGraphs
Up Next
Technically, this series is over and the Bombers got swept. In reality, it's just moving across town. The Yankees and Mets will play game three of this makeshift four-game series on Wednesday night at Yankee Stadium, when David Phelps gets the ball against fellow right-hander Jeremy Hefner. For last-minute deals to that one, check out RAB Tickets.