For the first time this season, the Yankees lost despite scoring first. The Orioles snapped their six-game losing streak with a tenth inning walk-off win on Wednesday night, taking the second game of the series 3-2.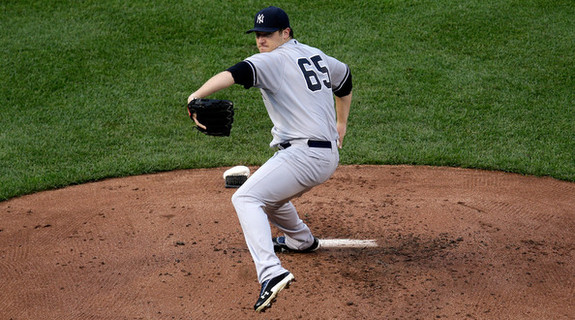 Phil Rebounds
I'd call two runs in six innings a successful rebound from last week's seven-run, two-out disaster for Phil Hughes. There was nowhere he could go but up after that nightmare, really. Tuesday's start against Baltimore featured two solo homers by former Yankee Chris Dickerson — I didn't think the decision to cut him in favor of Ichiro Suzuki would look stupid this quickly, but here we are — and five strikeouts in six innings, including 70 strikes out of 102 pitches. Of the 25 men he faced, 19 saw a first pitch strike.
For the most part, this was a typical Hughes outing. Some solo homers, some jams escaped, aggressive early in the count, stuff like that. That return to normalcy is a net positive, because it showed there wasn't something seriously wrong following that last start. No underlying injury or major mechanical flaw. Phil gave the Yankees an opportunity to win; two runs in six innings from the fourth starter is plenty good enough.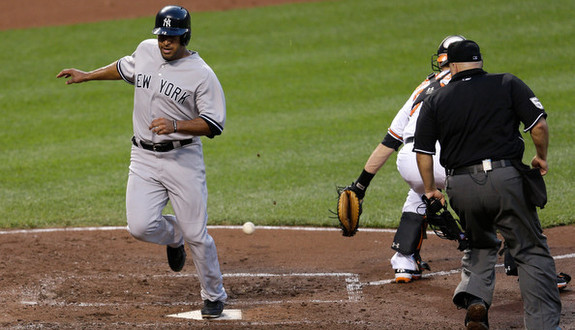 Death By Line Drive
Maybe it was just me, but it sure seemed like the Yankees hit a lot of balls right at people, no? The play-by-play says there were only four line drive outs, but that only includes the infielders. There were a few hard-hit balls right at outfielders or close enough for them to make a play. Nick Markakis did make a diving catch in the seventh that may have saved a run. If nothing else, it at least saved a first and third situation.
Anyway, the Yankees scored their two runs thanks to Travis Hafner, who plated Brett Gardner with a single in the first and Vernon Wells with a single in the fourth. Gardner was on third following a double and a fly ball, Wells was on second following a double. Both of Hafner's hits were ground balls to the right side that probably would have been scooped up for outs had the Orioles employed the shift. Instead, one snuck through and the other bounced off the second baseman's glove.
Miguel Gonzalez, as he tends to do, kept the Yankees off balance and held them to just those two runs in six innings in his first start off the DL. He dominated them last year, and this was more of the same. The Bombers didn't have a single runner make it beyond first base after Hafner drove in Wells, and 21 of the final 22 men they sent to the plate made outs. When this offense is bad, man is it ugly.
Leftovers
The bottom five hitters in the lineup went a combined 1-for-19 with four strikeouts, the one being a solid David Adams single to center. Pronk was the last line of defense in the cleanup spot. Robinson Cano took an 0-for-4 and is stuck in a 13-for-60 (.217) slump. He ain't getting no record-breaking contract like that. Oh who am I kidding, yes he is.
I don't know what it is about the first base umps and Camden Yards, but they really suck there. There was the Jerry Meals episode last year, the two blown calls on Monday, and another on Tuesday. This time first base ump Paul Scrieber incorrectly ruled Jayson Nix out on a would-be infield single. Replays showed he cleared beat the relay throw, by alas. Oh well, Yankees weren't winning if they got that call anyway.
Outside of Vidal Nuno, who needed all of three pitches to serve up the walk-off solo homer to Nate McLouth, the bullpen was pretty nasty once again. Boone Logan recorded two outs, Shawn Kelley retired the only man he faced, David Robertson struck out the side — he threw nine curveballs and got seven (!!!) swings and misses — and Preston Claiborne tossed a scoreless ninth. They gave the offense a chance to re-take the lead.
Box Score, WPA Graph & Standings
MLB.com has the box score and video highlights, FanGraphs some other stats, and ESPN the updated standings. The Red Sox lost to the White Sox again, so they remain two games back in the loss column. The O's and Rays climbed to within four back. I hate that I'm keeping track of the standings in May. I guess that's a function of lowered expectations.

Source: FanGraphs
Up Next
These same two teams will wrap up this three-game series on Wednesday night. Hiroki Kuroda gets the ball against Jason Hammel in the rubber match.