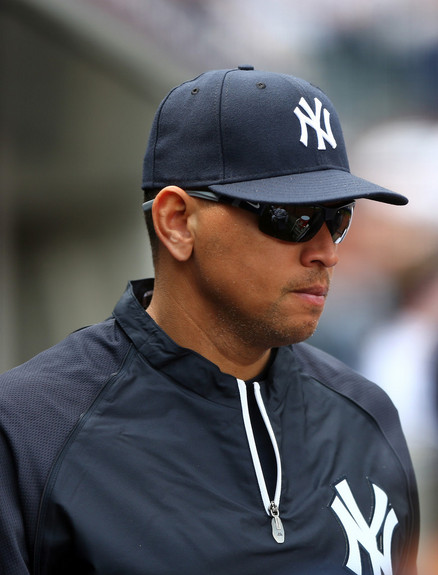 No team has been more beset by injuries this year than the Yankees. They've used the DL ten times already, the most in the big leagues. Some injuries are more serious than others, and some absences are more noticeable than others. Still, ten players on the DL one month into the season is a little extreme.
With a lineup that is averaging just four runs per game since the blowout Indians series (team 106 wRC+ overall), it's clear the offense doesn't pack as much punch as it once did. The Yankees can't hit lefties at all — .225/.300/.365 (78 wRC+) as a team — and the injuries are a major reason why. The pitching staff has been pretty awesome (4.22 runs per game, 3.64 FIP), and that's why the club owns the second best record in baseball at 17-10.
Some of those injured players are getting closer to a return, and a month gives us a good enough to look to determine which guy the Yankees have missed the most. With all due to respect to Kevin Youkilis, Ivan Nova, and Frankie Cervelli, this is limited to players who started the season on the DL and would have unquestionably made the 25-man roster if healthy. That means no Michael Pineda and Cesar Cabral, basically, and it leaves us with four prominent position players.
Curtis Granderson
The Yankees lost their top power hitter five pitches into his Grapefruit League season, when an errant J.A. Happ pitch broke Granderson's forearm and put him on the DL for more than two months. Curtis played in his first Extended Spring Training game just yesterday, getting two at-bats before it started raining. The Yankees have hit an MLB-best 38 homers this season, so they haven't been the powerless punch and judy offense so many (including me) expected. Still, losing a legitimate 40-homer hitter is a blow to any team.
Derek Jeter
October ankle surgery turned into an April setback, which will force the Cap'n to the sidelines until the All-Star break. Jeter hit .316/.362/.429 (117 wRC+) last season and that's close to impossible to replace at the shortstop position — the team's shortstops are currently hitting .214/.289/.264 (52 wRC+) —  but the Yankees especially miss his right-handed bat against lefty pitchers. He hit .364/.399/.542 (157 wRC+) against southpaws in 2012, and boy would that fit nicely atop the lineup these days.
Alex Rodriguez
The Bombers knew about A-Rod's hip injury in December, so they were able to secure a more than capable replacement in Youkilis. That said, the old and broken down version of A-Rod produced more in 2012 (.272/.353/.430, 114 wRC+) than the totally awesome and rejuvenated version of Youkilis in 2013 (.266/.347/.422, 108 wRC+). The difference is especially noticeable against lefties, where A-Rod massively outproduced his third base replacement (152 vs. -40 wRC+). Rodriguez's right-handed bat would fit perfectly into the middle of the lineup, especially against southpaws.
Mark Teixeira
Teixeira hurt his wrist in mid-May while with preparing for the World Baseball Classic with Team USA, so the Yankees didn't have much time to find a replacement. Lyle Overbay has been decent overall (98 wRC+) and much more than that against righties (.322/.375/.610, 163 wRC+), but he's also been useless against lefties (-63 wRC+). Despite his decline, Teixeira was very productive last year (.251/.332/.475, 116 wRC+), especially against lefties (.269/.333/.531, 129 wRC+). Once again, that ability to mash southpaws is something the Yankees miss in a big way right now.
* * *
Four players who, in recent years, occupied the top four spots in the lineup. All are missed in their own way, but some are definitely missed more than others.
Which injured player do the Yankees miss the most?