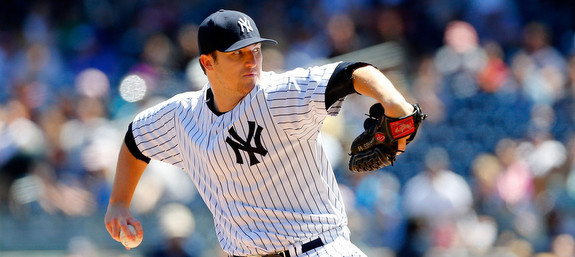 Earlier this week I took an early look at some of the Yankees' needs leading up to the trade deadline, but trades are a two-way street. Like it or not, you have to give something to get something, and this post will focus on what the Yankees have to give.
I think the easiest thing to do is to break down potential trade chips into various categories. Ranking them one through five or one through ten or whatever doesn't really work for something like this. Remember, a player's trade value is only as high as what other teams think of him. They all have their own evaluations of what a player is and will be, and rarely are they fooled by a hot month or something like that. It happens, but not often. Let's look at what New York has to peddle on the trade market.
The Impending Free Agents: Joba Chamberlain, Curtis Granderson, Phil Hughes, Boone Logan
I don't expected the Yankees to trade any of these four guys — or Robinson Cano and Hiroki Kuroda, for that matter — but it's not completely off the table. All four will hit free agency after the season and it seems like only Hughes has a realistic chance of returning for 2014 and beyond. Or at least he should be the priority re-sign given the state of the pitching staff going forward, I should say.
Hughes also has the most trade value of the bunch at this moment, especially if his last four starts are an indication of how he will pitch going forward. Granderson could change things if he returns from the DL and starts swatting homers left and right. The Yankees have exceeded expectations so far and they are right in the thick of the division race, so I wouldn't count on them selling off pieces if that remains the case in a month or two. This team doesn't trade established big leaguers at the deadline, they acquire them.
The Young MLB Arms: Ivan Nova, Vidal Nuno, David Phelps, Adam Warren
Young pitching is always a hot commodity, regardless of the time of year. The Yankees have four good but not great young arms at the big league level right now, though only one has shown he can hold up for a full season as a starter in the show. Given Nova's general awfulness since last year's All-Star break, I think Phelps might have the most trade value of the bunch despite having one fewer year of team control remaining than Nuno or Warren. The Yankees need young pitching as much as anyone, but none of these four are expected to be high-end contributors and simple attrition means one or two are likely to flame out rather soon. Keeping the right guys and moving the wrong ones is much easier said than done.
The Top Prospects: Tyler Austin, Slade Heathcott, Gary Sanchez, Mason Williams
All four of these guys were consensus top 100 prospects coming into the year, but I don't view any of them as untouchable. The Yankees have a collection of very good but not truly elite position player prospects, none of whom has more than a month of playing time above High-A to their credit. That will limit their value.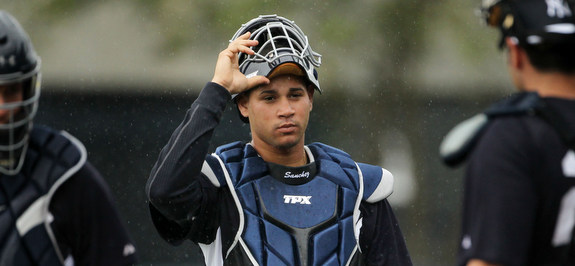 Based on the way people in the organization publicly talked about these players the last few weeks, I'm guess Heathcott is the least likely to go. He's the tooled up former first round pick, and those guys tend to get more rope than anyone else. Sanchez is probably the most indispensable since he's a catcher and the best prospect of the bunch, but he shouldn't stand in the way of a significant upgrade to the big league roster in my opinion. Aside from the Cliff Lee non-trade, the Yankees don't trade their top prospects for rentals. If they move one (or several) of these guys, it will be for someone who will stick around for a few years.
The Secondary Prospects: Jose Campos, Ramon Flores, Corban Joseph, Brett Marshall, Jose Ramirez, etc.
Any player who is a legitimate big league prospect — there are a lot fewer than most fans want to admit — but not a top prospect falls into this category. These are the guys who are missing the standout tool, who are too far down the ladder and unproven, have injury issues, stuff like that. They're unlikely to be headliners in a trade, especially for an established big leaguer, but they are second and third pieces in a package. Some are easier to part with than others, obviously.
The Impending Rule 5 Draft Guys: Heathcott, Tommy Kahnle, Bryan Mitchell, J.R. Murphy, Chase Whitley
Consider this a sub-category under Secondary Prospects. The Yankees have added something like six or seven prospects to the 40-man roster in each of the last two or three years to protect them from the Rule 5 Draft, which has created a lot of 40-man clutter. Many of them were fringy prospects who were unlikely to stick on a team's 25-man active roster all season. Rather than add to the pile this offseason, I'd like to see the Yankees decides which prospects are actually worthwhile and look to move the others. Trading them a year too soon is better than losing them on waivers a year too late. Heathcott and Murphy are locks to be added to the 40-man after the season, but the others are in that "interesting but not MLB ready" limbo. Trading them now would be preferable to carrying them on the 40-man as they continue to develop.

The Wildcards: Eduardo Nunez, Lyle Overbay, Ichiro Suzuki
Has Overbay played well enough that some team would actually be willing to give up an okay prospect for him when Mark Teixeira returns? Would the clubs who pursued Ichiro this winter — the Giants, Phillies, and White Sox as far as we know — be interested in taking him via trade? Several teams have asked about Nunez in the past, are any still interested? Those are questions I can't answer, but they are questions that could have surprisingly positive answers for the Yankees. They're going to have to move people once the injured players start to return, it would be neat if one or two of them brought something back.
* * *
The Yankees have a large volume of trade chips at their disposal leading up to the deadline, but there's no knockout player they can put on the table who would help them get pretty much anyone they want. There's no Jurickson Profar, no 2007 Joba, no 2010 Jesus Montero. The team has some obvious needs, and they might have too look a little harder than most years to find a potential trade partner given what they have to offer.