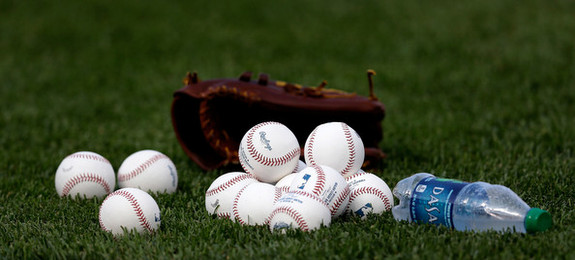 The Yankees are off today, their first scheduled off-day since before the Rockies series 16 days and 16 games ago. Yeah, they were rained out on Sunday, but they still had to show up to the park and stuff. It's not really a day off. So, as the team heads to Tampa in advance of their three-game weekend series against the Rays, here are some miscellaneous thoughts.
1. During the first 38 games of the season, the Yankees used six different outfield alignments. During the last eight games, since Curtis Granderson returned, they've used four. We all knew they would rotate their four outfielders — Brett Gardner in center has been the only real constant since Granderson returned — but I do think having a different alignment everyday can be problematic. Players are human, and no one likes showing up to work everyday not knowing their task for the day. Some continuity would be a good thing, but the Yankees aren't prepared to flat-out bench Ichiro Suzuki and his Womackian 57 wRC+. For what it's worth, Granderson told Dan Martin the constant bouncing between left and right fields was not a reason for his slow start with the bat, but I can't imagine it helped.
2. As RLYW pointed out yesterday, the Yankees are at the bottom of the league when it comes to pitches seen per plate appearance this year. They've been at or near the top for the last 15 years or so. Not coincidentally, the team also has its worst walk rate (7.5%) since 1990 (7.0%). They haven't been below a 9% walk rate since 2008, and only once in the last two decades did the team have a sub-8.5% walk rate. The league average walk rate this year is 8.4%, and sitting nearly a full percentage point below that is not Yankees baseball. With a few exceptions, they lack patience and the ability to grind out long at-bats. Replacing Nick Swisher, Mark Teixeira, Russell Martin, and Derek Jeter with Ichiro Suzuki, Lyle Overbay, Frankie Cervelli/Chris Stewart, and Replacement Level Shortstops 'R Us is a big reason why. Two of the team's middle of the order bats — Robinson Cano and Vernon Wells — aren't exactly patient either. Travis Hafner leads the team with a .386 OBP at the moment. That would have ranked third on the 2009 Yankees. The Yankees have a 93 wRC+ as a team this year — again, worst since the last place 1990 team (85 wRC+) — and that inability to work deep counts and grind out at-bats is a big reason why. Obviously injuries are a major factor here.
3. Prior to last night's beatdown, Brian Costa argued Hiroki Kuroda may be the greatest free agent signing in Yankees history. I don't necessarily disagree, but I think it's a question that will require an awful lot of research to answer. It certainly helps that Kuroda is signing one-year deals because one-year deals rarely go horribly wrong. If the player is bad, he's gone the next year. If he's good, he usually winds up a multi-year deal. Kuroda's willingness to go year-to-year makes his signing look that much more amazing. Just consider that in his two years as a starter, he's been worth 7.1 bWAR in 43 starts. Mike Mussina pulled down 7.1 bWAR in 34 starts during his first season in pinstripes alone. I love Kuroda — I was pining for the Yankees to acquire him as far back as the 2010 trade deadline — and think he could very well go down as one of the two or three best free agent pickups in team history, but that's as much a function of his willingness to take one-year deal after one-year deal as it is his great performance. The Yankees won't be saddled with any decline years at the end of the multi-year pact that drag down the overall value.
4. With Kevin Youkilis and Alex Rodriguez not particularly close to rejoining the team, David Adams' job as the everyday third baseman is pretty safe for the time being. He's played well on both sides of the ball — his defense has been better than advertised even if his over-the-top throwing motion makes me think every ball is going to sail into the dugout — and in his week on the roster, he's shored up a nice-sized roster hole. Adams could always hit, and if he continues to hit, I think he'll stay on the roster even after Youkilis or A-Rod returns. He could take the place of Ben Francisco, the designated lefty-pitching masher who has done anything but. Francisco has played in 21 total games but has only started four in the outfield, instead spending most of his time at DH. Adams can fill that role. The Yankees would only be carrying four true outfielders in that scenario, but Jayson Nix has left field experience and could step in in a pinch. It's only been a week, but Adams has played well enough to stick around and the team owes it to themselves to give him as much time as possible to see if he can help them both this year and into the future.
5. I've never really bought into the whole "you can't lose your job due to injury" stuff you hear from time to time. If you get hurt and your replacement performs considerably better, he deserves the job. With that in mind, I think Ivan Nova has lost his rotation spot to David Phelps. Nova's been dreadful since last year's All-Star break — 6.93 ERA and ~4.50 FIP in 76.2 innings — and Phelps has been rock solid in his four-start cameo, pitching to a 2.84 ERA and ~3.42 FIP in 25.1 innings. Phelps doesn't have much of a track record as a big league starter, but I've seen enough to know he should keep his spot over Nova. I think the Yankees should send Nova down to Triple-A once he come off the DL so he can work on things in an environment where results don't matter. I wouldn't give up on him as a starter yet, but he needs fixin' and Phelps is a more than capable replacement.