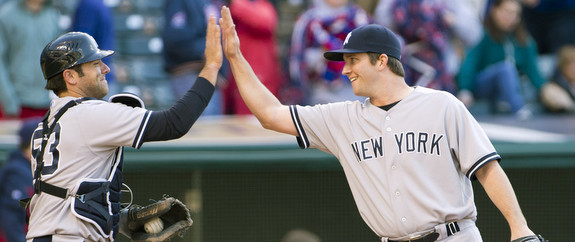 Coming into this season, Adam Warren was at a weird place in his career. He repeated the Triple-A level in 2012 and pitched marginally better than he had in 2011, but not well enough to really force his way into the team's plans. His disastrous one-start big league stint last summer didn't help matters either. Warren was stuck in spare arm purgatory, a nice pitcher to have in the organization but hardly a cornerstone.
Instead of going back to Scranton for a third stint at Triple-A, the 25-year-old Warren made the team out of Spring Training with an assist from Phil Hughes' balky back. It was basically a repeat of last year, when David Phelps unexpectedly made the club out of camp thanks to Michael Pineda's shoulder. An injury to a projected starter forced the projected long man into the rotation, creating an opening in the bullpen. Phelps took advantage last year and Warren is looking to do the same now.
"I think Dave kind of started something last year when he came up and did well," said Warren to Mark Feinsand on Monday. "For us guys down in the minor leagues, we're kind of like, 'Well, we might have a chance to help this team.' So you kind of get that little bit of glimmer of hope. Now, this year, guys are getting some opportunities and we're trying to take advantage of them. We have that confidence coming up that we know we can get outs, so I think that really helped us."
In seven relief appearances this year, Warren has posted a 1.45 ERA and 3.07 FIP in 18.2 innings. Four of those seven outings lasted at least two innings, including his first (one run in 5.1 innings) and most recent (four scoreless innings) appearances. His strikeout rate isn't anything special (7.23 K/9 and 20.3%) despite an above-average 10.4% overall whiff rate, but he has limited walks (2.89 BB/9 and 8.1 BB%) and gotten a ton of ground balls (52.8%). They aren't the kind of peripherals that make you think he's worthy of higher leverage work, but they're plenty good enough to succeed in this role.
Warren hasn't changed his approach much in relief, mostly because he's turned lineups over a few times and needed to use all his pitches. His fastball has averaged 92.3 mph and topped out at 94.1 mph — a tick or two better than what he usually does as a starter — and he's thrown his mid-80s slider and low-80s changeup nearly 20% of the time each. He's thrown his upper-70s curveball once out of every ten pitches as well. Most guys scrap their third or fourth best pitch when they move into the bullpen, even long relief, but Warren has stuck with the kitchen sink approach.
"You just have to stay mentally focused," said Warren to Chad Jennings earlier this month when asked about his role. "Things can change so quick. For me personally, I try to have a good attitude about whatever role I'm in. Opportunities arise. You do have to stay kind of mentally focused even though you may not be pitching in games that are close to start out with, just try to stay sharp for when you do get that opportunity."
I wasn't quite sure where Warren fit with the Yankees after last season, at least beyond being an extra arm in Triple-A for emergencies. It seemed like he was, at best, the team's seventh starter and tradeable prospect. Kinda sorta useful. To his credit, Warren has taken advantage of his opportunity and become a valuable multi-inning reliever, someone capable of soaking up some bulk innings in blowouts without sending Joe Girardi to the bullpen phone every time a runner reaches base. He might only be the 22nd or 23rd man on the roster, but he's pitched himself up the depth chart after being the 38th or 39th man on the 40-man roster just a few weeks ago.