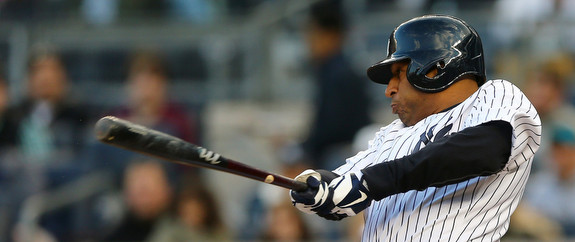 Like many of you, I was extremely skeptical when the Yankees acquired Vernon Wells for two non-prospects at the very end of Spring Training. The move stunk of desperation, but frankly the team was desperate at that time. They lost a lot of offense to injury in the prior weeks and something had to be done. The Angels had a player they wanted the dump and the Yankees had a need. The puzzle pieces fit.
Wells, 34, made the Yankees look very smart for the first few weeks of the season. He had three hits, including a homer, against the Red Sox during the second game of the season. Two days later he went deep again, and the homers kept coming — five in his first 15 games of the year. Wells finished April with a .300/.366/.544 (145 wRC+) batting line that exceeded every reasonable expectation. It was just what the Yankees needed.
Things haven't been going so well for Vernon since then, however. Last night's 0-for-4 dropped him to 3-for-21 (.143) on the month and 10-for-48 (.208) in his last 13 games. That dates back to the series in Toronto, when he bludgeoned his former team for three days. Wells is still hitting a respectable .270/.328/.468 (114 wRC+) on the season, but he has clearly been trending downward of late. Anecdotally, it seems like he's been getting beat on a lot of outside pitches lately. Both fastballs and breaking balls. The strike zone plots do not show that he's been getting more outside pitches of late, however (via Texas Leaguers):

Who knows why the slump is happening, but it's happening. Maybe he's just fatigued from playing everyday for the first time in two years. The slump shouldn't be unexpected either, Wells was hitting far better than he did even during his prime last month. At some point he was going to cool off.
The unfortunate thing is that the Yankees need Wells to hit right now, very much so. With Kevin Youkilis injured and, for at least three games, Travis Hafner limited to pinch-hitting duties in the NL park, there needs to be someone in the lineup to complement Robinson Cano. As good as he is, Robbie can't do it all by himself. Brett Gardner and Ichiro Suzuki have been doing a fine job of getting on-base of late, but someone other than Cano needs to drive them in. Wells has to be that guy and right now he isn't.
At some point Vernon will heat back up and go on a nice tear. At least I think he will. It is fair to be skeptical of him going forward given how dreadful he's been the last two years, but I don't think he's suddenly regressed to sub-replacement level. The question is when will that rebound happen? Outside of Curtis Granderson and maybe Youkilis, the Yankees are unlikely to get any of their injured bats back this month. Their offense simply isn't good enough to get by with a slumping Wells. He gave them more than they could have asked for in April, but now they need him to do more in May.