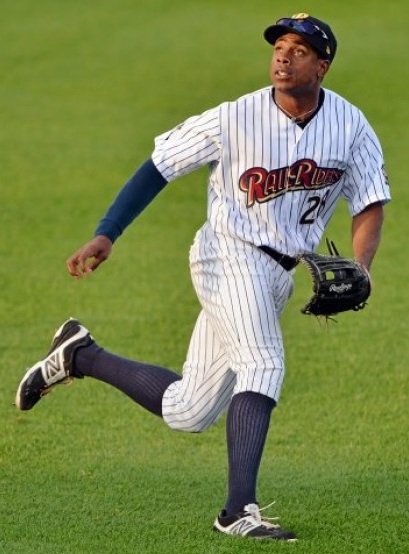 The return of Curtis Granderson is imminent. The forearm has apparently healed well. His bat seems to be rounding into form (.412/.412/.588, 185 wRC+ during his time with AAA). This is great news. It also puts Joe Girardi in a bit of quandary in terms of lineups. He'll have to figure out how to delegate playing time to Granderson, Brett Gardner, Vernon Wells, and Ichiro Suzuki. Although Ben Francisco is technically still in the mix at this juncture, I'd have to assume his days are numbered as a Yankee barring something unforeseen.
Brennan Boesch hasn't been particularly effective through a limited number of opportunities thus far (.205/.244/.436, 77 wRC+), and he was sent down this afternoon in favor of another pitcher. That is not a surprise. He was used sparingly as a platoon option, which was fine. Exactly as it should be.
Here's how Gardner, Wells, and Ichiro have fared so far:
| | | | | | | | | | | |
| --- | --- | --- | --- | --- | --- | --- | --- | --- | --- | --- |
| Player | PA | HR | BB% | K% | BABIP | AVG | OBP | SLG | wOBA | wRC+ |
| Gardner | 158 | 3 | 8.9% | 20.3% | .314 | .259 | .329 | .403 | .321 | 98 |
| Wells | 143 | 9 | 7.0% | 13.3% | .286 | .295 | .343 | .530 | .374 | 135 |
| Ichiro | 129 | 2 | 6.2% | 10.9% | .282 | .263 | .307 | .364 | .286 | 74 |
I suspect Girardi is going to be forced into keeping Wells in the lineup, whether as an outfielder or DH, as long as his bat is above-average. This isn't a bad thing by any means as long as he's productive. Of the three outfielders listed above, he's also the only who will really hit for any power.
As far as Gardner and Suzuki are concerned, I basically view them as the same guy. Neither are slouches defensively. Both are quick around the bases (though Ichiro may have the better base stealing instincts). Offensively, they both will look to get on base via the single (usually of the slap variety) the majority of the time. Ichiro will likely maintain the higher batting average, while Gardner will take a few more walks and allow a few more strike outs. One difference between the two, however, is that Ichiro has a much more noticeable split.
If I were the manager I would probably start Wells in left, have Gardner remain in center, and place Granderson in right (which would mitigate bad defensive routes). This would also place power bats in both OF corner slots while allowing Gardner to maximize his defensive value. Girardi could then substitute Ichiro into the game in the later innings as a defensive upgrade in right when necessary. I suppose the caveat here would be that the occasional platoon would still be utilized if specific matchups warranted it or the occasional off day was needed for a particular guy.
Should Girardi elect to keep Granderson in center, then I suppose I would shift Gardner to left where has has plenty of experience, and push Vernon to right. For what it's worth, Granderson has been rehabbing at all three outfield positions apparently, so hopefully that's a precursor to him playing a fair amount of games at the corners despite it being contrary to Girardi's statements on the matter.