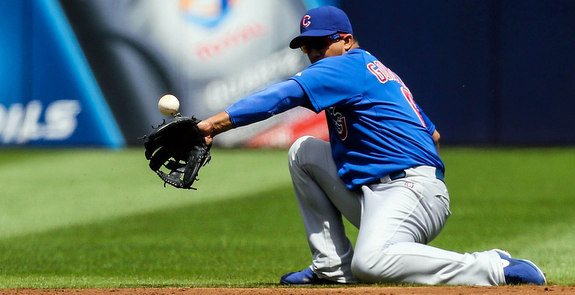 The Yankees have acquired infielder Alberto Gonzalez from the Cubs for cash or a player to be named later, the team announced. Yes, this is the same Alberto Gonzalez who spent some time with New York from 2007-2008. They originally acquired him in the Randy Johnson trade, then traded him to the Nationals for reliever Jhonny Nunez. Nunez then went to the White Sox as part of the package for Nick Swisher.
Anyway, the 30-year-old Gonzalez is not on the 40-man roster and will report to Triple-A Scranton. He's a right-handed bat and a career .241/.279/.319 (59 wRC+) hitter in 989 big league plate appearances, but he also plays average or better defense at the three non-first base infield positions. In 873 career plate appearances at the Triple-A level, Gonzalez has hit .263/.312/.369. He isn't much of a threat to steal bases either.
The Yankees need infield help following Derek Jeter's setback and Eduardo Nunez sudden proclivity for day-to-day injuries, plus there's a chance David Adams will be called up to replace Ben Francisco when eligible next week. Gonzalez is nothing special, pretty much replacement level, but adding another legitimate middle infield to the Triple-A team was something the Yankees needed to do.