The Yankees were very close to losing their first game after scoring first on Monday night, but some late-inning heroics from a pair of scrap heap pickups gave the Bombers an unexpected come-from-behind win over the Orioles. New York won 6-4 in ten innings.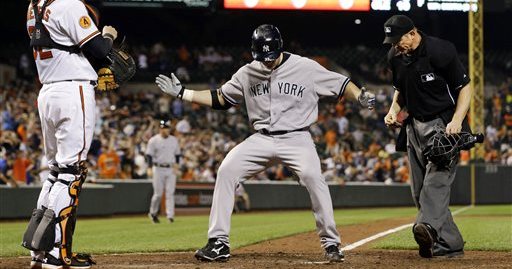 Pronkilicous
Jim Johnson's shook. The Orioles All-Star closer has now blown three saves in his last three appearances, this time coughing up a one-run lead when Travis Hafner slugged an opposite-field solo homer on a sinker that didn't sink enough. In his 16 years as closer, Mariano Rivera has never blown three consecutive save opportunities. Johnson did it in his second full season on the job.
Pronk only tied the game, however. The Yankees and Orioles went to the tenth inning after David Robertson wiggled out of a mini-jam in the bottom of the ninth, and that's when Ichiro Suzuki started the game-winning rally with a leadoff double into the right field corner. He was cheating fastball like a mofo and the extra-base hit was unexpected given his sub-.600 OPS coming in the at-bat. Vernon Wells doubled him in one batter later, then Hafner plated an insurance run with a two-out single off lefty Brian Matusz. After scoring three runs in the first eight innings, the Yankees score three runs in the span of ten batters in the ninth and tenth innings.
Shaky Sabathia
Two things stand out about CC Sabathia's outing. One, Baltimore's left-handed hitters went 4-for-7 with four two-strike (!) hits against him. That never happens. Sabathia usually eats up same-side hitters, but Nick Markakis and Chris Davis looked mighty comfy in the box. Three of the four hits came off sliders — including a total hanger Davis crushed for a solo homer — a pitch lefties have whiffed on with 48.3% (!!!) of their swings during the PitchFX era.
I don't know this for sure obviously, but I do think Sabathia's reduced fastball velocity has something to do with that. The fastball and slider are not mutually exclusive, one works off the other, and if hitters only have to gear up for 89-91 instead of 93-95, it becomes a little easier to hang in on the breaking ball. For what it's worth, PitchFX says Sabathia averaged 91.3 mph and topped out at 93.1 mph against the O's. Lefties came into the game hitting .191/.261/.293 (.248 wOBA) with a 39.1% strikeout rate against CC this season, so this isn't a long-running problem. It was just a problem on Monday night.
Secondly, Sabathia should have been out of the game after Markakis doubled to tie the game in the seventh. He was approaching 100 pitches and righties have tagged him for a .276/.320/.442 (.329 wOBA) line this year, plus three right-handed hitters in Manny Machado, J.J. Hardy, Adam Jones were due up. That's on Joe Girardi; Shawn Kelley was warming up and his super-high-strikeout ways were better suited for that spot.
Anyway, Sabathia allowed eleven hits in 6.1 innings of work, the third time in his career he's allowed double-digit hits in back-to-back outings. It's the first time he's done it without going at least seven innings in one of the two starts. CC struck out only two batters and got nine swings and misses out of 102 total pitches. Is this the new reduced velocity Sabathia? Possibly, but I think this was a bad start more than the new normal.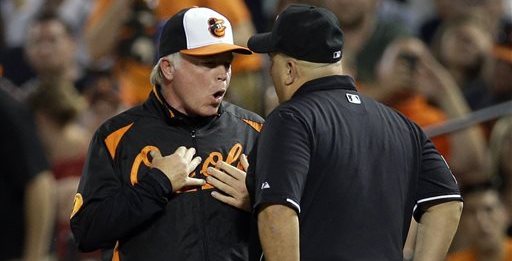 Leftovers
The Yankees scored their first two runs on solo homers — Robinson Cano in the first, David Adams' first career dinger in the second — but it wasn't until the sixth that they scored again. Lyle Overbay drove in that run with a solo homer off left-hander Troy Patton, which was very unexpected. He came into the game with five hits (.119 AVG) and one walk (.136 OBP) in 44 plate appearances against southpaws.
Once again, big ups to the bullpen. Kelley struck out three of the four men he faced — he owns an MLB-best 43.4% strikeout rate (min. 10 IP) — while Robertson and Mariano Rivera chipped in scoreless innings. Boone Logan recorded a pair of outs as well. Three and two-thirds scoreless from the bullpen is the backbone of any come-from-behind win. Outside of Brett Marshall biting the bullet last week, the relief corps has been crazy good in recent weeks.
In addition to the two big hits, Hafner also pulled a foul ball down the right field line and clear out of the ballpark in the sixth inning. Literally out of Camden Yards and onto Eutaw Street. Overbay and Adams had two hits apiece while Cano homered and walked twice. Freddy Garcia limited his former team to three hits and two runs in six innings on 66 (!) pitches. That was annoying.
Cano slid for a ball in the second inning and the YES cameras showed him flexing his right wrist afterwards, but he stayed in the game and was apparently fine. Reid Brignac clipped Garcia's foot at first base while running out a ground ball and was fine, though he was walking gingerly at first.
Awful night for first base ump Eric Cooper, who incorrectly called a) Brett Gardner safe on a snap throw from the catcher, and b) Matt Wieters out at first on a bang-bang play. Both plays occurred in the sixth inning and the Yankees benefited both times, so hey I'm not complaining. Still, two awful calls.
For whatever reason, Buck Showalter was checking every ball in the dugout after it was removed from play. Either it was one of his control freak things or he suspected Sabathia of doctoring the ball. Maybe CC has lost velocity because the Vaseline-lubed ball is slipping out of his fingers?
Box Score, WPA Graph & Standings
Solid graph right there. MLB.com has the box score and video highlights while FanGraphs has the other stats no one cares about. ESPN is the place for the updated standings. The White Sox took care of business against the Red Sox, so the Yankees now leads Boston by two in the loss column. Baltimore is five back.

Source: FanGraphs
Up Next
Same two teams on Tuesday night, when Phil Hughes gets the ball for the Yankees. Right-hander Miguel Gonzalez is expected to be activated off the DL and make the start for the Orioles. If he isn't … I have no idea what they'll do instead.