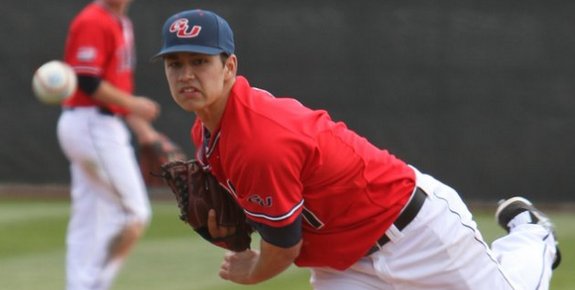 Every year over at Minor League Ball, John Sickels hosts a community mock draft where readers serve as the scouting director for each team and make picks for the first four rounds. It was five rounds once upon a time, but they've since knocked it down to four to save time and sanity. I served as the Yankees mock scouting director back in 2007 and landed two big leaguers with my five picks: RHP Andrew Brackman and RHP Barry Enright. Hardly impact players, but at least they got to the show I guess.
The 2013 mock draft was held yesterday, and you can see all the picks right here: First Round, Competitive Balance Round A, Second Round, Competitive Balance Round B, Third Round, and Fourth Round. As I've done the last five years, here are the players I would have taken in those slots had I been calling the shots for the Yankees. Click the linked names below for my individual player write-ups, and here are past shadowed mock drafts: 2007, 2008, 2009, 2011, and 2012. Apparently I never did one in 2010. Not sure what happened there.
First Round (#26 overall)
Mock Draft: C Jon Denney, Oklahoma HS
My Pick: LHP Marco Gonzales, Gonzaga
I love Fresno State OF Aaron Judge, but I love Gonzales more. The southpaw doesn't offer the same pure upside of Judge, who is a true physical freak with big power and speed and center field defense, but he's incredibly polished with a pair of put-away offspeed offerings. Gonzales could be ready to pitch in the big leagues as soon as the second half of 2014, which is an added bonus. I tend to prefer high school arms and big upside, so this is definitely against the grain for me. I'm a big fan though.
Denney is a very good pick here and a bit more Yankees-esque in the profile as an up-the-middle athlete who can mash.
First Round (#32 overall, for Nick Swisher)
Mock Draft: SS Riley Unroe, Arizona HS
My Pick: RHP Kyle Serrano, Tennessee HS
I definitely would have grabbed Judge here if he was still on the board, but he went 27th to the Reds. Serrano gets the call instead and I'm more than happy to have him. If he was a few inches taller than his listed 6-foot-1, there's a pretty good chance he would have gone in the top 15 picks. A high schooler with easy 90-94 mph velocity, one of the draft's best curveballs, and a super advanced changeup? Gimme gimme gimme. It will take a huge bite out of my $7.96M draft pool to buy him away from his father Dave, the head coach at Tennessee, but I'm willing to get it done.
Unroe is a sneaky great pick here. He's a switch-hitter with elite bat speed and a good chance to remain at shortstop long-term. If he can't, second base or center field are viable alternatives. Unroe's drawn rave reviews for his makeup and work ethic, and his father Tim played professionally for a decade. Definitely sounds like someone the Yankees would target.
First Round (#33 overall, for Rafael Soriano)
Mock Draft: RHP Aaron Blair, Marshall
My Pick: OF Billy McKinney, Texas HS
With the second of the back-to-back picks, I'm grabbing my first position player. McKinney is arguably the best pure hitter in the high school ranks this year, with an advanced approach and a sweet left-handed swing geared for hard contact. It's unclear if he'll stay in center field or wind up in a corner spot down the road, but I'm buying the bat here. Anything more is a bonus.
Blair's a solid pick at this slot, but I already took one "safe" college arm and sure as hell wasn't taking a second this high in the draft.
Second Round (#66 overall)
Mock Draft: LHP A.J. Puk, Iowa HS
My Pick: OF Jordan Paroubeck, California HS
Absolutely thrilled to land Paroubeck here. The Barry Bonds-trained switch-hitter shows power from both sides of the plate as well as better-than-average speed on the bases, plus he's a legitimate center field athlete and defender. Thrilled.
Puk has looked like a potential first rounder at times this spring, but he's sat more in the high-80s in recent weeks while pitching through some real sloppy weather in the heartland. An okay curveball and changeup round out his developing repertoire. He's huge, listed at 6-foot-7 and 220 lbs., and he's shown he can run his fastball up to 93 in the past. Solid pick here after the down spring.
Third Round (#103)
Mock Draft: OF Terry McClure, Georgia HS
My Pick: 2B L.J. Mazzilli, UConn
It's going to take big bucks to sign those top four players, so it's time to work in a cheap college senior to save some draft pool money. The son of former Yankees player and coach Lee Mazzilli, L.J. is a legitimate prospect who is a high-contact, advanced approach offensive second baseman. He hits right-handed and is a very instinctual player, which serves him well on the bases and in the field. Obviously there are big league bloodlines as well, but this isn't just a nepotism pick. Mazzilli can play.
McClure is a toolsy center fielder who may or may not hit enough in pro ball, and he's been ripped constantly for being nonchalant and having bad body language. His love for the game has been questioned, that kind of stuff. There's upside but also a ton of risk.
Fourth Round (#134 overall)
Mock Draft: 3B Drew Dosch, Youngstown State
My Pick: RHP Tony Rizzotti, Tulane
Rizzotti has attended three colleges in three years — TCU, Grayson Junior College (Texas), and Tulane — in an effort to find more innings. Although he starts for the Green Wave, he projects as a reliever long-term thanks a power mid-to-high-90s fastball and wipeout mid-80s slider. He doesn't have a third pitch. Rizzotti has missed time with knee trouble (including two surgeries) and back spasms over the last few years, but at this point in the draft, I'm just looking at the power stuff and hoping to get a lockdown reliever for a few years.
Dosch is one of the best pure hitters in the college crop, with an easy left-handed swing and gap power. It's unclear if he'll be able to crack double-digit homers with wood bats or stick at third base, however.
* * *
I feel like I got four first round-caliber talents in Gonzales, Serrano, McKinney, and Paroubeck. Those latter three all have a chance to become impact big leaguers while Gonzales figures to settle in as a solid contributor more than a true star. Rizzotti could contribute plenty in relief if he stays healthy as well. It'll take a ton of cash to sign those top four players, so I'd have to take college seniors from rounds five through ten to make the draft pool work. Such is life.