I think we're all still smartin' a bit from that four-game, two-walk-off loss sweep in Oakland last season. That was as bad a series as I can remember. Thankfully, that's in the past and the Yankees will only spend three games in the O.co Coliseum in 2013.
What Have They Done Lately?
Even though they're coming off two straight losses to the White Sox, the Athletics are the hottest team in baseball. They've won 18 of their last 23 games and are 38-27 with a +41 run differential overall, and they've spent the last week or so trading first place in the AL West with the Rangers.
Offense
The A's were one of baseball's most potent offenses earlier in the season, but they've cooled off a bit and currently own a team 102 wRC+ with an average of 4.7 runs per game. Those rates are still pretty damn good, but not elite like they were a few weeks ago. Oakland's only injured position player is IF Scott Sizemore, who got all of six plate appearances before re-tearing a knee ligament. He's done for the year.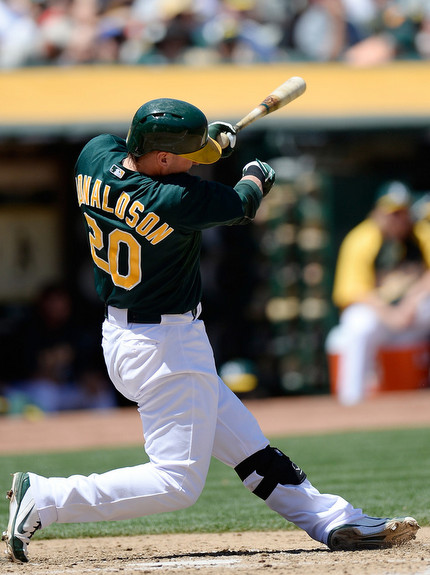 Manager Bob Melvin employees one of baseball's best leadoff hitters in CF Coco Crisp (139 wRC+), best number two hitters in 2B Jed Lowrie (125 wRC+), better number three hitters in LF Yoenis Cespedes (115 wRC+), and best cleanup hitters in 3B Josh Donaldson (152 wRC+). Donaldson, who was always expected hit, has really broken out this year now that he's no longer catching full-time. Dude can mash.
The rest of Oakland's lineup is a hodgepodge of platoon setups. Brandon Moss (117 wRC+ vs. RHP) and Nate Freiman (146 wRC+ vs. LHP) share first base duties while John Jaso (108 wRC+ vs. RHP) and Derek Norris (98 wRC+ vs. LHP) split time behind the plate. Both OF Chris Young (64 wRC+) and Josh Reddick (66 wRC+) have been awful, but OF/DH Seth Smith (114 wRC+) has been very good. IF Adam Rosales (91 wRC+) has been playing shortstop regularly of late while IF Eric Sogard (81 wRC+) comes off the bench. The A's can score some runs.
Starting Pitching Matchups
Tuesday: LHP CC Sabathia vs. RHP Bartolo Colon
I have to admit, I didn't think Colon would still be hanging around the league in 2013 even after returning to the league the Yankees in 2011. The 40-year-old has been very good this year, pitching to a 3.14 ERA (3.29 FIP) in 77.1 innings spread across a dozen starts. He doesn't strike anyone out anymore (5.35 K/9 and 15.2 K%), but his ground ball rate (45.2%) is strong and his walk rate (0.70 BB/9 and 2.0 BB%) is outrageous. Bart has walked six batters all year. Six! As you probably remember, Colon is all about the fastball. He uses his low-90s four-seamer and upper-80s two-seamer a combined 85% of the time, mixing in the occasional low-80s slider and low-80s changeup. It's worth noting he has a rather large platoon split: righties have been held to a .240 wOBA, but lefties have gotten him for a .336 wOBA. Bart held the Yankees to three runs in 5.1 innings a few weeks ago.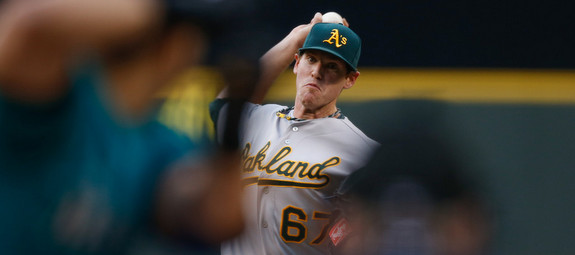 Wednesday: RHP Phil Hughes vs. RHP Dan Straily
Straily, 24, has replaced the perpetually injured Brett Anderson in the rotation and has managed a 4.67 ERA (3.16 FIP) in nine starts. That's the fifth largest ERA-FIP gap in baseball (min. 50 IP). He's a fly ball pitcher (35.5% grounders) with a decent strikeout rate (7.62 K/9 and 20.6 K%), though he does limit the walks (2.60 BB/9 and 7.0 BB%). Straily relies primarily on a low-90s four-seamer to setup his mid-80s slider and low-80s changeup, though he'll also mix in the very rare low-80s two-seamer and mid-70s curveball. The slider is his go-to offspeed pitch. The Yankees saw Straily a few weeks ago and like Colon, he held them to three runs in 5.1 innings.
Thursday: RHP Hiroki Kuroda vs. RHP Jarrod Parker
The 24-year-old Parker had a dynamite first full season in the show last year, but he's taken a step back in 2013: 4.68 ERA and 5.04 FIP in 13 starts. He's been way better of late, rattling off six consecutive quality starts coming into this series. Parker's core peripheral stats — 6.6 K/9 (17.1 K%), 3.60 BB/9 (9.4 BB%), and 44.3% ground balls — are nearly identical to last season, but he's suddenly turned into a homer machine (1.44 HR/9 and 13.5% HR/FB). I have to think those numbers will come back to Earth a bit playing in the Coliseum. Parker is a true four-pitch pitcher, using low-to-mid-90s two- and four-seamers to setup his low-80s slider and changeup, so it's no surprise he has no platoon split. The Yankees did not see the young right-hander when the two teams met a few weeks ago, though he held them to one run in eight innings on two separate occasions last year.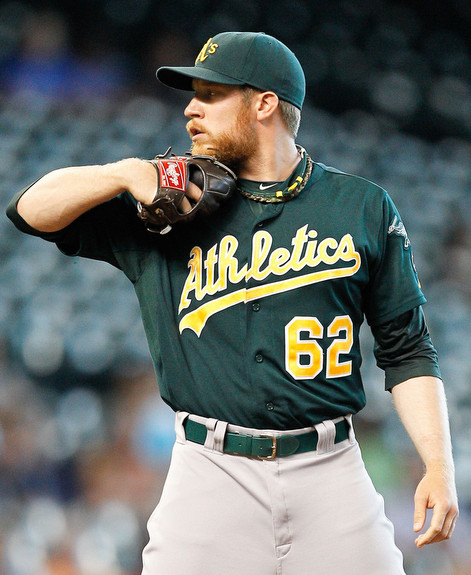 Bullpen Status
Like the Yankees, the Athletics were off on Monday, so their bullpen is as fresh as can be. Melvin's end-game trio of closer RHP Grant Balfour (3.75 FIP) and setup men RHP Ryan Cook (1.92 FIP) and LHP Sean Doolittle (3.14 FIP) have been as good as any in baseball. RHP Pat Neshek (3.58 FIP) and LHP Jerry Blevins (3.00 FIP) do the matchup thing while LHP Hideki Okajima (6.89 FIP in very limited time) and RHP Jesse Chavez (3.07 FIP) do everything else. Yes, Okajima is back in the league.
Joe Girardi's bullpen is in good shape, though both David Robertson and Mariano Rivera pitched in the final two games of the Mariners series. Even with yesterday's off-day, I can't imagine Girardi would use them both for all three games against the A's if needed. Check out our Bullpen Workload page for the latest of the relievers, then check out Athletics Nation and Beane Ball for the latest and greatest on the Athletics.