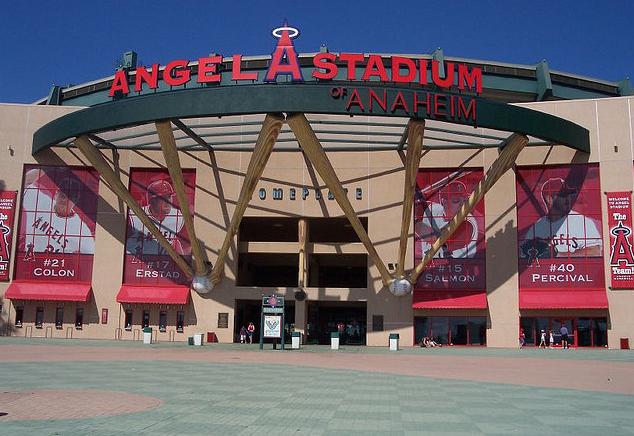 Ten-game West Coast trips are hard enough, but as an added bonus, the Yankees will wrap this trip up with three games in the house of horrors known as Angel Stadium. They actually won a three-game series in Anaheim back in 2011, but they've still only won two of 12 series at the ballpark since the Angels traded in Anaheim for Los Angeles in their name in 2005. That includes three sweeps. Thankfully, this is the only time the Bombers will play the Halos in Southern California this year.
What Have They Done Lately?
The Halos put together a come from behind win against the Orioles on Wednesday, but otherwise they've lost four of their last five and nine of their last 12 games. Yeah, they're bad. The Angels are comfortably in fourth place in the AL West at 28-38 with a -20 run differential. They've been one of the five or six worst teams in baseball pretty much all year.
Offense
At 3.76 runs per game with a team 105 wRC+, Mike Scioscia's team somehow manages to score runs at a rate below the league average despite doing an above-average amount of damage at the plate. They're essentially league average with runners in scoring position too (98 wRC+), so it's not like they've stranded a ton of runners either. Very weird. Kinda glad I don't have to watch everyday. They're perfectly healthy on offense, no position players on the DL at all.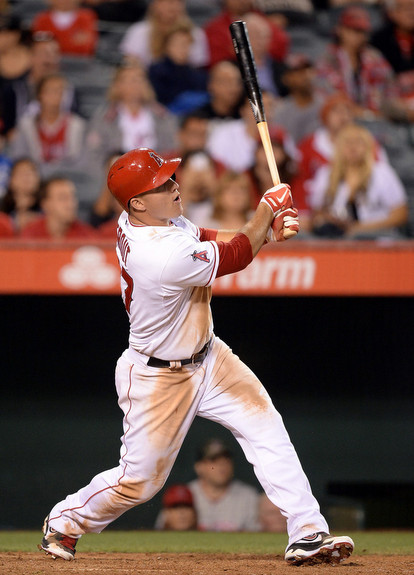 In an effort to get RF Josh Hamilton (81 wRC+) going, Scioscia recently started batting him second behind OF Mike Trout (152 wRC+) and 1B/DH Albert Pujols (103 wRC+). Pujols is a physical wreck due to offseason knee surgery and lingering plantar fasciitis, so much so that he's started more games at DH (35) than at first base (29). He's in year two of a ten-year contract. Yikes. 1B/RF Mark Trumbo (132 wRC+) cleans up and 2B Howie Kendrick typically bats fifth (132 wRC+). He's having an awesome year and he tends to crush the Yankees (all AL East teams, really), as you surely remember.
C Chris Iannetta (109 wRC+) has been his typically solid self and both CF Peter Bourjos (124 wRC+) and SS Erick Aybar (77 wRC+) recently returned from lengthy DL stints. 3B Alberto Callaspo (84 wRC+) has been disappointing. The Angels have a pretty weak bench headlined by backup C Hank Conger (119 wRC+). IF Brendan Harris (75 wRC+) and OF J.B. Shuck (89 wRC+) have been tolerable at best, and OF Brad Hawpe (20 wRC+ in very, very limited time) recently resurfaced after spending last season in Double-A (!). The Angels can hit, but they haven't gotten nearly enough from Hamilton and Pujols.
Starting Pitching Matchups
Friday: LHP Andy Pettitte vs. RHP Tommy Hanson
It wasn't too long ago that Hanson was one of the very best young pitchers in baseball, but injuries have made him a shell of his former self. The 26-year-old owns a 4.12 ERA (5.68 FIP) in seven starts this year — he missed more than a month following the death of his stepbrother — which include some very ugly peripherals: 5.26 K/9 (13.1 K%), 3.20 BB/9 (8.0 BB%), 1.83 HR/9 (12.7% HR/FB) and 34.8% grounders. Ugly. Hanson now sits in the upper-80s with his fastball and has been trending in the wrong direction velocity-wise for several years now. He throws his upper-70s slider almost 40% of the time, and still throws his low-80s changeup and low-70s curveball about a quarter of the time. The fastball is almost a show-me pitch at this point. The Yankees have faced Hanson twice before, once when he was good (2009) and once when he was very bad (2012).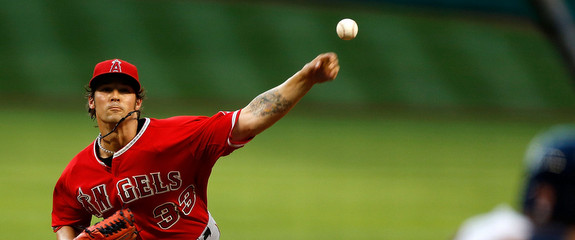 Saturday: RHP David Phelps vs. LHP C.J. Wilson
Wilson, 32, is in the middle of his worst year since becoming a full-time starter, pitching to a 4.02 ERA (3.83 FIP) with very good strikeout (8.70 K/9 and 21.7 K%) and ground ball (45.6%) rates. He does walk a few too many (3.90 BB/9 and 9.8 BB%) and will give up some homers (0.89 HR/9 and 10.4% HR/FB). Wilson uses three 88-92 mph fastballs (two-seamer, four-seamer, cutter) regularly to setup his mid-80s changeup, low-80s slider, and upper-70s curveball. He's a true six-pitch pitcher and that's why he has no platoon split. The Yankees have seen Wilson as a starter plenty of times over the years with the Rangers, both the good and bad versions.
Sunday: LHP CC Sabathia vs. RHP Jered Weaver
This was supposed to be Joe Blanton's spot, but the Angels are wisely taking advantage of yesterday's off-day to skip the portly right-hander and his 5.87 ERA (4.42 FIP). The 30-year-old Weaver missed six weeks with a fractured non-pitching elbow earlier this year and is currently sitting on a 3.77 ERA (4.00 FIP) in just five starts. His peripheral stats — 6.59 K/9 (17.4 K%), 2.51 BB/9 (6.6 BB%), 0.94 HR/9 (7.3% HR/FB), and 34.1% grounders — are right in line with where they've been for the last several years. Weaver's established himself as a guy who outpitches who peripherals and gets by with a ton of weakly hit fly balls and pop-ups, the kind that easily turn into outs — his .264 BABIP is his highest in three years. Like Hanson, Weaver's fastball velocity is trending the wrong way and has him in the mid-to-upper-80s most nights. He uses two-seamers, four-seamers, and cutters to setup low-80s sliders, upper-70s changeups, and low-70s curveballs. So the kitchen sink, basically. The Bombers have seen Weaver plenty of the years and generally hit him pretty hard (4.97 ERA in 63.1 innings). Harder than most, anyway.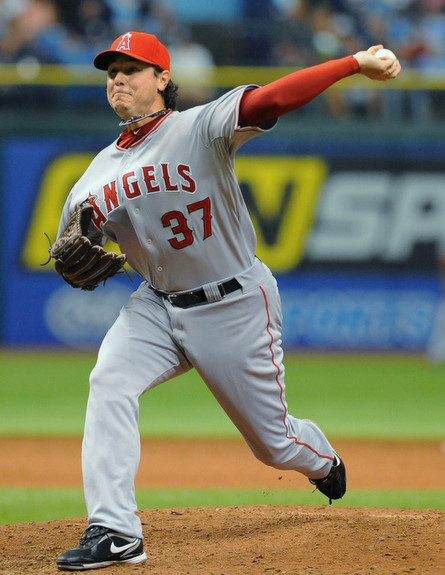 Bullpen Status
Like I said, the Halos were off yesterday, so Scioscia's bullpen is nice and fresh. RHP Ernesto Frieri (4.84 FIP) is closing since RHP Ryan Madson continues to have setbacks following Tommy John surgery. LHP Scott Downs (2.78 FIP) does most of the setup work along with former Yankees farmhand RHP Dane De La Rosa (2.99 FIP). RHP Garrett Richards (3.64 FIP) and RHP Kevin Jepsen (3.50 FIP) get the bulk of the middle innings work along with RHP Michael Kohn (3.40 FIP). Blanton might be available in long relief this weekend as well.
The Yankees, on the other hand, have a tired and worn out bullpen following yesterday's 18-inning marathon loss. Joe Girardi indicated they will call up a fresh arm(s) today, meaning Preston Claiborne and Adam Warren are likely to get the shaft after pitching so well this year. They've been worked hard of late and have options though, and that's the life of a rookie. Both Ivan Nova and Brett Marshall pitched recently, so they're not going to be options. Dellin Betances could be though, maybe even Cesar Cabral. We'll see. Here's our Bullpen Workload page and here is True Grich, the best Angels blog on the web.