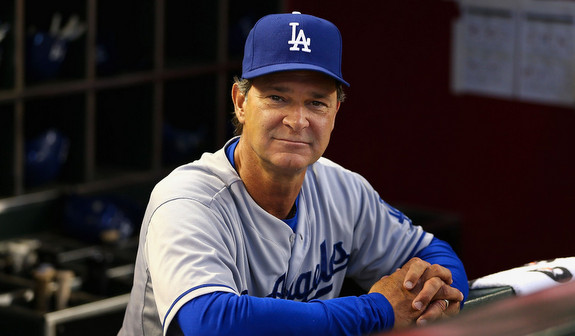 It has been more than 30 years since the Dodgers last played in the Bronx, not since the deciding Game Six of the 1981 World Series. They have never come to the Yankee Stadium as part of interleague play, at least not until today. The Yankees and Dodgers will play a quick little two-game series that features two highest-priced rosters in baseball. There's also a neat nostalgic element that, like many of you, I am too young to fully appreciate.
What Have They Done Lately?
The Dodgers are not very good despite their recent spending spree. They lost two of three to the Pirates this weekend and have lost six of their last eight games overall. At 29-39 with a -49 run differential, Los Angeles sits in last place in the NL West with seventh worst record in baseball.
Offense
With a team 94 wRC+ and an average of 3.5 runs per game, the Dodgers are a below-average offensive club. It doesn't help that CF Matt Kemp (78 wRC+) is a shell of his former self following offseason left (front) shoulder surgery. He's currently on the DL with a hamstring problem. LF Carl Crawford (133 wRC+) was having a big bounceback year before hitting the DL with a hamstring issue. OF Scott Van Slyke (132 wRC+ in limited time) is out with a shoulder injury and IF Juan Uribe (118 wRC+) is day-to-day with a back problem. He could return to the lineup as soon as tonight.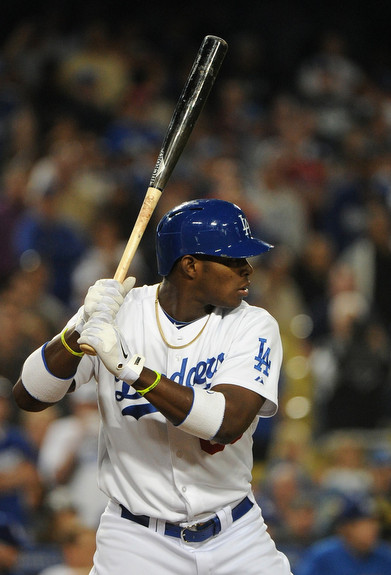 As for the healthy guys, it obviously all starts with OF Yasiel Puig (260 wRC+ in limited time). He's been the talk of baseball since coming up three weeks ago thanks to his dramatic homers and brilliant defensive plays. It'll be fun to watch these next two days. 1B Adrian Gonzalez (130 wRC+) remains a force at the plate, and C A.J. Ellis (107 wRC+) has been one of baseball's most underrated backstops for two seasons now. IF Hanley Ramirez (104 wRC+ in limited time) has been banged up all year and OF Andre Ethier (95 wRC+) has been disappointing.
Aside from those guys, manager Don Mattingly really doesn't have much at his disposal. IF Nick Punto (94 wRC+) has been surprisingly not awful, but both UTIL Skip Schumaker (87 wRC+) and UTIL Jerry Hairston Jr. (85 wRC+) haven't done much of anything. Ditto IF Mark Ellis (89 wRC+) and IF Luis Cruz (-4 wRC+). Cruz has gotten 124 plate appearances, believe it or not. Recent call-ups OF Alex Castellanos (97 wRC+ in very, very limited time) and backup C Tim Federowicz (61 wRC+) have played like rookies. Really not much to see here. Keep Puig and Gonzalez contained and you'll be in good shape.
Starting Pitching Matchups
Tuesday: RHP Phil Hughes vs. LHP Hyun-Jin Ryu
I liked the idea of the Yankees pursuing Ryu this winter, but, as I tend to do, I grossly underestimated the cost. The Dodgers paid over $60M — $25.7M posting fee plus a $36M contract — to bring him over from Korea, and so far he's been worth the investment. The 26-year-old left-baller has pitched to a 2.85 ERA (3.10 FIP) in 13 starts this year, and he's been especially tough since settling into a groove in late-April: 2.37 ERA (3.08 FIP) in his last nine starts. Ryu has posted very good peripherals in his debut MLB season, with a solid strikeout rate (7.91 K/9 and 21.7 K%) to go along with above-average walk (2.64 BB/9 and 7.3 BB), homer (0.63 HR/9 and 7.8% HR/FB), and ground ball (48.1%) numbers. He's a true five-pitch pitcher, using 88-92 mph two- and four-seamers to set up a low-80s slider, an upper-70s changeup, and a low-70s curveball. The changeup is his top secondary pitch and a big reason why he has a reverse split — lefties have a .266 wOBA against him while lefties are at .321. The Yankees have never seen Ryu before, obviously.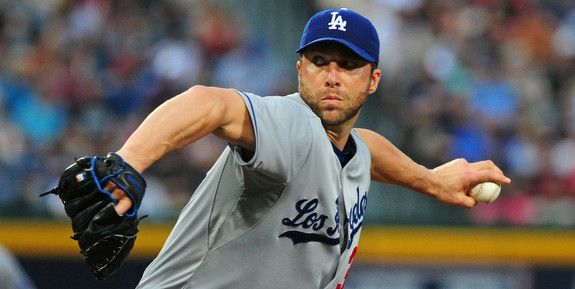 Wednesday: RHP Hiroki Kuroda vs. LHP Chris Capuano
Technically, the Dodgers starter for this game is still TBA. It is widely expected that Capuano will be activated off the DL and rejoin the rotation, however. He's been out for two weeks with a lat strain, though he threw four scoreless innings during a rehab start on Friday. Capuano, 34, has pitched to a 3.45 ERA (5.15 FIP) in 33 innings across six starts and two relief appearances while battling various nagging injuries this season. His peripherals are not great — 6.55 K/9 (16.1 K%), 3.55 BB/9 (8.7 BB%), 1.64 HR/9 (16.2% HR/FB), and 45.9% grounders — but they figure to improve as he heals up and accumulates more innings. Capuano has consistently been a low-4.00s FIP guy for the last six or seven years now. An upper-80s sinker is his top fastball, though he will mix in the occasional four-seamer at the same velocity. His upper-70s changeup is his top offspeed pitch, though he'll also throw low-80s sliders and mid-80s curveballs. It's worth noting Capuano typically handles left-handed hitters well, holding them to a .273 wOBA since coming back from his second Tommy John surgery in 2010. Righties have tagged him for a .343 wOBA during that time. The Yankees roughed Capuano up in 2011 when they saw him during the Subway Series with the Mets.
Bullpen Status
Like the Yankees, the Dodgers were off on Monday. Their pen is relatively well-rested. Mattingly recently replaced RHP Brandon League (5.10 FIP) with RHP Kenley Jansen (2.89 FIP) at closer. The move was a long time coming. LHP Paco Rodriguez (2.81 FIP) and RHP Ronald Belisario (4.03 FIP) see plenty of late-inning work, as does LHP J.P. Howell (3.00 FIP). RHP Matt Guerrier (4.14 FIP) and RHP Peter Moylan (3.23 FIP) round out the bullpen, assuming RHP Chris Withrow (3.06 FIP in very limited time) is sent down to make room for Capuano.
Joe Girardi's bullpen is in pretty good shape thanks to the off-day and CC Sabathia's eight-inning start on Sunday. As I mentioned this morning, I suspect Adam Warren will rejoin the team today in his usual long man role if Mark Teixeira is indeed placed on the DL. Otherwise everyone is pretty fresh. Check out our Bullpen Workload page for exact recent reliever usage. For the best Dodgers coverage, I recommend True Blue LA and Mike Scioscia's Tragic Illness. They're two of the very best team-specific blogs you'll find.