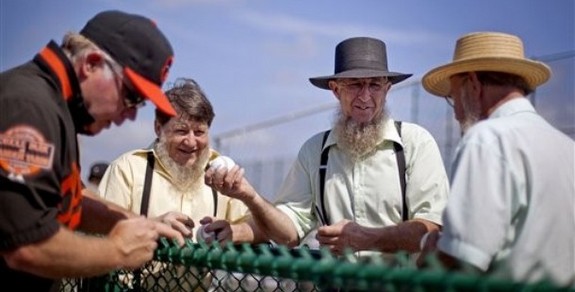 Man, late-June series are not supposed to be this important. The Yankees and Orioles are tied in the loss column for second place in the AL East, both three games back of the Red Sox. Needless to say, neither team wants to leave this three-game series any further back than they already are.
What Have They Done Lately?
Baltimore won yesterday and just took two of three from the Indians, but they lost four straight games before that. Like the Yankees, they've been playing .500 baseball since early-May. The Orioles are 44-36 with a +17 run differential overall.
Offense
At 4.9 runs per game with a team 107 wRC+, Baltimore is the one of the very best offensive teams in baseball. They are without the injured 2B Brian Roberts (153 wRC+), OF Nolan Reimold (51 wRC+), and UTIL Wilson Betemit (hasn't played this season) at the moment, but apparently Roberts will return some time this weekend. The other two will be out a while longer though.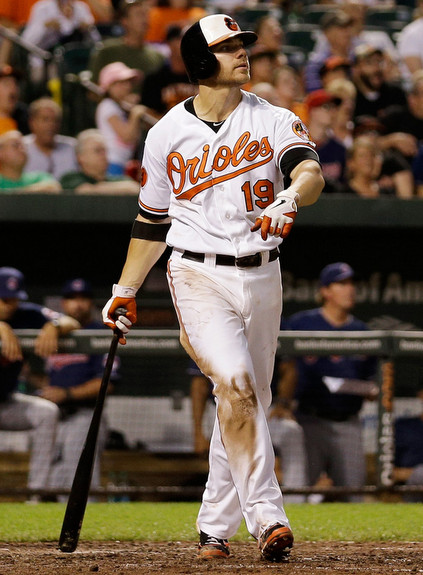 The Yankees will have to pick their poison this weekend. Do they pitch around 1B Chris Davis (193 wRC+)? What about 3B Manny Machado (125 wRC+)? Adam Jones (119 wRC+)? OF Nate McLouth (109 wRC+) has stolen 24 bases and has been pretty awesome, you know. SS J.J. Hardy (103 wRC+) and OF Nick Markakis (102 wRC+) have been solid as well. Very tough.
C Matt Wieters (82 wRC+) is in the lineup because of his defense, but he can hit lefties (105 wRC+). IF Alexi Casilla (56 wRC+) and UTIL Ryan Flaherty (62 wRC+) split time at second while 1B Travis Ishikawa (-37 wRC+ in very limited time) and IF Danny Valencia (137 wRC+ in limited time) sub in at DH and the corner infield spots. C Taylor Teagarden (-9 wRC+ in limited time) is the backup backstop, former Yankee Chris Dickerson (98 wRC+) the fourth outfielder. The Orioles have hit the most homers in all of baseball (108) and they're a top ten team in steals as well (54 wRC+). The Yankees pitching staff will have their hands full this weekend.
Starting Pitching Matchups
Friday: RHP David Phelps vs. LHP T.J. McFarland
This spot belonged to former Yankee Freddy Garcia, but he was designated for assignment earlier this week after getting his brains beat in by the Blue Jays. Tonight's start was expected to go to right-hander Kevin Gausman, but the Orioles changed gears last night and announced McFarland, a Rule 5 Draft pick, would get the ball instead. I have very little doubt manager Buck Showalter made the switch after seeing how much the Yankees struggled against left-hander Derek Holland on Thursday.
Anyway, the 24-year-old McFarland has a 4.14 ERA (3.58 FIP) in 41.1 relief innings this year. His peripheral stats — 7.84 K/9 (19.7 K%), 3.05 BB/9 (7.7 BB%), 0.87 HR/9 (10.3% HR/FB), and 53.8% grounders — are solid, but starting is a different animal than relieving. The southpaw sits in the upper-80s with his four-seamer in relief, so he might be a tick or two below that tonight. A soft upper-70s curveball is his top secondary pitch, and he'll also throw a low-80s changeup. McFarland's season high is 4.1 innings and 61 pitches, both of which came five days ago. I'm guessing Showalter will be thrilled with five innings. The Yankees saw McFarland way back in April, when he held the scoreless in two innings of relief.

Saturday: LHP CC Sabathia vs. LHP Zach Britton
Britton, 25, has a 5.51 ERA (5.31 FIP) in three starts after spending most of the year in Triple-A. He has gotten plenty of ground balls (50%), but he's walked as many men as he's faced (eight) in 16.1 innings. In parts of three big league seasons, the southpaw owns a 6.16 K/9 (15.6 K%), 3.97 BB/9 (10.1 BB%), 0.78 HR/9 (10.1% HR/FB), and 54.5% grounders. Britton's low-90s two-seamer is his calling card and the pitch he uses to get all those ground balls. He'll also throw a straight low-90s four-seamer, with a mid-80s changeup and upper-70s slider representing his two offspeed offerings. The Yankees have seen Britton a few times over the years and have clobbered him pretty much every time (26 runs in 25.1 innings). This is a different lineup now, of course.
Sunday: RHP Hiroki Kuroda vs. RHP Chris Tillman
The 25-year-old Tillman is perhaps best remembered for surrendering the base hit that moved Derek Jeter past Lou Gehrig and into the top spot on the Yankees' all-time hits list. He was a trendy breakout pick this year after a strong second half in 2012, but his 3.72 ERA (5.01 FIP) is backed up by strikeout (7.16 K/9 and 19.1 K%), walk (3.43 BB/9 and 9.2 BB%), homer (1.62 HR/9 and 16.9% HR/FB), and ground ball (38.2%) rates that range anywhere from okay to awful. Tillman uses two fastballs in the low-90s (four-seamer and cutter), and he'll throw three different offspeed pitches: mid-80s slider, low-80s changeup, and mid-70s curveball. The slider is more of a show-me pitch than anything. The Bombers have seen Tillman plenty of times over the last few years, mostly hitting him hard.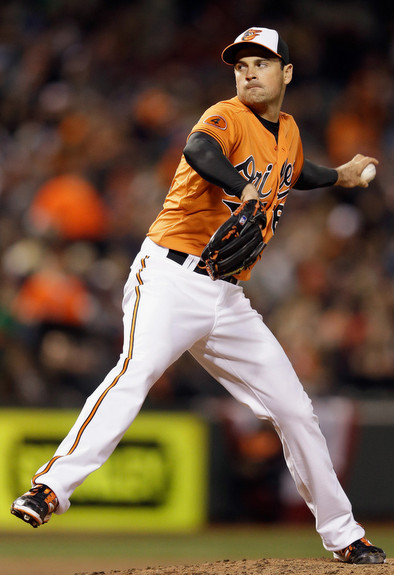 Bullpen Status
Buck Showalter's relievers are a little beat up at the moment. LHP Troy Patton (4.35 FIP) has pitched in three straight games while LHP Brian Matusz (3.51 FIP) and closer RHP Jim Johnson (3.81 FIP) have both appeared in three of the last four games. RHP Darren O'Day (3.56 FIP) is fresh, ditto RHP Tommy Hunter (4.04 FIP) and RHP Pedro Strop (5.72 FIP). Gausman (5.85 FIP) is the de facto long man.
Outside of Preston Claiborne, the Yankees are in good bullpen shape thanks to Phil Hughes' eight-inning effort on Thursday. Remember, they're carrying eight relievers at the moment because they don't have the heart to send Ivan Nova back to Triple-A. Here's our Bullpen Workload page for recent reliever usage details. Camden Chat is my spot for Orioles coverage.