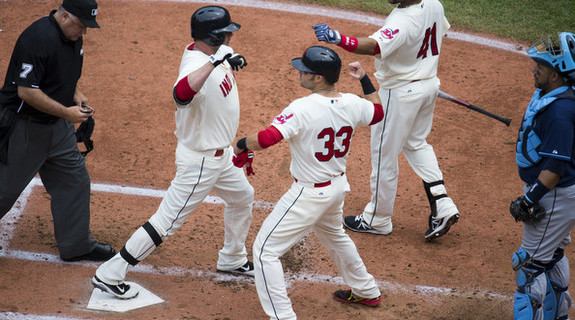 Technically, this will be the second time the Indians and Yankees meet this season. In reality, it's the third time. The two clubs were supposed to play a four-game series at Progressive Field in April, but two games were rained out and made up as part of a doubleheader last month. This will be, however, the first and only time the Tribe visit the Bronx in 2013.
What Have They Done Lately?
Cleveland was molten hot when these two teams last met, but that is not the case this time around. They lost both yesterday's game and the weekend series to the Rays, and they've dropped nine of their last 13 overall. The Indians are 30-26 with a +18 run differential, just half-a-game back of the Tigers in the AL Central.
Offense
New manager Terry Francona has one of the better offenses in the game at his disposal: the Tribe average 4.9 runs per game with a team 111 wRC+. The former is a top-five mark in the game, the latter the top mark in baseball. The team's only injured position player is backup C Lou Marson (72 wRC+ in very limited time). Everyone else is healthy.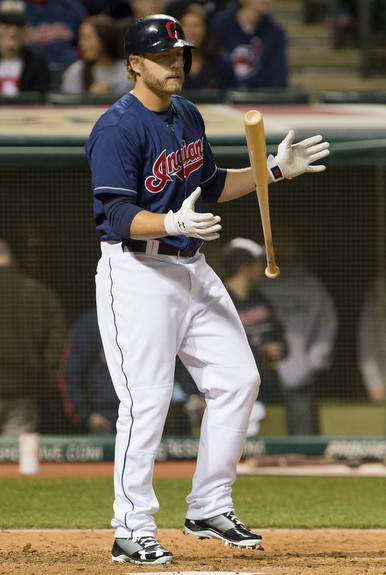 The top four spots in Francona's lineup are very well set: CF Michael Bourn (113 wRC+) leads off, 2B Jason Kipnis (106 wRC+) bats second, SS Asdrubal Cabrera (107 wRC+) bats third, and former Yankee 1B/RF Nick Swisher (128 wRC+) cleans up. The next three spots are usually occupied by 3B Mark Reynolds (126 wRC+), C Carlos Santana (143 wRC+), and former Yankee DH Jason Giambi (103 wRC+) in some order. The Giambino only plays against righties.
The rest of the Cleveland lineup features OF Michael Brantley (104 wRC+) and OF Drew Stubbs (74 wRC+), though UTIL Ryan Raburn (146 wRC+ in limited time) will sub in against righties. IF Mike Aviles (97 wRC+) is the backup infielder, C/UTIL Yan Gomes (148 wRC+) the backup … well, everything really. The Indians are among the most prolific homer-hitting (69) and base-stealing (40) teams in the game, so it's not an easy offense to contain.
Starting Pitching Matchups
Monday: LHP Andy Pettitte vs. RHP Justin Masterson
Masterson, 28, threw a complete-game shutout against the Yankees last month and is in the middle of a career year: 3.07 ERA and 3.26 FIP in 82 innings. His strikeout rate (9.11 K/9 and 24.7 K%) has jumped big time while the walk (3.40 BB/9 and 9.2 BB%), homer (0.55 HR/9 and 7.9% HR/FB), and ground ball (54.3%) numbers have remained static. Masterson lives and dies with heavy low-90s sinker, though this year he is using his low-80s slider more than ever before. A mid-80s changeup is a rarely used third pitch — he throws maybe one or two per start. It's worth noting Masterson appears to have gotten over his career-long trouble with lefties (.250 wOBA vs. RHB, .295 vs. LHB) but using that slider more often. The Yankees have seen him plenty of times before thanks to his time with the Red Sox. He's been excellent this year.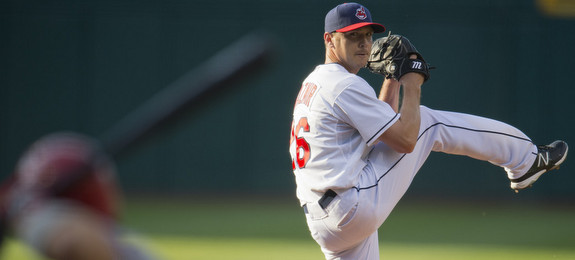 Tuesday: RHP David Phelps vs. LHP Scott Kazmir
The Scott Kazmir Comeback Story has had its ups and downs this year, and so far the 29-year-old southpaw owns a 5.13 ERA (4.55 FIP) in eight starts. He's missing a ton of bats (9.15 K/9 and 22.7 K%) and keeping his walks relatively down (3.35 BB/9 and 8.3 BB%), though he has been fly ball (39.0% grounders) and homer (1.56 HR/9 and 14.9% HR/FB) prone. Kazmir's fastball velocity has fluctuated wildly, averaging 91.6 mph but sitting anywhere from 86-96 on the given day. His low-80s slider is an effective pitch even though it lacks the bite it had during its heyday. A low-80s changeup is his third offering. The Yankees haven't seen this latest version of Kazmir yet, and in fact they haven't faced him since 2010. I'm not sure how relevant all those times they saw him with the (Devil) Rays are right now.
Wednesday: LHP CC Sabathia vs. RHP Corey Kluber
Kluber, 27, has very quietly been rock solid if not spectacular this year. His 4.36 ERA (3.13 FIP) doesn't stand out, but his strikeout (9.55 K/9 and 25.9 K%) and walk (1.66 BB/9 and 4.5 BB%) totals have been outstanding. He doesn't get many ground balls (43.8%) and will surrender some homers (1.04 HR/9 and 12.8% HR/FB) though. An upper-80s slider is Kluber's top pitch, and he throws it more than 30% of the time. A low-to-mid-90s fastball sets the slider up, and he'll also throw mid-80s changeups and low-80s curveballs. It might just be small sample size noise, but Kluber has a big reverse split: .364 wOBA vs. RHB and .287 vs. LHB. That doesn't make a ton of sense given his slider usage, so I'm guessing that will even out as the season progresses. The Yankees faced him once last year, scoring just one run in five innings.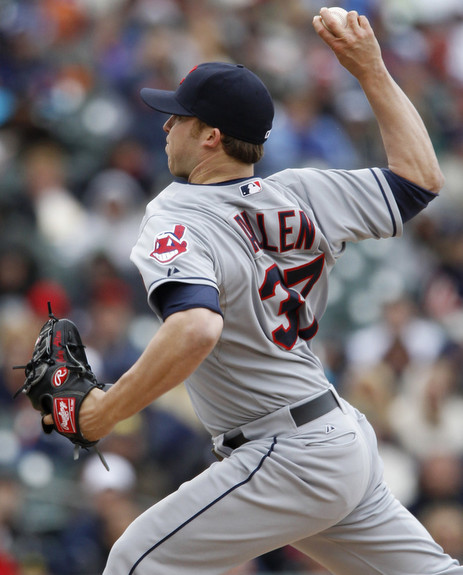 Bullpen Status
The Rays did the Yankees a solid yesterday and forced Francona's bullpen to get 14 outs in relief of former Yankees farmhand Zach McAllister. Add in the four-hour rain delay(s) that knocked the starters out of Friday's game after two innings and you have some tired arms in that bullpen. Furthermore, closer RHP Chris Perez (6.19 FIP) is on the DL with a shoulder issue.
RHP Vinnie Pestano (5.57 FIP) is handling the ninth inning during Perez's absence, and the setup onus falls on RHP Joe Smith (2.68 FIP) and RHP Cody Allen (2.43 FIP). LHP Rich Hill (5.07 FIP) and LHP Nick Hagadone (4.87 FIP) handle the matchup work while RHP Bryan Shaw (3.03 FIP) and RHP Matt Albers (3.90 FIP) do the middle relief thing. RHP Mark Langwell (9.82 FIP in very, very limited time) rounds out what is temporarily a 13-man pitching staff. Hagadone and Langwell both worked multiple innings on Sunday.
The Yankees are in good bullpen shape thanks in part to last night's rain-shortened game. Adam Warren figures to be out of commission for another day or three after throwing 70 pitches on Saturday, however. Check out our Bullpen Workload page for full reliever use details, then check out Wahoo's on First for some pretty great Indians coverage.