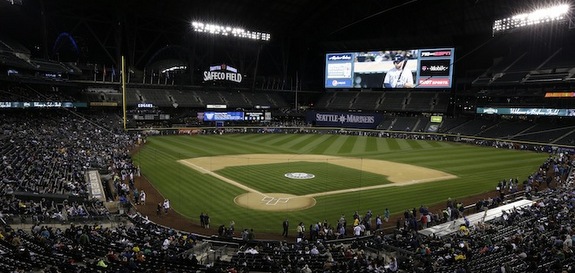 Off to the West Coast. The Yankees are in Seattle for the start of a ten-game, 12-day road trip up and down the Pacific coast. Four games in the Emerald City start things off.
What Have They Done Lately?
As you probably heard, the Mariners lost a ridiculous 16-inning game to the White Sox yesterday. They were down five runs in the 14th and came back to tie it before losing two innings later. Seattle won two straight before the loss and is 26-34 with a -42 run differential, making them one of the AL's worst.
Offense
The Mariners average 3.7 runs per game with a team 97 wRC+, but this isn't the same lineup the Yankees saw in New York a few weeks ago. 2B Dustin Ackley and C Jesus Montero have been sent to the minors, which was long overdue. They're also without 1B Justin Smoak (103 wRC+), who is on the DL with an oblique injury. OF Mike Morse (120 wRC+) is day-to-day with a quad injury and could return to the lineup as soon as tonight. OF Franklin Gutierrez (126 wRC+) has been sucked into a black hole and will never be heard from again (hamstring).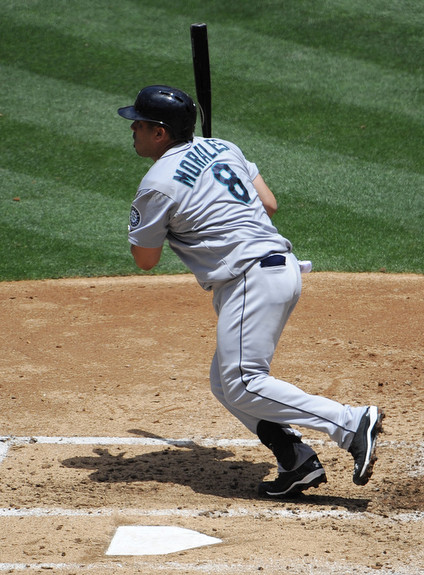 Manager Eric Wedge has just two above-average, full-time players on his roster: 1B Kendrys Morales (142 wRC+) and 3B Kyle Seager (131 wRC+). Morse will make it three whenever he gets healthy. Former Yankee Raul Ibanez (118 wRC+) and former Met Jason Bay (110 wRC+) have formed a very nice DH platoon. Top prospect 2B Nick Franklin (166 wRC+ in limited time) was recently recalled to replace Ackley.
CF Endy Chavez (80 wRC+) has replaced Gutierrez and C Jesus Sucre (24 wRC+ in very limited time) replaced Montero. C Kelly Shoppach (80 wRC+) backs him up. OF Michael Saunders (87 wRC+) has been both hurt and disappointing while SS Brendan Ryan (57 wRC+) is his usual all-glove, no-hit self. 3B Alexi Liddi (-100 wRC+ in very, very, very limited time) and C Brandon Bantz (has not played) are on the roster as well. The Mariners can hit the ball out of the park (71 homers), but not much else.
Starting Pitching Matchups
Thursday: RHP Phil Hughes vs. RHP Aaron Harang
Those innings aren't going to eat themselves. Harang, 35, is keeping a spot warm until some of Seattle's prospects are deemed big league ready, and so far this year he's pitched to a 5.82 ERA (4.43 FIP) in eight starts. His strikeout (8.10 K/9 and 20.6 K%) and walk (1.87 BB/9 and 4.5 BB%) rates are actually excellent, but he's a fly ball (33.8% grounders) and homer (1.66 HR/9 and 12.1% HR/FB) machine. The Harangutan sits right around 90 mph with his two- and four-seam fastballs, and his top offspeed pitch is a low-80s slider. He'll also throw mid-70s curveballs and low-80s changeups. The Yankees were supposed to see Harang when the Mariners came to the Bronx a few weeks ago, but he was scratched from the start with a stiff back. He's never faced the Bombers in his long career.

Friday: RHP Hiroki Kuroda vs. RHP Jeremy Bonderman
Yes, that Jeremy Bonderman. The 30-year-old former Tiger attempted a comeback this year after missing most of 2008-2010 and all of 2011-2012 due to various injuries. Seattle called him up and he made his first big league start in nearly three years last week, getting tattooed for seven runs on nine hits (seven for extra-bases) in 4.2 innings against the Twins. His Triple-A performance before being promoted wasn't a whole lot better: 4.52 ERA (4.49 FIP), 4.66 K/9 (12.0 K%), and 2.54 BB/9 (6.5 BB%) in 63.2 innings. Bonderman sat right around 90 mph with his four-seamer last week, throwing a bunch of low-80s changeups and sliders as well. He's not the pitcher he once was after all the injuries, so his experience against the Yankees is meaningless. Obviously no one on the roster has faced him in more than two years.
Saturday: LHP Andy Pettitte vs. LHP Joe Saunders
Saunders, 31, apparently left his horseshoe in Baltimore. He's been dreadful in 12 starts this year (5.20 ERA and 4.87 FIP) despite a career-high ground ball rate (48.0%). Saunders doesn't strike anyone out (4.69 K/9 and 12.0 K%) but he limits walks (2.92 BB/9 and 7.4 BB%), which is good because he's homer prone (1.27 HR/9 and 13.0% HR/FB). An upper-80s sinker is his weapon of choice, though he'll occasionally mix in a few straight four-seamers at the same velocity. A low-80s changeup is his top secondary pitch, but he'll also use low-80s sliders and mid-70s curves as well. The Yankees have seen Saunders plenty of times over the years, including twice with the Orioles late last year (once in September and once in the ALDS). He pitched well both times despite failing to complete six innings of work. Buck Showalter had the quick hook.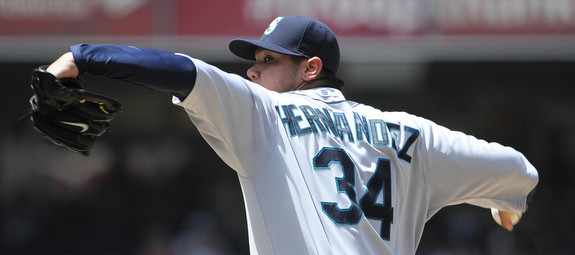 Sunday: RHP David Phelps vs. RHP Felix Hernandez
You didn't think the Yankees were going to get through a Mariners series without seeing Felix, did you? The 27-year-old King is having the best season of his career (2.58 ERA and 2.39 FIP), with career-best strikeout (9.43 K/9 and 26.8 K%) and walk (1.69 BB/9 and 4.8 BB%) rates. His 52.3% ground ball rate is not a career-high, but it is very good. Hernandez sits in the low-90s with his four-seamer and sinker, which is more than enough to set up his all-world array of offspeed pitches: upper-80s changeup, mid-80s slider, and low-80s curveball. He's filthy. He's filthy and he seems to dominate the Yankees every time he faces them. I expect no different this weekend.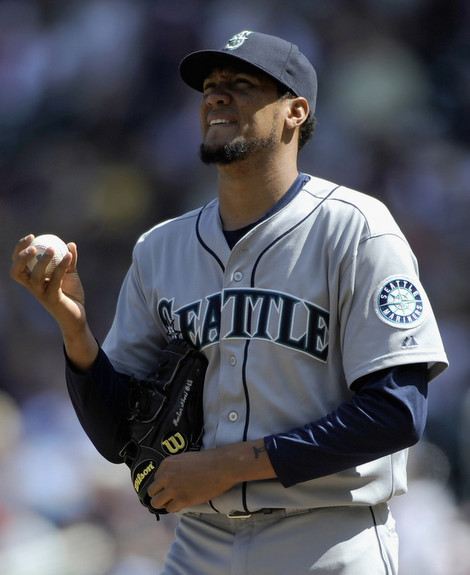 Bullpen Status
That 16-inning game yesterday really taxed the Seattle bullpen. Six of their seven relievers pitched, with closer RHP Tom Wilhelmsen (3.10 FIP) the only exception. That's because he pitched in each of the prior two games. RHP Yoervis Medina (2.69 FIP), former Yankee Hector Noesi (3.54 FIP), and former Yankees farmhand RHP Danny Farquhar (0.74 FIP in limited time) all threw multiple innings on Wednesday.
LHP Charlie Furbush (3.88 FIP) and RHP Carter Capps (3.62 FIP) are relatively well-rested despite pitching yesterday, though LHP Oliver Perez (3.21 FIP) has pitched in each of the last two games. I'm guessing the Mariners will make a roster move or two for a fresh arm tonight, perhaps involving Medina or Farquhar. Either way, the White Sox did the Yankees a big favor and the Mariners' tired relief corps could be a factor this weekend.
The Yankees have a nice and fresh bullpen thanks to CC Sabathia's complete-game yesterday, or at least as fresh as they can be this time of year. David Robertson and Mariano Rivera were off yesterday but pitched in each of the two games before that. You can check out our Bullpen Workload page for exact recent reliever usage. Lookout Landing and U.S.S. Mariner are the best Mariners sites on the netweb.