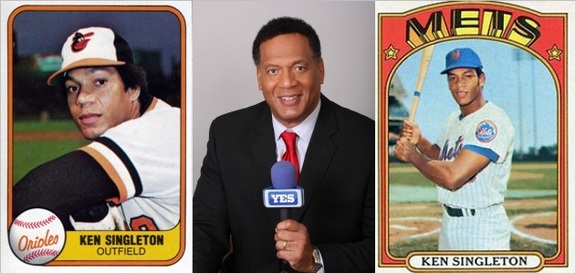 You may have seen him play back in the '70s or early 80's. Chances are, you most certainly have heard him on the YES network. Please welcome Ken Singleton!
Matt Warden: Thanks for taking time out of your busy schedule to chat with me! I know everyone here at River Ave Blues will be thrilled!
Ken Singleton: Sure thing. I always enjoy talking baseball.
MW: Alright, great, let's get started with this. I was checking out some of your career stats on Baseball-Reference.com. I noticed you spent time with the Mets, Expos, and Orioles. One team was conspicuously not on that list. How'd you wind up announcing for the Yankees?
KS: That's a very interesting question. I was working with the Expos doing their radio and TV games. Mike McCarthy was the executive producer for the Yankees on MSG. I noticed that whenever we came to NY, he would sit in the back of the booth and not say very much. When the time came for me to leave the Expos he wanted me to work for MSG.
He paired me with Jim Kaat. We were supposed to do a demo tape of three innings of the World Series. After about one inning, he said that was enough and that we were a perfect fit, so he had to pitch it to George Steinbrenner down in Tampa. When I met George, I would say he wasn't completely enthusiastic about the idea since I had never played for the Yankees. I remember his own words were, "Our fans aren't going to like you because of all the bad things you used to do to us." [Laughs] I explained to him I was only doing my job and he responded that I had done it very well which I took as a compliment. But I still wasn't sure.
I went home to talk to my wife about the interview. One thing that George knew though, was that I was originally from New York so I guess he took that into consideration. I ended up getting the job and 17 years later, I'm still here. I've enjoyed every minute of it. The Yankees have been great whether with MSG or with YES. I've always said that outside of playing, this is the best job you could have. It's worked out really well.
MW: Commentating for the Yankees is one thing. Playing for them is another thing altogether. Do you think you would thrived as a player under George Steinbrenner's regime?
KS: You know what, I don't know. I'm not sure. I mean if other guys could do it, I'm sure I could have too. There were some very good teams in those days. Of course, we were one of their rivals as George pointed out. Yeah, I could see where he was very demanding. That first year, doing the games on TV for New York, I just did what I had always done. I prepared just as I had in the past as player. George never said anything bad about it and I've gotten a lot of favorable feedback around the city. I think I would have fit in fine as a player because I would have prepared well and then I would have gone out and done my job.
MW: Do you feel that some players tend to fit in better in New York than others? Is the NY media lime light overstated sometimes?
KS: I think there is something to that. With all the media attention, there are certain players that handle it better than others. You see it from time to time — players that have done well, and others who come to NY and don't do quite as well. There are writers and opinions everywhere. It does happen. You need to have a thick skin. You need to go out there and do your job as best as possible and let things fall where they may. For me, personally, having grown up in NY, I knew what to expect as a visitor. That's just how it is. It can be a demanding place. I've mentioned on the air that NY isn't just competing against everyone else, but their own history as well. And their history is unmatched.
MW: As I perused through some of your stats, your patience really popped off the screen at me [career .282/.388/.436, 14.8 BB%, .371 wOBA, 134 wRC+]. What was the secret behind your patience?
KS: It's just something I've always had. I had it in little league. To me, Matt, when you're hitting, it's hard enough as it is to hit the strikes. So why would you want to leave the strike zone to try and hit something that's too far to reach. So for me, if it was too far to reach, I figured it'd be a ball. My job was basically to get on base and the more times I get on base, the more opportunities my team has to score. I think my OBP was pretty high up there, like .388 for my career. I think the highest I ever had was .438 one year with the Orioles, which was the single season club record.
I can still recall when Earl Weaver called me into his office during Spring Training and told me – and he was kind of ahead of his time as a manager – that I was going to lead off. I told him that I wasn't a lead-off hitter, and he told me that season I would be. He told me to get on base. He had two guys who could take walks — me, and Bobby Grich who was going to bat second. I walked 118 times which was a team record and still is, and got on base about 40% of the time. Earl was ahead of his time because OBP wasn't as important in those days to folks, but it was to him.
I can also recall another time he called me into his office – by that time I was batting third in the order – and he said he was going to bat the young guy behind me. The young guy was Eddie Murray. Earl said, "Your job is to get on base for him. If you don't get a home run I want you on base for him for when he hits one." That's what I tried to do. I went up there to hit but if I didn't get one, I'd take the walk.
MW: When did you learn the value of the walk? Do you think your style of batting would be more appreciated in today's game? I think you'd fit into a lot of teams' style of play now-a-days very conveniently.
KS: I appreciated the fact that by taking a walk, I wasn't making an out. [Laughs] No one likes making an out. I didn't like it. I didn't like making the last out of a game. And yes, I do believe, in this day in age, that my ability to get on base would be more appreciated. In fact, in 1973, I led the National League in OBP and no one really said anything about it. It wasn't even a negotiating point in my next contract. In this day in age, if you lead the league in OBP, someone is going to know about it. It would be pointed out. I think that year in 1973, I reached base 43% of the time and it wasn't talked about.
I think what helped me too was that the umpires knew I had a good eye. I could take the close pitches that might be called strikes and have them called balls. Players on my own team, the Orioles in particular, would ask "How'd you take pitches like that and not get called strikes?" I said "For starters, I'm not up there swinging at everything and then whining about it like you are. The umpires respect my judgment."
MW: That's kind of mind-boggling if you think about it.
KS: [OBP] wasn't a big deal at the time. People were focused on home runs, batting average, and RBI. Although that particular year, all three of those categories were very good for me, the fact that I walked 123 times – which boosted my OBP to .425 for the year – was the least mentioned point. All the other stats were pretty good too, but they probably weren't the best in any of the categories. Times have changed. Now it's more about slugging and OPS. To me, it might be more of an indication of how valuable a player is to his team.
MW: Hypothetical: If you had a chance, in your prime, to face your colleague David Cone (in his prime), what's the outcome?
KS: It's funny, because I think Coney said something on the air a few seasons ago about this. He said that he'd have to back me off the plate. He said, number one, he knew he'd have to throw strikes because I wasn't going swing unless it was a strike which is true. He said he'd try to intimidate me. I said to Coney, "Good hitters don't become intimidated. They become infuriated."
You have to be very careful who you choose to knock off the plate. [Laughs] So you never know. It never happened. Although he did say he faced me once in spring training towards the beginning of his career and the end of mine and he said he thought he walked me, so maybe that's what would end up happening. Coney, back in those days, might not have had the control he had later on his career. To me, he's like everyone else. He'll make mistakes and when he does I'll hit it. If he makes good pitches, he'll get me out. But I'm going to make him earn it. I'm going to make him throw strikes.
MW: When did you start switch-hitting? What motivated you to give it a try? Did anyone help you with this?
KS: Well, when I was growing up, Mickey Mantle was big in NY, everywhere really. Everyone wanted to hit like Mickey. Also, when I first started playing ball around four or five years old, I hit left-handed and threw the ball left-handed but I noticed that most of the other kids hit and threw right-handed so I tried it. I got to where I could throw right-handed and hit right-handed. So I could actually throw with both hands and hit from both sides.
In little league, I became strictly a right-handed thrower and right-handed hitter. But in the Bronx League, one day, I was fooling around before the game hitting left-handed. My coach said that day, "Why don't you hit left-handed in the game when we have the right-handed pitchers in." I ended up hitting two home runs that game and he said, "From now on you're a switch-hitter."
I was about fourteen or fifteen years old, and of course that made me more valuable in the eyes of scouts, and by the time I was sixteen, I was known as a prospect who could hit from both sides of the plate. As a professional, it didn't really matter who was pitching, I'd be comfortable on either side of the plate. But towards the end of my career, I thought I was a better left-handed hitter.
MW: Were there any pitchers who you hit particularly well? Particularly poorly?
KS: I know I hit Dennis Eckersley well. I think I had more hits off him than any other pitcher. I know I didn't hit Ron Guidry – who's a great guy for starters — very well. He was not fun at all. It was always going to be a tough night when he was on the mound. I know I only hit one home run against him and that was in the Thurman Munson game back in '76 at Yankee Stadium, and that was basically him hitting my bat and the ball flying out on its own. Outside of that, I think I was less than a .200 hitter against him. It was because of him that I didn't hit .300 for my career against the Yankees. I hit other guys on that team pretty well, but not him.
Nolan Ryan struck me out a lot but he struck out a lot of people a lot. I did get my hits off him though. I believe I hit .300 against him – I think I was 12-40 against him in fact – but I think he struck me out like 16 times, but I don't feel badly about that. He was striking everyone else out too. But I did get my walks. You see, I think no matter who was pitching I was going to bat third and I think Earl felt that even if I didn't hit whoever was pitching well, I'd get walks and would get things set up for the next guy. Instead of going 0-4 or 0-5, I might go 0-3 with a walk or two, and to Earl, it meant more scoring opportunities for the team. For guys I did hit well, I might hit 2-3 or 3-3 with a couple walks and Earl noticed that too.
MW: What are your thoughts on the emergence of advanced baseball metrics? If they had been accessible to you as a player, would you have utilized them?
KS: As a player, I imagine if they were around when I was playing, probably so. I would have liked to know a lot more about the pitchers I was facing. With the stroke of your computer, or your phone, or whatever, you can find out more about a guy now than ever before. All I knew as a player was who was pitching to me over the next three days. I had a general idea – though by no means necessarily as factual as it is now — of how hard the guy threw, how his breaking pitches were and how he had been playing. It was completely different. Nowadays, fans have so much more information available to them. If someone is willing to get into it, it can make the game that much more interesting.
MW: I found that my personal appreciation of the game has increased exponentially as I've explored sabermetrics. I know there is a group of fans out there (and maybe they're even the majority of fans) who cringe at the new age stats – can't have the nerds ruining baseball with all their numbers! For me though, the metrics are not diminishing the game, rather they're merely elaborating on what our eyes see. The "mystique," if that's what you want to call it, hasn't disappeared at all. If anything, it's grown substantially now that I can further appreciate more of what I see.
KS: Exactly. Exactly, Matt. But the one thing I would caution, though, is that the numbers don't really tell you about the heart of a player. I mean, who are the real competitors? I've always said that when you get in the playoffs – and I like to see game sevens mind you – you see who your real players are. For example, in his last game with the Yankees, Hideki Matsui drove in six runs! He knew it was going to be his last game with the Yankees. He ended up as the MVP of the World Series back in 2009 against the Phillies. And to me, he was a very clutch player, and the Yankees miss someone like him. He was a clutch player throughout his time with the Yankees and those are the types of players I really admire and sometimes those moments can't necessarily be captured simply.
MW: Which current MLB player most reminds you of yourself?
KS: Ooh! Wow. That's a good one. Umm, someone with a high OBP of course, who's not really a big time slugger. Someone who … wow … you know I have never really thought about it. I'm not sure. I know that I've talked to people like Stick Michael and he said in this day and age, my abilities would have been appreciated more, to the point where I would have been one of the highest paid players in the game though. Maybe not the top top tier, but I would have been up there. In my day, I was near the top [in pay grade] and that's because the Orioles valued me as one of their top players. They made it worth my while to not become a free agent a couple times. Do you have anyone in mind?
MW: I think you may laugh at this. I'm almost certain this isn't the best comparison. But, the first name that came to my mind – and please know I mean no offense to anyone – is Nick Swisher. For lack of a better term, I think he's kind of a "poor man's" version of you. His approach at the plate seems kind of similar though.
KS: [Laughs] That's pretty good. His OBP is pretty good. Umm, nothing against Nick, but I think I was a bit more of a clutch player than him. I think my playoff record speaks to that. I see what you mean though, though my batting average was better too.
MW: [Laughs] Hence the "poor man" disclaimer!
KS: But you're right. The approach is the same. He runs deep counts, isn't afraid of taking the walk. Yeah, hits well from both sides. Yeah, I could see that.
MW: Okay, okay. Let's do some true or false…
KS: Alright.
MW: True or False: Yankees stick to the $189M austerity budget next season.
KS: True. The reason I say true is that they've had really good success this year with all their stars injured. I have a feeling it's pointing the organization in the direction of saying "What do we need all these guys for when we're hanging in there without them?" Of course, they're not able to bludgeon teams like they have in the past. The Yankees have always hit over 200 home runs since the time I came here, and the one year they weren't able too, they didn't make the playoffs.
So, I think they'll stick to it. What happens is the luxury tax will reset and starts all over again, so maybe they then go back over the luxury threshold then. I think if they don't make the playoffs, maybe they won't stick with it though. If they make the playoffs, they do.
MW: True or False: Both Andy Pettitte and Hiroki Kuroda are gone next season.
KS: False. One of them will be back. My gut feeling is Kuroda will be the one who comes back because he's pitching pretty well this year. I think Andy Pettitte has had more physical problems this year – hopefully he won't have any more for the rest of the season – but I think if the Yankees do make the playoffs, Andy will call it a career and he'll want to go watch his son, Josh, pitch in college. He has a tendency to talk about his son more than anything else.
MW: True or False: Yankees fans will look back and feel they "won" the Michael Pineda/Jesus Montero trade in the next few years.
KS: I think they kind of already do even though Pineda has not pitched yet. He's getting closer and you see what's happening to Montero. He's in the Mariners Minor League system, and hasn't lived up to the potential that everyone thought he had. He hasn't flourished in Seattle. Defensively, I saw him in a few games, and he wasn't very good at all.
I watched the Mariners a few weeks ago as I was preparing for the series and he wasn't very good, and eventually he was sent out. His defense has affected his hitting I think too. Until he realizes his potential, it's just not going to happen. Pineda is about ready to burst onto the scene though.
MW: Does he ever develop a changeup?
KS: [Laughs] I don't know. I just want to see him get someone out. I don't really care how he does it to be honest.
MW: [Laughs] Fair enough.
MW: True or False: Yankees reach the playoffs this season.
KS: [Long Pause] Boy that's difficult.
MW: Ken! You're killing me here! Long pauses like that will send our readership off the ledge!
KS: [Laughs] Yeah probably. There are four teams involved here. I'm going to say true here, they do make the playoffs. I think they're going to get more help as the season goes on. Can I qualify this answer with every team has its weaknesses?
MW: Definitely.
KS: The Red Sox pitching outside of Lester and Buchholz hasn't been great. The Rays offense – although they've hit recently – and some of their rotation haven't been doing all that well. Price is injured. Hellickson has an ERA north of five. Their bullpen has been very shaky outside of Peralta. The Orioles might be the best team all around offensively but their starting pitching has not been all that good and their bullpen has struggled – though it looks like Johnson is starting to come around after that rough stretch. Each team has their issues. It'll be a very interesting season. To me, it'll go down to the last 10 days. All four teams may still be involved by then, which is why I hesitated.
MW: I think that sounds like a very sensible response.
KS: Also, I think the Blue Jays can play a little better. Everyone picked them before the season started. They kind of remind of a slow pitch softball team though.
MW: [Laughs]
KS: Defensively, they are not very good. Their starting pitching is not what they thought it would be due to injury, or whatever. Their bullpen has been shaky. They hit home runs though. It's like, "Let's see how far we can hit the ball." But that's basically it. That's what they do. They hit home runs and strike out a lot. Their defense was abysmal at the beginning of the year. They've had some stretches where they've played better throughout the season, but I think they've dug themselves into too big of a hole – particularly considering the strength of the division.
MW: So, aside from being a great player, entertaining Yankees commentator, and all-around good guy, something tells me there's even more. I bet you have a good cause that should get some attention, right?
KS: Definitely! I've recently been helping with a golf tournament designed to raise money and awareness for the Cool Kids Campaign. It's a fantastic fundraiser designed to help provide kids with cancer a higher quality of life for themselves and their families. It's a great cause and I'd welcome all of you to check it out at CoolKidsCampaign.org.
Needless to say, a big thanks goes out to Mr.Singleton from everyone at RAB. Be sure to follow Ken on Twitter. His handle is @29alltime.