At 3.75 runs per game, the Yankees have had the most effective pitching staff in the American League this year. The already strong rotation is backed up with more viable big league arms in Triple-A, plus the bullpen has suddenly become very deep thanks to the emergence of Preston Claiborne and Shawn Kelley. The Bombers were expected to have a very good pitching staff coming into the season, but I don't think many of us thought it would be best in the league good.
The offense, on the other hand, is averaging just 4.00 runs per game. That's the fifth worst mark in the league and the worst by a Yankees team since that awful 1990 squad (3.73 per game). After hanging six runs on Aaron Harang in the third inning of the first game in the series against Seattle, they scored just six runs in their final 33 offensive innings of the series. Only thrice in their last 16 games did they score more than four runs. Yet it works because of the pitching staff.
We can point our fingers in a lot of places and assign blame for the subpar offense, but the biggest offenders to date have been the corner outfielders. The Yankees have gotten a combined .241/.286/.367 line out of their left and right fielders this year compared to the .256/.318/.415 league average. Things have gotten so bad that Lyle Overbay (100 wRC+) has seen time in right recently, a desperation move I advocated. The corner outfield spots are bat-first positions, those guys are expected to hit. Instead, New York has gotten well-below-average production.
Vernon Wells and Ichiro Suzuki have combined for 427 of the 514 corner outfield plate appearances this year, so it's no surprise those positions haven't produced. Ichiro (67 wRC+) is having the worst year of his life and Wells (83 wRC+) is actually hitting worse than he did last season (88 wRC+) when you consider the move into the more favorable ballpark. These two are in very similar situations in that they've stunk since Opening Day 2011 with the exception of three weeks — Ichiro at the end of last year and Wells at the start of this year. Those three weeks are the outlier here, not their recent "slumps." This is who they are.
Curtis Granderson is currently on the DL with a broken hand and is expected back sometime around the All-Star break, but hand injuries are always tricky. They have a way of lingering and impacting offensive production. Perhaps Granderson is less at risk because it's his left hand and not his lead (power) hand. Either way, he is only one man. There is still another outfield spot worth upgrading with a legitimate everyday bat who can push Wells and Ichiro into a platoon for the next few weeks, then further on the bench when Granderson returns. There's a very obvious path to improvement here.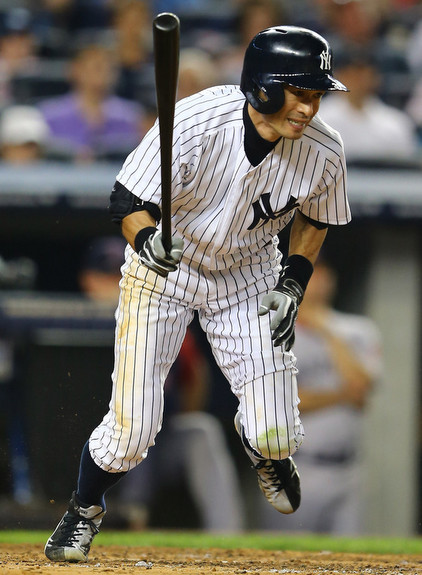 "It's always hard to predict [when the trade market will start to develop],'' said Brian Cashman to George King late last week. "Last year there was a lot of movement before the deadline. But no one really talks about trades until after the draft.''
Well, the draft has come and gone and the focus is now on the big league roster. The list of impending free agent corner outfielders who could realistically be available this summer is uninspiring — Mike Morse? David DeJesus? Corey Hart? — but adding a corner outfield bat doesn't necessarily have to be a rental. Granderson is a free agent this winter and there is no reason to think Ichiro and Wells will morph into everyday players next year. The farm system doesn't offer much immediate help either. Adding a bat they could control in 2014 as well would be worthwhile.
The list of outfielders due to become free agents after next season is a little more enticing, but not much. Guys like Michael Cuddyer, Alex Rios, Josh Willingham, and Alfonso Soriano could be options, but they all carry big price tags and performance concerns. Are they better than Ichiro and Wells? Hell yes. Are they worth the price, both in terms of prospects and salary? Eh, maybe. We don't know what the other teams want in return at this point. Hopefully some more names pop up on the market as teams fall out of the race.
Finding offensive upgrades at shortstop and catcher (and to a lesser extent, third base) would be the ideal moves at the trade deadline, but those positions are very hard to fill and the realistically available trade targets aren't all that appealing anyway. The corner outfield spots are a different matter entirely. There are always left and right field bats on the market and that's the easiest spot(s) for the Yankees to improve their offense this summer. The trade deadline is still more than seven weeks away, but this is something they should start exploring now. Wells and Ichiro don't deserve any more rope.