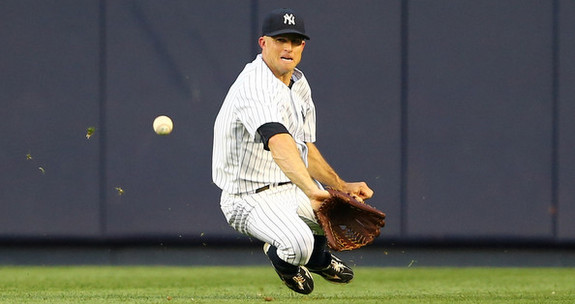 The Yankees have lost six of their last seven games, which is very bad. Just as bad is the utter lack of offense. They've scored exactly one run in four of their last six games, and in the other two games they scored four runs. In fact, the Yankees haven't scored more than four runs in eight games now, and they've only done it once in their last eleven games. It doesn't matter how good your pitching staff is, you can't win like that. Not in a small ballpark in the AL East. The offense needs to get its act together and quick. Here's the lineup that will face right-hander Clay Buchholz…
And on the mound is the former Senshu University reliever in the Tohto University Baseball League, right-hander Hiroki Kuroda.
It was crazy hot in New York today, but there's actually some showers in the forecast tonight. The heaviest stuff is supposed to start sometime around 10-11pm ET and continue into the earlier morning, so who knows how that will impact the game. First pitch is scheduled for a little after 8pm ET and can be seen on ESPN. Try to enjoy.
Update (7:45pm): The game will officially start in a delay, and no tentative start time has been announced. Also, Stewart was a late scratch with similar dehydration symptoms as last night. He's being checked out by the doctor.
Update (8:18pm): First pitch is tentatively scheduled for 8:50pm ET.