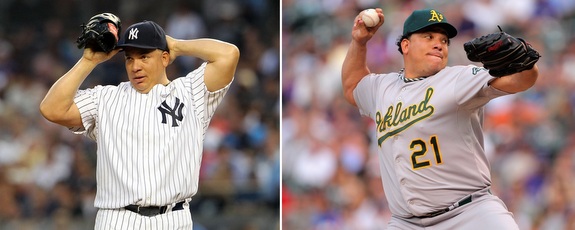 On this date in 2011, Bartolo Colon was sitting on a 3.10 ERA and 3.37 FIP while averaging nearly seven innings per start for the Yankees. He had brought his career back from the dead and was looking like the number two starter the Yankees craved behind CC Sabathia. His starts were must-watch television thanks to the mid-90s fastballs on the corners and front door two-seamers for called strike three to lefties.
Also on this date in 2011, Colon hobbled off the field after straining his hamstring covering first base in the seventh inning of a rainy start against the Indians. He missed a month and was pretty much never the same for the Yankees after that, pitching to a 4.81 ERA and 4.14 FIP in his final 16 starts and 86 innings of the year. Instead of being number two behind Sabathia, he was left off the playoff roster entirely. Colon hooked on with the Athletics after that season and has been in Oakland every since, and tonight he'll face his former team for the second time this year. Here's the lineup Joe Girardi is running out there against Bart:
CF Brett Gardner
2B Robinson Cano
1B Mark Teixeira
DH Travis Hafner
3B Kevin Youkilis
RF Lyle Overbay
LF Ichiro Suzuki
SS Jayson Nix
C Chris Stewart
And on the mound for the Yankees is the 20th overall pick in 1998 draft, left-hander CC Sabathia. I wonder how many teams passed on him that year because of his weight.
There's a very tiny chance of rain tonight in Oakland, but nothing that should cause any kind of delay. The game is scheduled to start at 10:05pm ET and can be seen on YES. Enjoy.
Aaron Judge Update: Judge, the team's second first round pick in last week's draft, is with the Yankees in Oakland according to Ken Davidoff. He's taking batting practice and working out with the team, stuff like that. Pretty common for high draft picks, and he's only a few hours away in Fresno. Hopefully they show some clips during the game.