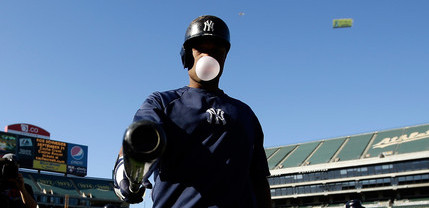 These last two games have not gone well for the Yankees, who have started to add shaky pitching performances to their daily dose of offensive incompetence. CC Sabathia and Phil Hughes combined to allow nine runs in 10.1 innings these last two nights, and overall the rotation has posted a 4.34 ERA (3.73 FIP) over the last 30 days. That's the ninth best in the AL and 18th best in baseball, or in other words: mediocre. That has to improve if the Yankees want to stay in the race. Here's the lineup that will face right-hander Jarrod Parker:
CF Brett Gardner
SS Jayson Nix
2B Robinson Cano
1B Mark Teixeira
DH Travis Hafner
3B Kevin Youkilis
LF Vernon Wells
RF Ichiro Suzuki
C Chris Stewart
And on the mound is right-hander Hiroki Kuroda. The game is scheduled to begin at 3:35pm ET and can be seen on YES. Try to enjoy.
Injury Updates: Frankie Cervelli (hand) has started playing catch and catching bullpens in Tampa. Joe Girardi acknowledged he is unlikely to return until the All-Star break, however … Eduardo Nunez (ribcage) is still taking dry swings, nothing more.