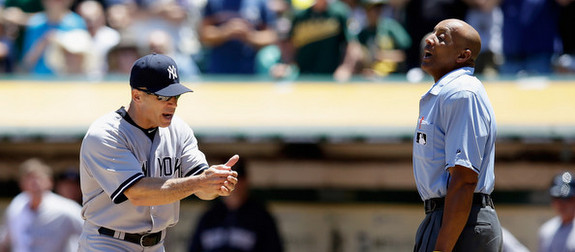 The Yankees just wrapped up a disastrous three-game series in Oakland in which nearly every one of their flaws — old and unproductive lineup, shaky CC Sabathia and Phil Hughes, sketchy defense in some spots — was exposed. If Thursday's marathon 18-inning loss wasn't rock bottom, then I'm not sure I want to see how much worse they can actually play. Just get a win tonight against the awful Angels. Ugly, pretty, blowout, nail-biter, extra innings, rain-shortened … I don't care. Just get a win and go from there. Here's the lineup that will face left-hander C.J. Wilson:
CF Brett Gardner
3B Jayson Nix
1B Mark Teixeira
DH Robinson Cano
LF Vernon Wells
RF Thomas Neal
2B David Adams
SS Reid Brignac
C Austin Romine
And on the mound is the rotation leader in strikeout rate at 9.1 K/9, right-hander David Phelps lefty Andy Pettitte. Bit of a brainfart there.
I can confirm reports that the weather is indeed gorgeous in Anaheim, mid-70s with almost no humidity or clouds and a light breeze. Perfect weather, basically. The game is scheduled to starter at 10:05pm ET and can be seen on YES. Try to enjoy.
Roster Moves: In case you missed it earlier, the Yankees made a slew of roster moves this afternoon. Kevin Youkilis hitting the DL with more back trouble was the most notable.