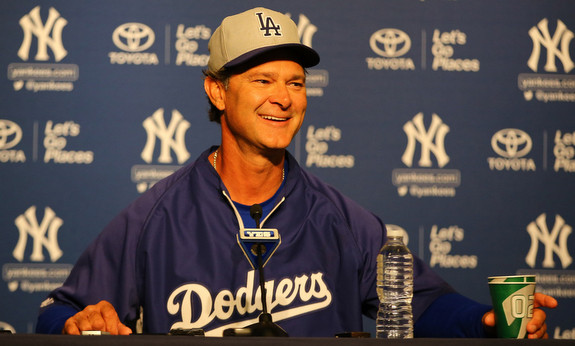 Don Mattingly's return to the Bronx was spoiled by rain last night, so now his two-day return will be squeezed into one doubleheader. The Yankees and Dodgers are playing two games today, something that is always more fun in theory than in practice. Doubleheaders can be hell on an older roster. I guess the good news is that New York just had two straight days off and have another off-day coming up on Monday. Here's the lineup Joe Girardi is sending out there against left-hander Hyun-Jin Ryu in the first game:
CF Brett Gardner
SS Jayson Nix
2B Robinson Cano
LF Vernon Wells
DH Thomas Neal
RF Ichiro Suzuki
3B David Adams
1B Lyle Overbay
C Chris Stewart
And on the mound is the former Los Angeles Dodger, Hiroki Kuroda. He spent four seasons in LA, making one Opening Day start (2009).
There won't be any weather issues today — it's supposed to be nice and sunny and a little on the cool side this afternoon here in New York. The first of the two games is scheduled to start at 1:05pm ET and can be seen on YES locally and MLB Network nationally. Enjoy.