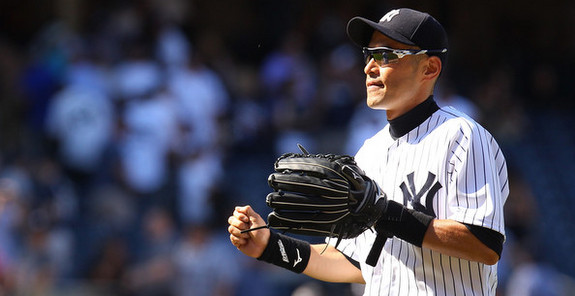 The Yankees beat the Dodgers this afternoon in the first game of their doubleheader, but it didn't come without a cost. Joe Girardi ran through arguably his four best relievers, with Joba Chamberlain, Boone Logan, and Adam Warren the only bullpeners not to appear in the game. Both David Robertson (14 pitches) and Mariano Rivera (ten pitches) told Andy McCullough they should be available tonight, but being available and Girardi being willing to use them are different matters entirely. Joe always seems to make sure he doesn't overwork his relievers, especially his 43-year-old closer. We'll see. Here's the lineup he's running out there against southpaw Chris Capuano:
CF Brett Gardner
SS Jayson Nix
2B Robinson Cano
DH Vernon Wells
RF Thomas Neal
LF Ichiro Suzuki
3B David Adams
1B Lyle Overbay
C Austin Romine
And on the mound is hopefully the good version of right-hander Phil Hughes. He's alternated very good with very bad starts his last four times out, and he's coming off a stinker.
As you saw this afternoon, the weather is flawless in New York today. Won't be any rain issues tonight like there were last night. The second game of this doubleheader is scheduled for 7:05pm ET and can be seen on My9 locally and ESPN2 nationally. Enjoy.