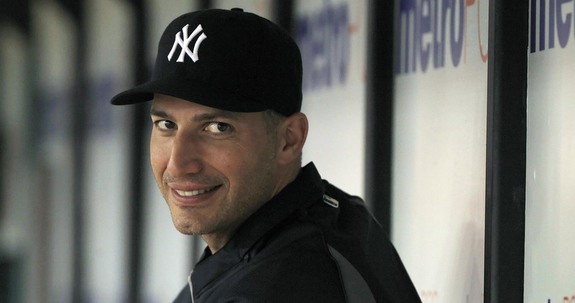 The Yankees have lost 14 of their last 23 games, and while that isn't the end of the world in mid-June, they do need to start stringing some runs together before the All-Star break. Win seven of ten, ten of 14, something like that. They're in third place in the AL East and this weekend the Rays will look to make up some ground in the division. The fewer teams New York will have to jump in the second half to get into the postseason, the better. Here's the lineup that will face left-hander Matt Moore:
CF Brett Gardner
3B Jayson Nix
2B Robinson Cano
DH Travis Hafner
LF Vernon Wells
RF Ichiro Suzuki
1B Lyle Overbay
C Chris Stewart
SS Reid Brignac
And on the mound is the 2003 Warren Spahn Award winner, left-hander Andy Pettitte. The award is given annually to the pitcher deemed the best southpaw in baseball.
Beautiful weather in New York today and that is expected to be true for the rest of the weekend as well. Tonight's first pitch is scheduled for a little after 7pm ET and can be seen on YES. Enjoy.
Injury Updates: Both Kevin Youkilis (back) and Curtis Granderson (hand) had surgery today as expected. Youkilis had a herniated disc repaired and Granderson had a pin removed from his hand. I guess that's not really a surgery. Sorry for the scare.