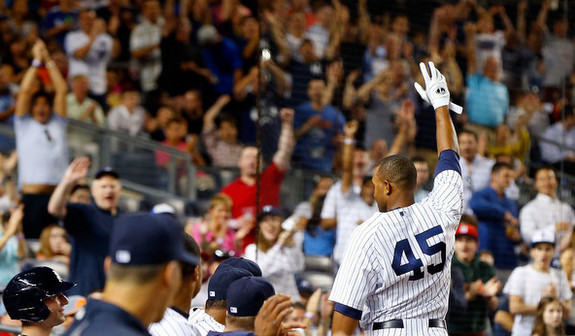 Last night's win over the Rays was the Yankees' first real comfortable win since the Mariners series in Seattle. The Yankees scored some runs early and the bullpen didn't make things interesting late. It was nice. I could go for another one of those this afternoon. Considering all five teams in the AL East are now at or over .500 — no other division has more than three .500 teams — the Yankees need wins any way they can get 'em. Here's the lineup that will face rookie right-hander Alex Colome:
CF Brett Gardner
RF Ichiro Suzuki
2B Robinson Cano
DH Travis Hafner
1B Lyle Overbay
LF Zoilo Almonte
SS Jayson Nix
3B David Adams
C Chris Stewart
And on the mound is left-hander CC Sabathia, who in 2003 became the youngest pitcher to start on Opening Day since Doc Gooden in 1986. He was 22 years and nine months old.
It's another great weather day in New York, so the Yankees and Rays will be playing under lots of sunshine when the game begins at 1:05pm ET. You can watch on YES and MLB Network. Enjoy.
Injury Updates: Derek Jeter (ankle) took batting practice and fielded grounders with the team at Yankee Stadium. He has done pretty much everything except run … Frankie Cervelli (hand) started taking dry swings yesterday … Alex Rodriguez (hip) has started taking simulated at-bats in Tampa.