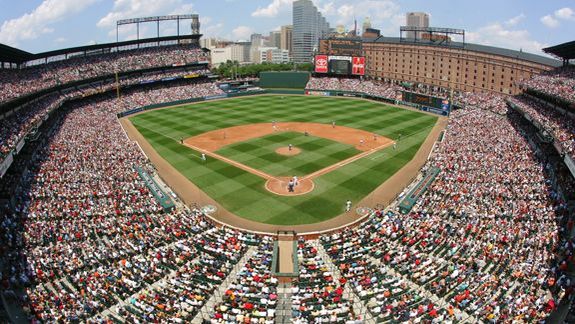 This is the most important series of the season to date. The Yankees and Orioles are tied in the loss column, both three back of Boston and two up on Tampa. Whoever wins this series will end the weekend in second place, and whoever loses could wind up as far back as fourth. The Yankees have little margin of error because of their inability to score runs, so these intra-division games are so damn important. They can't afford to fall any further back in the division. Having to pass one team is hard enough, nevermind having to pass two or three. Here's the lineup that will face rookie Rule 5 Draft left-hander T.J. McFarland:
CF Brett Gardner
SS Jayson Nix
2B Robinson Cano
DH Vernon Wells
RF Ichiro Suzuki
LF Zoilo Almonte
C Chris Stewart
1B David Adams
3B Alberto Gonzalez
And on the mound after much confusion is left-hander CC Sabathia.
It has been raining in Baltimore for most of the afternoon and it's supposed to rain again later tonight, but apparently there's a three or so hour window for them to play. First pitch is scheduled for 7:05pm ET and can be seen on My9. Enjoy.
Injury Updates: Mark Teixeira (wrist) will have his surgery at NYU on Monday … Derek Jeter (ankle) took some simulated at-bats in Tampa today and yesterday, his first time facing live hitters. He also started running on the field recently … Alex Rodriguez (hip) continues to face live pitchers in simulated at-bats, plus he's running the bases and doing more side-to-side movement while fielding grounders.
Rotation Update: Joe Girardi confirmed Ivan Nova will start at some point against the Twins next week, but he's not sure which day. This is so dumb, I don't understand why they're playing with a short bench considering how awful the offense has been.