Not too long ago, Mariano Rivera went through a three-week stretch that was decidedly un-Mariano-like:
Date
Opp
IP
H
R
ER
BB
SO
ERA
BF
Pit
Str
aLI
WPA
May 28
NYM

0.0

3
2
1
0
0
1.86
3
9
5
3.46
-0.826
May 31
BOS

1.0

2
0
0
0
1
1.77
5
13
11
1.11
0.033
Jun 3
CLE

1.0

1
0
0
0
1
1.69
4
15
12
.93
0.033
Jun 4
CLE

1.0

0
0
0
0
2
1.61
3
14
9
2.13
0.162
Jun 8
SEA

1.0

1
0
0
1
3
1.54
5
17
10
2.27
0.078
Jun 9
SEA

1.0

2
0
0
1
0
1.48
5
16
10
4.01
0.179
Jun 13
OAK

0.0

2
0
0
1
0
1.48
3
10
3
4.68
-0.371
Jun 16
LAA

0.2

3
1
1
1
1
1.80
6
25
17
3.63
0.039
Totals
5.2
14
3
2
4
8
3.18
34
119
65%
2.70
-0.673
Those last three appearances during the West Coast trip had a Murphy's Law element to them. Rivera was getting blooped to dead rather than hit hard — I remember at least three broken bat bloops, one in Oakland and two against the Angels — and during that eight-game stretch you see above he fell victim to a .636 (!) BABIP. Rivera also walked a batter in four consecutive appearances for the fourth time in his career and the first since early-2002. Like I said, un-Mo-like.
Since that rough eight-game stretch, Rivera has settled down and rattled off three near-perfect appearances, allowing just one base-runner (a single) in the three innings. Coincidentally — most likely not — he has started to use his two-seam fastball a little more often of late. Here's a pitch he threw to Evan Longoria on Saturday, just for a visual:
Here's the zoomed-in, slow-motion replay, if you're interested.
That wasn't just a show-me two-seamer to Longoria, something to back him off the plate and keep him off the cutter. It was a nasty two-seamer that PitchFX clocked at 93.8 mph (!) with just under ten inches of horizontal movement. Bartolo Colon, who had the nastiest two-seamer in recent Yankees memory, averaged 9.5 inches of horizontal movement with his two-seamer back in 2011, for comparison.
Perhaps the most interesting thing about Rivera's recent two-seamer usage is just how much he's actually using it. He's thrown more two-seamers than cutters in each of his last two appearances, and not by a small margin either — ten cutters and 17 two-seamers in those last two outings combined. Here is his cutter and two-seamer usage by appearance this season: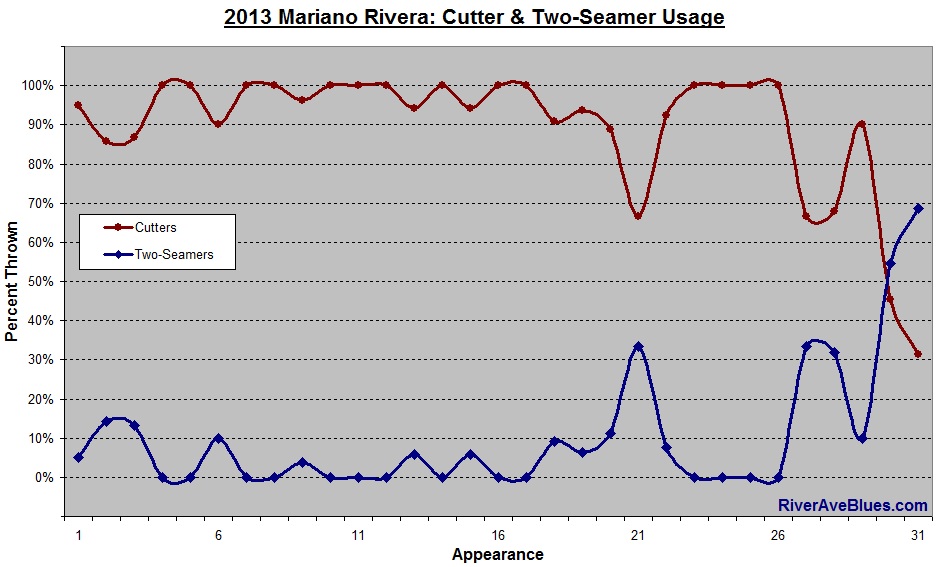 You can click the graph for a larger view.
That one little bump at appearance #21 was the blown save against the Mets, the start of the eight-game slump discussed above. These last five games, dating back to the final two games of the West Coast trip, are when Rivera really started to rely on the two-seamer. I don't know if it took him some time to get a feel for a pitch or what, but the results have been better the last three outings rather than the first two. Then again, two games. Wouldn't read much into that.
Believe it or not, this is not the first time Rivera has turned to the two-seamer following a slump. He did the same thing in late-May 2010, and we've seen him do it a few other times through the years as well. That two-seam fastball didn't come out of nowhere, Mo has thrown it here and there over the years. I can't ever remember him using it as much as he had these last few appearances, however. It was his primary pitches the last two times out.
Rivera has always gone back to using cutters almost exclusively after breaking out the two-seamer in the past, but who really knows what he'll do this year. It is his final season, so perhaps he'll just empty out the entire bag of tricks. I remember seeing him throw a changeup a few years ago (I think it was Spring Training, actually), so maybe that's next. It would be kinda neat if Mo went back to his roots and broke out his starter's repertoire from here on out, but as long as he gets outs, I don't really care how he does it. Right now, he's doing it with that wicked two-seam fastball.