The nail-biter two-game winning streak was nice while it lasted, but the Yankees have now lost two straight and and seven of their last nine games. They've also lost 15 of their 24 games if you want to go back even further. Thursday's loss was an 8-3 drubbing at the hands of the Rays. New York's run differential is down to -5 on the season.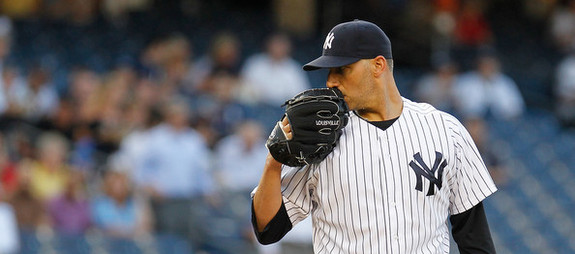 The Tragic Number
For the fourth time in the last six games and the fifth time in the last nine games, the Yankees starter allowed at least four runs. It should be no surprise that they've lost seven of those games; this lineup simply can't overcome that. Four runs allowed is the magic tragic number, anything more than that and New York is probably going to lose.
Andy Pettitte was the culprit on Thursday night, surrendering five runs on nine hits and one walk in 6.2 innings against Tampa. The top four spots in Tampa's lineup went a combined 7-for-12 against him, driving in four of the five runs. Since returning from the DL four starts ago, Andy has allowed 14 hits on 35 base-runners in 25.2 innings. I don't know if the lat (or back) is still bothering him or what, but the Bombers need more than that from the veteran left-hander.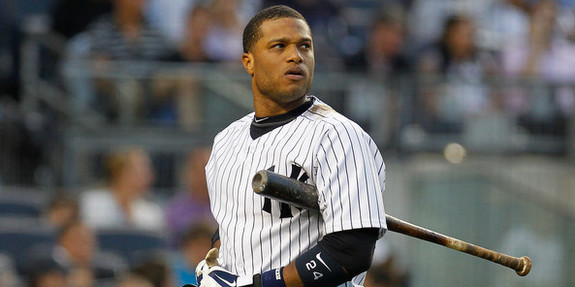 Three Runs, One Hit
Matt Moore came into this start having allowed 20 runs and 39 base-runners in his last 12.1 innings (three starts), but the Yankees offense has a way or helping out struggling pitchers. Moore shut them down for the first five innings before they managed to put together a three-run rally on the strength of one hit. It wasn't even a three-run homer or anything, in fact it was a leadoff single by Reid Brignac of all people.
The Yankees loaded the bases with no outs in the sixth inning thanks to the Brignac single and walks by Brett Gardner and Jayson Nix. They couldn't have asked for anything more than to have Robinson Cano up at the plate, but they didn't even have to wait until the end of his at-bat to score a run — Brignac scampered home on a (very) wild pitch. Cano plated the second run with a hard-hit sacrifice fly to center, then Travis Hafner got the third run in with a ground ball out to the right side of the infield. That made it a one-run game, but only temporarily. The Rays started to blow things open the next inning.
More Bad Pitching
Because the starters haven't been crummy enough the last two weeks or so, the bullpen has now allowed nine runs on 18 base-runners over their last 8.2 innings. That dates back to the disaster ninth inning in the series finale against the Angels. Joba Chamberlain and Boone Logan both allowed homers in this game — Joba a solo shot to Evan Longoria and Logan a two-run shot to Yunel Escobar. Preston Claiborne threw a scoreless frame, but put two men on-base and has now allowed six base-runners in his last 2.2 innings. Can't hit, can't pitch, can't bullpen.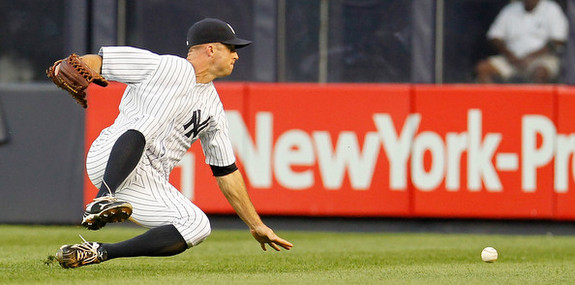 Leftovers
Outside of the three-run inning, the Yankees didn't put up much of a fight offensively. Didn't hit Moore hard at all, did nothing against the bullpen. The lineup was completely overmatched. Let's recap the ridiculousness:
Cano went 0-for-3 with the sac fly and forgot how many outs there were after striking out in the fourth. He put his helmet down and started taking his batting gloves off at the plate before being shooed back to the dugout.
Vernon Wells went 0-3 and is down to .221/.263/.368 (68 wRC+) on the season. He admitted to getting dominated by a pitching machine before the game — "I got dominated by the machine for a little bit, then I came through," he said to Chad Jennings. Yep.
Nix went 0-3 with a walk and two strikeouts, plus he actually hit a ball to the warning track. That doesn't sound like a big deal until you realize it is only the fourth (!!!) ball he's hit the warning track this season. Here's his spray chart if you don't believe me. Four balls to the warning track in 72 games. Four.
Brignac went 1-for-3 and raised his OPS to .269 in pinstripes. Not his average, not his OBP, not even his SLG. His OPS. That is the third lowest OPS by a non-pitcher Yankee since 1917 (min. 40 PA). I assume he is on the roster to make Eduardo Nunez look good by comparison.
Chris Stewart went 0-for-3 with a walk and is sitting on an 80 wRC+ this year. That is the highest wRC+ by a Yankees right-handed hitter this season (min. 70 PA), by a lot. Stewart is the team's best right-handed hitter. Chris Stewart.
On the bright side, Zoilo Almonte picked up his first big league hit off former Yankee Kyle Farnsworth while pinch-hitting for Wells in the ninth. The hard-hit grounder was ticketed for the left field corner and a double, but it hit the third base bag and ricocheted to the infielder. Bad break, but hey, congrats on the first hit. Hopefully Almonte actually gets into the starting lineup on Friday. He can only help at this point.
For the second time in a week, a Yankee ran into an out at third base on a ground ball hit in front of them on the left side. Lyle Overbay did the honors on Wednesday, getting cut down at third with one out in the seventh. Gardner did the same thing over the weekend. Bad recent pitching and a generally bad lineup are hard enough to overcome, can they at least not run into outs?
WPA Graph, Box Score & Standings
MLB.com has the box score and video highlights, FanGraphs has some other stats, and ESPN the updated standings. The Red Sox lost while the Orioles and Blue Jays were off, so the Yankees are two back of Boston and Baltimore in the loss column, two up on Tampa, and three up on Toronto. Wins, they need them.

Source: FanGraphs
Up Next
Same two teams on Friday night, when David Phelps and Fausto Carmona Roberto Hernandez meet in the second game of the four-game series. RAB Tickets is the place to go for last minute ticket deals if you want to catch the game live.