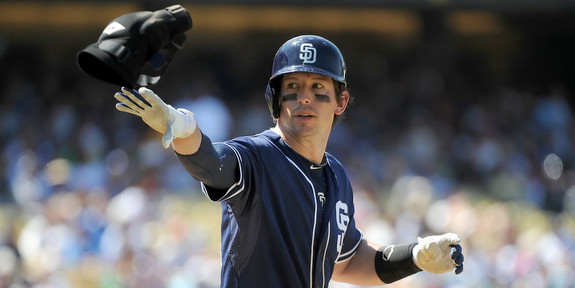 Although the Yankees need a corner outfield bat more than anything right now, looking for an upgrade behind the plate shouldn't be on the back burner. Chris Stewart (91 wRC+) has produced to the best-case scenario since being pressed into everyday duty, but Austin Romine (-14 wRC+) has been a disaster as the seldom used backup. Frankie Cervelli (140 wRC+) has yet to resume baseball activities and is still several weeks away from returning from his broken hand.
Quality catching help is hard to find any time of the year, but especially at the trade deadline. Part of the problem is that the second wildcard spot creates more contenders and fewer sellers. Another part of the problem is that there just aren't many decent catchers out there to start with. Teams that have one tend to hold on for dear life. The best the Yankees can realistically hope for behind the plate is a warm body who unexpectedly puts up a few big weeks.
A warm catching body hit the waiver wire yesterday as the Padres designated the 32-year-old John Baker for assignment. Actually … he probably isn't on waivers yet, but that could come in a few days. Does Baker make sense for New York? I don't know, but like every other catcher these days, he has to be considered an option. Let's break down his game.
The Pros
Baker, a rare left-handed hitter catcher, is a career .269/.349/.377 (95 wRC+) hitter against right-handers in 865 plate appearances. He doesn't have much power obviously, but his walk rate (10.8%) is strong and his strikeout rate (19.0%) is manageable.
The various catcher defense rankings have rated him as about average behind the plate in three of the last four years, including 2013. They said he was below-average last year, however (2010, 2011, 2012, 2013).
Baker will earn $930k this season — owed roughly $555k from now through the end of the season — and remains under control as an arbitration-eligible player through 2015.
He has an option remaining for this season, so any team who acquired him would be able to stash him in Triple-A as depth through the end of the year. Baker will be out of options next season.
The Cons
 Baker can't hit lefties, so much so that he almost never plays against them: .198/.301/.282 (63 wRC+) line against them in 155 big league plate appearances. The Triple-A numbers are actually worse.
Despite the favorable-ish defense rankings, Baker has thrown out just 48 of 246 attempted base-stealers in his career (19.5%). He had Tommy John surgery in 2010, but his throw-out rate is the same before and after surgery.
Baker is, obviously, unfamiliar with the pitching staff. That was a pretty big deal when Romine was originally called up and would presumably be a concern for any new catcher brought in.
The Yankees currently have an open 40-man roster spot, so that's not an issue. Acquiring Baker would allow them to send Romine to Triple-A for regular at-bats first and foremost, but it might also give them a little extra production against right-handed pitchers. Joe Girardi loves Stewart and would presumably continue to catch him everyday, giving Baker some time to learn the staff during bullpen sessions and side work.
We're talking about a backup catcher upgrade, not replacing Stewart as the starter. It'll take a minor miracle for that to happen at this point. Romine has been completely overmatched though, and I think the Yankees should pounce on Baker if they get a chance to acquire him. If he makes it to them on waivers in a few days, great. I think they should look into swinging a minor trade — based on similar deals, it'll take a player to be named later or cash, something like small that — before Baker is placed on waivers just to make sure they actually get him. The Yankees have already shown the willingness to make marginal upgrades (Reid Brignac over Chris Nelson, etc.), and although we're only talking about the backup catcher here, going from Romine to Baker is a move worth making.