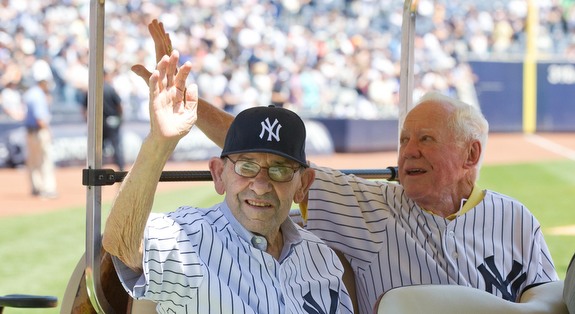 It will be three weeks before the Yankees enjoy another day away from the park — yesterday's was their last scheduled off-day until the All-Star break. The annual 20 games in 20 days stretch is always brutal, so hopefully the Yankees can weather the storm before getting some of the injured guys back. Hopefully that will start to happen right after the break. Here are some miscellaneous thoughts.
1. Assuming Ivan Nova goes back to Triple-A before tonight's game — "I don't view Nova right now as a threat to [Phil Hughes]," said Brian Cashman to Andy McCullough yesterday, so it seems likely he goes down — I have absolutely no idea who the Yankees will call up to fill the roster spot. I would think it would be a position player so they can get back to normal 12-man pitching staff, but the only player in the minors who is both on the 40-man roster and not on the DL is outfielder Ramon Flores. He's not coming up from Double-A. They do have an open 40-man spot after cutting Chris Bootcheck last week, so I guess someone like Dan Johnson or the recently acquired Brent Lillibridge could be the guy. Lillibridge can play all over the field and Johnson (gasp!) might actually hit the ball out of the park on occasion. We'll find out soon enough, I guess.
2. Even though David Adams has been brutal for about a month now, I like that the Yankees installed him at third base full-time and put an end to the rotating left side of the infield. Playing part-time is tough and something Adams has never done before, so maybe getting back in the lineup on an everyday basis helps get his back going. I do think his at-bats have looked better of late, particularly when he drew two walks in Saturday's win, but at some point the results will have to come. The Yankees have gotten nothing out of their third basemen this year and it's unclear how much Alex Rodriguez will provide if/when he rejoins the team. Giving Adams a chance to sink or swim right now is the lesser of multiple evils and gives the team some more time to evaluate him before the trade deadline.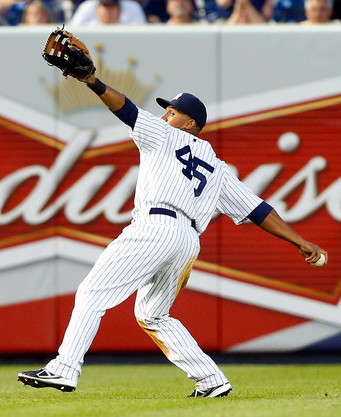 3. Zoilo Almonte won't continue to hit to a 345 wRC+ the rest of the way, but his recent emergence has made the need to add a corner outfield bat a little less of a priority. Don't get me wrong, the Yankees should still add one if the right deal comes along, but it's no a longer absolutely imperative. If anything, a corner infield bat is the bigger hole now. Lyle Overbay stopped hitting about 40 games ago, and it's sounding more and more likely that Mark Teixeira is heading towards season-ending wrist surgery. Maybe getting back in the lineup everyday will bring Overbay's bat back to life, but I'm not optimistic. First baseman aren't the toughest thing to find, and if the Yankees can drum up someone better than Lyle, I'd make the switch in a heartbeat. Hell, maybe Johnson is that guy. I appreciate what Overbay did earlier in the year, but goodwill never won anyone anything.
4. How awful have the catchers been this season? They're hitting a collective .225/.290/.326 (67 wRC+) despite Frankie Cervelli's insane start to the season (141 wRC+), something that probably wasn't going to continue anyway. Even the most ardent Cervelli backers can acknowledge that. Austin Romine had been a disaster (-17 wRC+), and since taking over as the number one guy following Frankie's injury, Chris Stewart is hitting .233/.299/.291 in 119 plate appearances. He has thrown out eight of 20 attempted base-stealers (40%), which is awesome, but overall I've felt his glovework behind the plate has really lagged behind his reputation. No amount of pitch framing can makeup for the offensive black hole and blah defense. The Yankees really dropped the ball by not addressing their catching situation this winter; it's such an incredibly important position yet they completely ignored it. Hard to believe a self-proclaimed championship-caliber team thought this lot of catchers was a viable solution behind the plate.