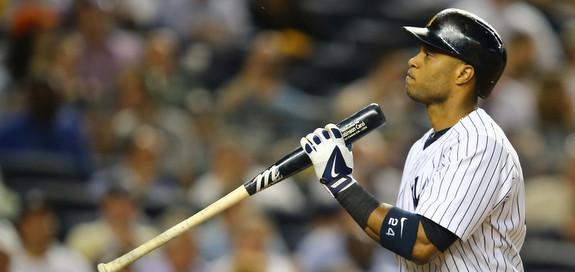 Yesterday was the second of three consecutive Monday off-days for the Yankees, and it couldn't have come at a better time. The West Coast road trip was a nightmare and everyone needed a day away from baseball, fans included. At least I did, I don't know about you. Here are some random thoughts:
1. It seems likely that Mark Teixeira will be placed on the DL today — Brian Cashman strongly hinted at it yesterday — but I have no idea what the corresponding roster move will be. Zoilo Almonte is only player in Triple-A who is both a) on the 40-man roster, and b) healthy. He's been good this year but not great, and replacing an infielder with an outfielder doesn't make a ton of sense given the current roster. I wonder if they'll use Teixeira's injury to recall Adam Warren before his ten-day waiting period is up, then designate Chris Bootcheck for assignment in favor of Josh Bell or Dan Johnson. Both have some big league experience and can play the corner infield spots (play as in stand there and hope the ball doesn't get hit to them), which might be enough to land them on the roster. It's a really bad time for Ronnie Mustelier, Corban Joseph, and Brennan Boesch to be on the Triple-A DL.
2. Unless he looks completely overwhelming over the next few weeks, I'm pretty sure the Yankees will send Michael Pineda to Triple-A once his rehab assignment is up on July 8th. That could obviously change if the big league rotation goes in the dump via injury or ineffectiveness. Sending him down for two or three weeks to "buy back" the year of team control they lost last year due to the injury makes too much sense not to happen. Remember, Pineda is an big time fly ball pitcher (36.3% grounders in 2011) and there were questions about how he'd fit in Yankee Stadium even before the injury. As bad as Phil Hughes has been at times — he's really got a Good Phil/Bad Phil thing going on this year, he's either dynamite or a disaster — I don't think the two-pitch, fly ball guy coming off major shoulder surgery is a lock to pitch any better down the stretch.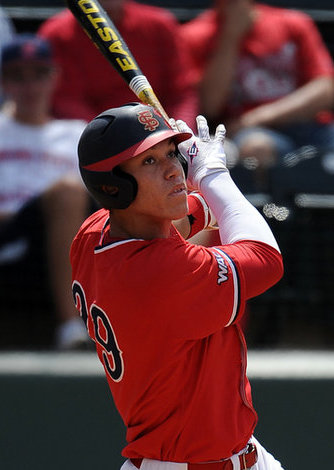 3. Now that I've had some time to sit back and digest everything, I really like what the Yankees did with their three first round draft picks two weeks ago. That's assuming Fresno State OF Aaron Judge is willing to let the team make him a millionaire at some point soon. Eric Jagielo is, by far, the most polished potential impact hitter the team has added to the farm system in years. This isn't a project hitter with a big loop in his swing or someone who can't recognize breaking balls, all he lacks is overall experience. Judge offers that big upside while Ian Clarkin gives them a much-needed top left-handed pitching prospect. I am big on high school pitchers and tend to overrate them, but lefties who sit in the low-90s with an out pitch curveball usually don't make to the 33rd pick of the draft. The Yankees added a nice mix of polish and upside with those three picks, and that's exactly what they needed. I'm looking forward to seeing all three start their careers in the coming weeks.
4. The Yankees need more out of Robinson Cano than they've been getting. Based on Twitter, the comments, and my email, I'm not the only one who feels this way. Not by a long shot. Cano is hitting a very good .278/.350/.511 (129 wRC+) this year, but that's down from .311/.370/.539 (142 wRC+) from 2010-2012. That's the guy they need, the undisputed best second baseman in the world. I'm also rather concerned about his sudden inability to hit left-handed pitchers: .218/.283/.366 (71 wRC+) this year, .239/.309/.377 (78 wRC+) last year, .314/.354/.525 (134 wRC+) in 2011, and .300/.343/.475 (116 wRC+) from 2005-2011. I fully expect the Yankees to re-sign him to some massive contract at some point in the next five or six months, but that platoon split is terrifying. Impatient contact-oriented hitters like Cano tend to suddenly fall off a cliff as it is, so just imagine adding a big platoon split to that. I'll worry about that when the time comes. For now I'm just going to be greedy and hope Robbie gets back to his 2010-2012 self and soon.