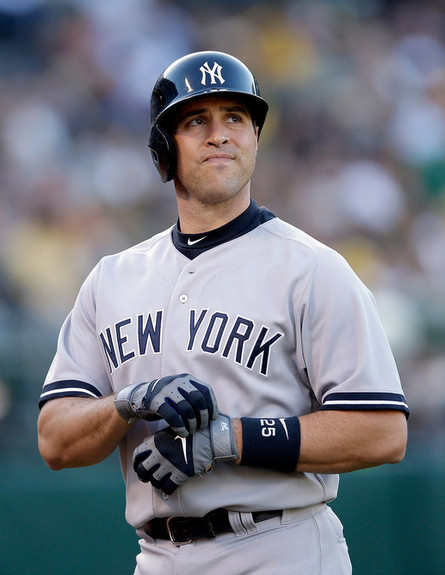 With last night's loss, the Yankees have now dropped seven of their last nine and 17 of their last 28 games. They went from 1.5 games up in the division to 3.5 games back during that four-week stretch. The pitching staff has been fine during those 28 games (4.24 ERA and 3.61 FIP), but the offense put together a meager .217/.280/.316 batting line while averaging 3.2 runs per game during the slide. Given all the position player injuries, it's no surprise they've struggled to score.
For most of the year, at least at the outset of the season, the plan was to tread water until the injured guys return. Stay close enough to the top spot in the division — 3.5 games back easily qualifies as "close enough" in my book, especially in mid-June — then make the move when everyone gets healthy. It sounds great in theory, but at this point the plan has failed. They are still in the hunt, but that "get healthy" part hasn't happened.
Both Curtis Granderson and Mark Teixeira returned as expected in May only to wind up back on the DL almost immediately. Granderson's broken hand was a fluke injury, but Teixeira re-injuring his wrist wasn't surprising. Derek Jeter was expected back sometime in May only to suffer a new fracture in his surgically repaired ankle. He's out until at least the All-Star break. Alex Rodriguez looks "fantastic" during his rehab work according to Jon Heyman, but a team official said he could start rehab games after the All-Star break. That's the optimistic outlook, starting rehab games after the break.
None of those injured guys are close to returning, and that's the problem. There is no offensive help coming from within. Sure, maybe Zoilo Almonte gets hot for a few weeks or maybe David Adams turns back into the player he was when he was first called up, but it's clear the team needs bats. Not a bat, bats. Plural. Combine New York's recent slide with the surging Blue Jays — they've won eight straight and 22 of their last 34 — and it becomes even more clear they need those bats soon. Waiting a month for A-Rod & Co. isn't a luxury the team has right now, especially since we have no idea what they can provide when healthy. Granderson should be okay since it wasn't his lead hand, but Jeter (ankle)? A-Rod (hip)? Teixeira (wrist)? Those are the types of injuries that sap production even after the doctor clears them to play.
"It's not how you draw it up, there's no doubt about that," said GM Brian Cashman earlier this week, after it was announced Teixeira was going back on the DL and Kevin Youkilis would miss at least 10-12 weeks following back surgery. "We're always looking to upgrade if we can regardless of position. You have to keep in mind too that we expect to get [Alex Rodriguez] back. As of right now we're going with what we have and if we ever run into something that makes sense then we'll look at that. We'll keep going with what we've got."
Patience has been a Cashman trademark since he got his supposed autonomy following the 2005 season — remember, this is a GM who lost both Hideki Matsui and Gary Sheffield to serious injury in May 2006 and didn't acquire Bobby Abreu until the trade deadline as he waited out the Phillies and got them to drop their asking price. I remember realizing that it was a sign the team was going to be run differently going forward, and it has been. The number of knee-jerk reaction moves have been largely non-existent, at least outside of Kei Igawa and very minor stuff like bullpen or bench additions. Patience is what Cashman does.
Unfortunately, the Yankees don't have the same luxury of time right now. It's one thing to tread water until some injured players return in May, but it's another thing to do it until after the All-Star break. The guys that helped the team get off to that hot start in April — specifically talking about Vernon Wells, Travis Hafner, and Lyle Overbay here — have turned back into pumpkins, and there's really no reason to expect them to get back to being those kinds of hitters again. April was the outlier for them. I don't know who is realistically available to help out this lineup right now, but the Yankees can't afford to sit around, be patient, and play the waiting game again. They have to act soon if they want to continue treading water until some injured players return.