You didn't think it would be easy, did you? The Yankees snapped their five-game losing streak on Sunday afternoon, but not before nearly blowing a six-run lead in the bottom of the ninth. This team, man. New York ended their ten-game West Coast trip with a 6-5 win.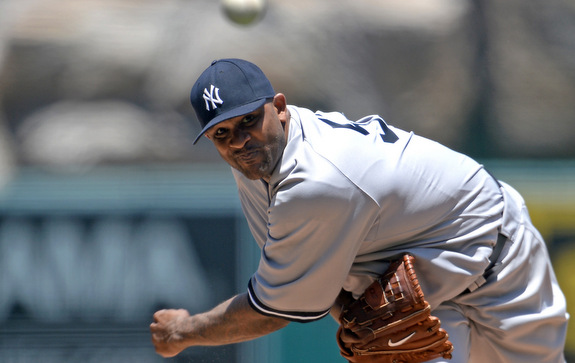 The Ace We Need, Not The Ace We Deserve
For at least one start, CC Sabathia looked like his old dominating self. The left-hander held the Halos scoreless for the first eight innings on four singles and two walks, retiring eleven straight and 22 of 26 after the first two men he faced reached base. Only once did Sabathia throw more than 16 pitches in an inning, only twice more than 14. From the second through eighth innings, he threw 61 strikes compared to only 21 balls. Only four of the 24 batters faced during that time saw a two-ball count, and only one saw a three-ball count. Dude was on point.
According to PitchFX, Sabathia averaged 92.7 mph and topped out at 95.1 mph with his fastball. I don't know if that was his best velocity of the season — I think he has averaged higher, but I don't think he's topped out any higher — but it was certainly more than he showed earlier in the year and more than enough to succeed. It also continued a positive (if not inconsistent) trend in the right direction. Aside from the velocity though, Sabathia seemed to have his changeup working better than he has at any other point this season. It was consistently down and away from righties and his most effective offering by linear weights (1.6 runs better than average for the start).
The final line was two runs on five hits and three walks in eight innings, but both runs scored after Sabathia left the game. We'll talk more about that in a minute. The big man has now allowed eight runs in 29.1 total innings (2.45 ERA) in four starts following a loss this year, which is exactly what he is expected to do: stop losing streaks. This wasn't his best start of the year — only the fourth best by Game Score, actually — but it might have been his most important. The Yankees have been playing terribly and Sabathia, the guy they count on to be their ace, put his foot down and took care of business on Sunday. Bravo, CC. Bravo.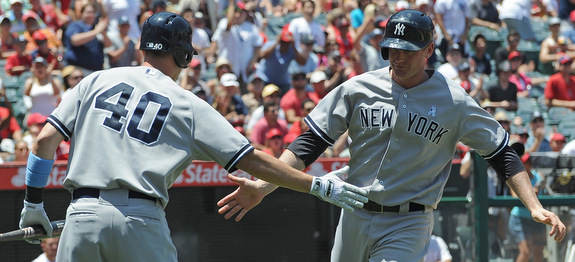 All With Two Outs
Offensively, it was more of the same right in the very first inning. The Yankees put runners on second and third with no outs, but the 3-4-5 hitters failed to bring even a single run home. Pretty much the same frustrating stuff we've seen for two weeks now.
The third inning went much differently, at least eventually. New York again had runners on second and third with no outs only to have Ichiro Suzuki (strikeout) and Robinson Cano (fly out to shallow left) make outs without bringing a run home. We were all prepared for another blown opportunity, but instead Travis Hafner cranked a two-out, two-strike, three-run homer to dead center off Jered Weaver. He went into the inning riding an 0-for-23 slump. Yuck.
Those three runs felt like three million runs, but the Yankees didn't stop there. Vernon Wells followed the homer with a single to left, then he came around to score on Lyle Overbay's double to dead center. Peter Bourjos nearly made the play, but the ball clanked off his glove. Jayson Nix followed with a single to left to plate the team's fifth run of the inning, all with two outs. The five-run frame was Bombers' first 3+ run inning since the six-run third inning against Aaron Harang in the first game of the road trip, and also the first time they scored more than four runs in the last eight games. Not innings, entire games. It was awesome.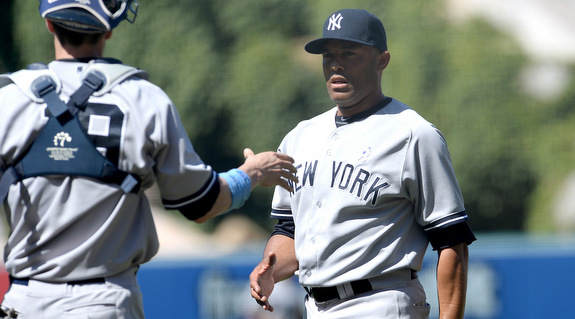 GET THE LAST OUT DAMMIT
Six-run lead, Sabathia cruising, both David Robertson and Mariano Rivera well-rested and available … this one was in the bag, right? Sure, no sweat. Five runs later, everyone was sweating. Sabathia put the first two batters of the ninth on base, then David Robertson allowed two of the three men he faced to reach to give the Angels a run and the bases loaded with one out. With the tying run on deck, it was officially a save situation. That meant it was time for Rivera.
Coming into this season, Mo had a .264 BABIP in over 1,200 career innings. He excels at weak contact, specifically soft pop-ups and ground balls via broken bats. That's his thing. Coming into Sunday's game, Rivera had a .338 BABIP in 2013. An awful lot of bloop hits have been falling in of late, and that's exactly what happened in this inning. The first batter he faced grounded out to first to drive in a run, but more importantly the 26th out was record. That's when it happened. Bloop to right, two runs score. Bloop to left, one run scores. Just like that, it was 6-5 with men on first and second. Since that wasn't ridiculous enough, Mo then walked Mike Trout on five pitches to loaded the bases.
Thankfully, Albert Pujols put together one of the worst at-bats you'll ever see. He took the first pitch down and in for a strike, then fouled off the second pitch, also inside, for strike two. With the count in his favor 0-2, Rivera fed Pujols a two-seamer up and in that the Hall of Fame-bound first baseman half-swung through for strike three. The best closer of all-time stranded the tying run at third and the go-ahead run at second by striking out the best hitter of his generation on three pitches. Had another bloop fallen in … I probably would have lost it. A win is a win, but let's not do that again. Like, ever.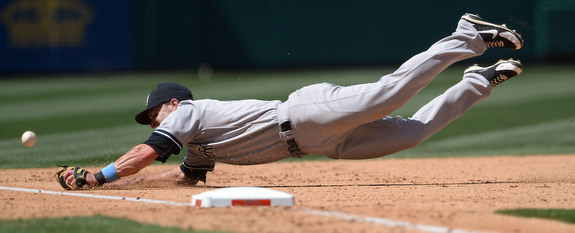 Leftovers
The Yankees tacked on what turned out to be the winning run in the eighth, when Wells hit a sacrifice fly to deep right-center. Of course, he also grounded into an inning-ending double play to end the rally in the first. For the first time since Wednesday, the Yankees scored in more than one inning in a game. Remember, they played an 18-inning game on Thursday.
Brett Gardner has been the team's best player for about two weeks now, and on Sunday afternoon he went 2-for-4 with a double and a stolen base. His season batting line is up to .286/.352/.454 (119 wRC+), and he very quietly has a solid case for next month's All-Star Game. I doubt it happens, but he's in the conversation. Nix went 3-for-4 with a double and was the only other player in the lineup with multiple hits.
Robertson was hit by a comebacker in the right thigh/knee, but he stayed in the game after throwing a few test pitches. The ball deflected away and into right field, and he seemed to limp a little bit as he went to backup the plate. Robertson did strike out certified Yankee killer Howie Kendrick right after that, so it couldn't have hurt too bad. Sabathia also took a comebacker to the behind and was fine. Waved the trainer off before he even got to the mound. Exhale. And then exhale again.
The Yankees went 4-6 on the ten-game trip, which isn't nearly as bad as it felt. They were outscored 37-30 during the ten games, and they only hit four homers on the trip. Cano and Mark Teixeira hit back-to-back dingers off Harang in the first game, Cano took Jarrod Parker deep in the seventh game, and Hafner took Weaver deep in the tenth game. As a team, the so-called Bronx Bombers are on pace for 169 dingers this year. That would be their lowest total since 1997.
Box Score, WPA Graph & Standings
The box score and video highlights are at MLB.com and the other stats are at FanGraphs. ESPN is the place to go for the updated standings. The Rays last and the Orioles beat the Red Sox, so the Yankees are two back of Boston, one back of Baltimore, and two up on Tampa in the loss column.

Source: FanGraphs
Up Next
Talk about a perfectly timed off-day. Even with the road trip-ending win, the Yankees need a day away from the park to forget about how crappy things have been going of late. The Dodgers are coming to the Bronx for the first time since the 1981 World Series (!) for a quick little two-game set starting Tuesday. Phil Hughes and left-baller Hyun-Jin Ryu is your pitching matchup for the opener.