A win is a win, and the Yankees have now strung together two wins following their two ugliest weeks of the season. It was another nail-biter, but beggars can't be choosers. The Yankees beat the Dodgers 6-4 in the first game of Wednesday's doubleheader.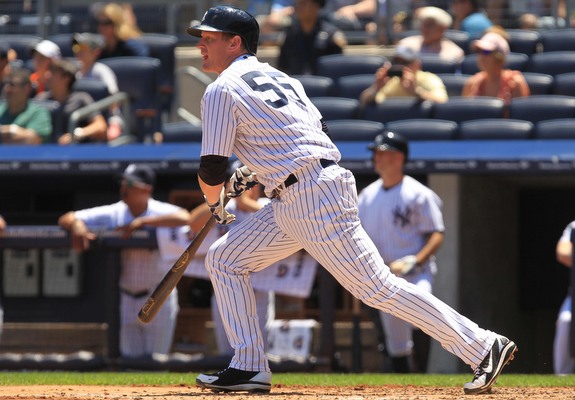 Demonstrate My Lyle
After Mark Teixeira returned, Lyle Overbay received a total on 15 plate appearances across two weeks of games. He was relegated to pinch-hitting duty and spot starts in right field, which is not an easy thing to do. Playing irregularly is hard, especially if you're used to playing full-time. It takes an adjustment, but Lyle does have experience in the role after spending the last several years as a part-timer in the NL.
With Teixeira back on the DL, Overbay is again the regular first baseman and he showed no rust on Wednesday. He doubled in a run in Sunday's win and then doubled in the first two runs of this game. Thomas Neal and Ichiro Suzuki started the third inning with back-to-back singles, then were moved up on David Adams' sacrifice bunt. Hyun-Jin Ryu caught way too much of the plate with a fastball in a 1-1 count, a pitch Overbay clobbered to dead center for the two-run-scoring hit. Andre Ethier is a DH miscast as a center fielder, but even Brett Gardner wasn't catching that one. It was crushed. Lyle has picked up right where he left off before Teixeira's return.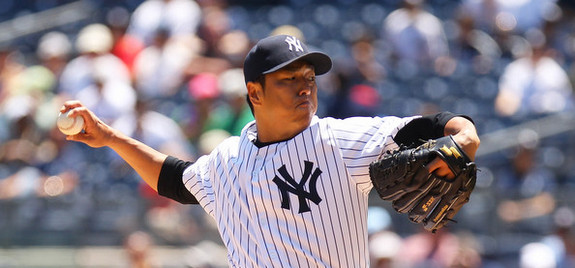 Old Friend
Six years ago, Hiroki Kuroda came over from Japan as a free agent and started his MLB career with the Dodgers. He spent four years in Los Angeles, and on Wednesday he faced them as an opponent for the first time. He didn't give his former mates any preferential treatment though; Kuroda held the Dodgers scoreless through six innings before allowing his only two runs in the seventh.
For all intents and purposes, it was a typical Kuroda start. He wiggled around some base-runners early before settling into a groove in the middle innings, then things got a bit hairy late. Two runs on eight hits and one walk in 6.2 innings isn't the most aesthetically pleasing line, but it is plenty good enough to win. To be fair, Kuroda did get lucky when Ethier's soft line drive wound up in his glove in the third inning, allowing them to double Adrian Gonzalez off third base with men on second and third with no outs. He escaped the inning one batter later with a ground ball. They said it's better to be lucky that good, and Kuroda was both on Wednesday afternoon.
Two Errors, Three Insurance Runs
It takes a special kind of bad to make two errors on one play, and thankfully Ronald Belisario is that kind of bad. With the washed up Vernon Wells at the plate with men on first and second in the seventh, the right-hander got cute and let a soft little infield pop-up fall in so he could turn the double play. He didn't field it cleanly because the ball had a little English, and it scooted backwards through his legs. Belisario then picked it up and threw to second for the force out, which would he would have gotten easily had he had not thrown the ball into center field. Here's the GIF, courtesy of Mike Petriello:
One error on the intentional drop, another on the throw. Just like that, the Yankees had a big insurance run. Belisario (unintentionally) hit Neal with the next pitch to load the bases, then Ichiro broke things open with a two-run bloop single to left off lefty specialist extraordinaire Paco Rodriguez. He chipped in a solo homer in the sixth as well. Runs are always great, but that three-run seventh inning was a big pick-me-up after the Dodgers scored two runs a half-inning earlier to make it a one-run game. Belisario gets the majority of the credit, but big ups to Ichiro for driving in those two extra runs.
No Easy Wins Allowed
As for the bullpen, Shawn Kelley deserves credit for striking out Nick Punto to end the seventh and clean up Kuroda's mess. Preston Claiborne faced three batters and allowed three rockets in the eighth. One went for a double, one found Ichiro's glove for a great catch, then one sailed over the wall for a Hanley Ramirez two-run homer. Probably his worst outing as a big leaguer.
David Robertson replaced Claiborne and promptly walked the first two men he faced, putting the tying run on base and the go-ahead run at the plate. He escaped the jam with an infield pop-up and a routine ground ball. Four (!) of his 14 pitches were strikes. It's been a long time since Robertson was that wild. Mariano Rivera restored order with a perfect ninth for his 25th save.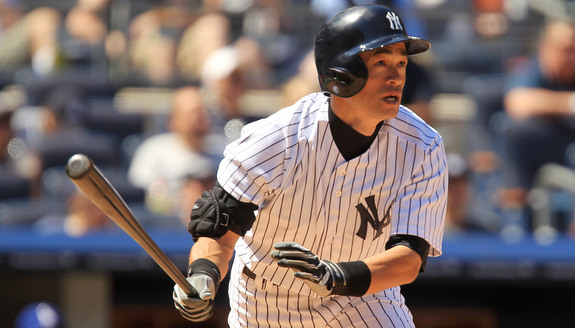 Leftovers
The Yankees had a chance to break things open in the fifth, when Chris Stewart (walk) and Gardner (single) reached base to open the inning. Unfortunately, Jayson Nix bunted the runners up and took the bat out of Robinson Cano's hands. The team's best player was intentionally walked, putting the onus on Wells and Neal. The former struck out before the latter grounded out to end the scoring chance. If you don't trust a guy to hit with two on and no outs, don't bat him second.
Ichiro went 3-fot-4 at the plate and also made a very nice jumping catch on the warning track to rob Gonzalez of a surefire RBI double in the eighth. It wasn't close to a homer, but there was a man on second and no outs in the inning. That was the only out Claiborne recorded. No other Yankee had multiple hits, and in fact Gardner, Nix, Cano, Neal, and Overbay were the only other guys with hits at all. Stewart drew the walk and that was it for the offense.
Yasiel Puig has been the talk of baseball for a few weeks now and it was obvious he was pretty amped up in his New York debut. He got thrown out at second base trying to stretch a single into a double in the first, then in the second he tried to throw Neal out at first base on a base hit to right. The throw was over Gonzalez's head and went all the way to the backstop. He's a bit excitable, I'd say.
Box Score, WPA Graph & Standings
MLB.com has the box score and video highlights, FanGraphs some nerdy stats, and ESPN the updated standings.

Source: FanGraphs
Up Next
Let's play two? Like it or not, they will. These same two teams will give it a go at 7pm ET tonight in the nightcap of this doubleheader. Phil Hughes and Chris Capuano is your pitching matchup. See you then.