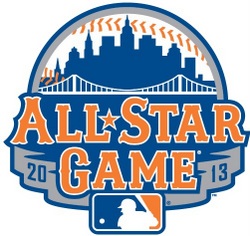 As of right now, things aren't looking all that good as far as the Yankees making the playoffs this year. They sit in fourth place in the AL East and three back of the second wildcard spot. It'll be an uphill climb in the second half, that's for sure.
That said, just in case they do qualify for the playoffs and manage to make it to the World Series, I want them to have homefield advantage. It's dumb that the All-Star Game determines that, but it is what it is. Those are the rules they have to play by.
The NL has won three straight All-Star Games and, not completely coincidentally, they've won the last three World Series at well. Homefield advantage had to help a smidge. It's time for the AL to get back to dominating this thing, which they did for a long time before these last three years. Here are the starting lineups:
American League
LF Mike Trout
2B Robinson Cano
3B Miguel Cabrera
1B Chris Davis
RF Jose Bautista
DH David Ortiz
CF Adam Jones
C Joe Mauer
SS J.J. Hardy
National League
2B Brandon Phillips
RF Carlos Beltran
1B Joey Votto
3B David Wright
LF Carlos Gonzalez
C Yadier Molina
SS Troy Tulowitzki
DH Michael Cuddyer
CF Bryce Harper
Max Scherzer (AL) and Matt Harvey (NL) are your starting pitchers, and the full rosters are right here. Manager Jim Leyland confirmed yesterday that Mariano Rivera will pitch in the game even if the AL doesn't have a save situation, so that's neat. Hopefully they give him a lead to protect in the ninth inning, however.
The game is scheduled to begin at 8:00pm ET and can be seen on FOX. Enjoy.