Behold!  The fourth and final installment of the 2013 Potential Trade Targets series has arrived.  We've had a lot of names to parse through so far, but we've done it.  Feel free to go back and check out Part I, Part II, and Part III at your convenience if you've missed any of them (or you're simply in need of a second glance).  Alright, let's dive in.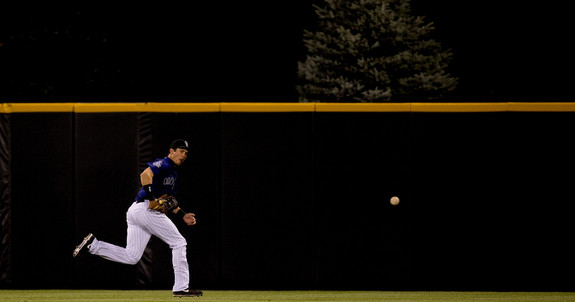 Tyler Colvin
Colvin is kind of interesting.  He came up through the Cubs system and got his first taste of the big leagues in 2009.  In 2010, he had his first real opportunity to showcase his abilities, and produced a 1.8 fWAR in limited exposure (395 plate appearances).  After a disappointing 2011 campaign, the former 2006 first round pick was shipped out west to Colorado where he's remained since (he was part of the trade that sent Ian Stewart and Casey Weathers to Chicago).
Last season he hit 18 home runs while batting .290/.327/.531 (.365 wOBA, 117 wRC+) in 452 plate appearances (2.3 fWAR).  Unfortunately for Colvin, 2013 has been tough.  The Rockies elected to keep him in AAA to begin the season after he struggled in Spring Training, preferring the services of Eric Young Jr. as the fourth outfielder and Reid Brignac as the extra roster spot.  Colvin's struggled since being recalled (.160/.192/.280, .202 wOBA, 7 wRC+), and it's not really a lefty/righty thing either.  He's been bad against everyone; granted, it's been 78 plate appearances so those numbers could still change pretty quickly.  Unfortunately, there's also been some discussion that Colvin struggles with breaking balls and off-speed pitches.  While the home runs are appealing, there's a good chance he may never become more than a depth guy too though I think the verdict is still out on that one given his inconsistent opportunities.
What you're getting with a guy like Colvin is a player who doesn't show a ton of plate discipline (he's swung at 37.9% of pitches outside of the strike zone in his career) which subsequently limits his walks (career 6.0 BB%). He strikes out a fair amount (26.6 K%) but has some power (.214 ISO).  To his credit, he can play first base as well as the outfield, which certainly is convenient for the Yankees roster this season.  He's also pretty cheap.  The Rockies and Colvin settled on a $2.275M salary heading into this season, but he still has three more years of arbitration-eligibility before he's slated for free agency.
It seems a bit unclear how the Rockies value Colvin given their preference to not guarantee him regular playing time, and who knows whether they have any interest in moving him anyway.  Maybe a mid-level prospect gets it done if they don't feel he's an important cog to their future success.  After all, it's not like the package the Rockies gave up to get Colvin initially (along with D.J. LeMahieu, who was the other piece of the deal) was particularly overwhelming.  Then again, you also have to consider the fact that the Rockies are a team still on the fringes of contention, so they may not be sellers anyway.  In any event, while Colvin has some attributes that are appealing (namely the potential for home runs), he's not without risk.
Peter Bourjos
Can we just have Mike Trout instead and call it a day?  No … okay, let's talk about Pete then.  Since reaching the show in 2010, the results have been pretty mixed. The 2011 season was, by far, his best season (he was valued at 4.1 fWAR and batted .271/.327/.438 with a .335 wOBA and 113 wRC+).  The next year was pretty disappointing for Bourjos though, as he saw his playing time dwindle after the emergence of Mike Trout (along with Mark Trumbo's first half success).  So far, in 2013, he's done well over 147 plate appearances (.333/.392/.457, .373 wOBA, 140 wRC+).  He rarely walks (5.5 BB%) though and strikes out regularly (21.7 K%).  He also hits for basically no power whatsoever.
Positionally, he's a center fielder by trade, which really doesn't do the Yankees a whole lot of good as they have a superior version of Bourjos already in Gardner.  On the plus side, Bourjos is basically earning league minimum and remains under team control for a few more seasons.  I have nothing against Bourjos personally, but I just don't think his skill set is a realistic fit for the Yankees at this juncture.  Pass.
Kendrys Morales
Now here's an Angel (albeit a former one), that I could potentially get behind.  Morales, a first baseman/DH, makes sense for the Yankees in a lot of ways.  He's historically been an above-average batter (career .281/.333/.486, .351 wOBA, 119 wRC+), plus he's a switch hitter — which is a skill the Yankees sorely need at this point.  He's also spent a lot of time in the American League and has been a certified Yankee-Killer over the years, so there's that.  On the down side, he's the guy who fractured his ankle celebrating after a walk off grand slam off Brandon League in 2010 which kept him sidelined through all of 2011.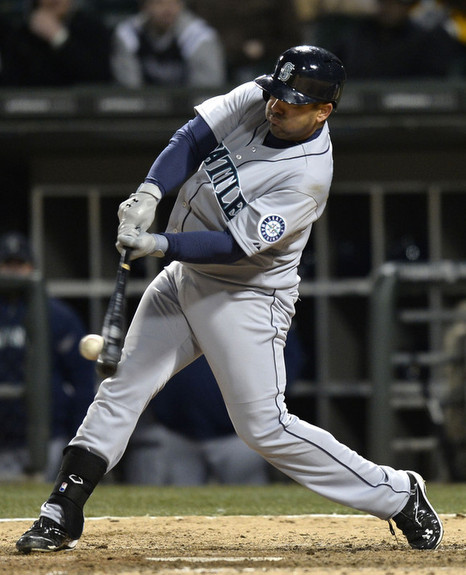 Morales has shown noticeable splits at times, though they aren't really severe at this juncture.  In 2012, he struggled against lefties as a righty, batting .229 against them, which interestingly was still considered better than average (110 wRC+ from that side).  This year he's hit lefties surprisingly well though (149 wRC+), but has been only slightly above average against righties (.257/.312/.479, .329 wOBA, 113 wRC+) which is surprising given that he usually excels from that side of the plate.
Kendrys does have some decent power (.181 ISO this season), and we all know this team could certainly use some of that.  He won't take many walks (6.9 BB%) but won't strike out that often either (17.4 K%). The best part of this scenario though is that he's owed only $5.25M this season (which would leave the Yankees on the hook for about $2.5M for the remainder of the year) and is a free agent come season's end.  The Mariners stink and should theoretically be sellers.  I'm guessing a decent prospect and some salary gets it done.  Yeah, I'd probably be on board with this.
Raul Ibanez
Apparently there's a decent number of Yankee fans out there who are itching to bring Raaaauuuul back in his age 41 season.  Those epic home runs towards the end of last season (and in the postseason) still resonate, I suppose.  If we're being honest though, over the past couple seasons, Raul's been a very mediocre player offensively, if not sub par (91 wRC+ in 2011 and 102 wRC+ in 2012).  Historically speaking, he'll take a few walks (career 8.4 BB%) while not striking out a ton either (16.1 K%).  Of course, his interpretation of base-running and defense leaves much to be desired.
This season, his bat has been fairly solid despite playing in the pitcher friend confines of Safeco Park.  He's hit for a lot of power (.295 ISO!), generating 22 home runs in the process (14 of which have happened in Seattle mind you, after hitting 19 total over the course of a full season last year).   Unfortunately, outside of the home runs, he hasn't done a whole lot else (.301 OBP).  He's also taking a few less walks this season, and his strike out rate has jumped up several percentage points (24.4 K%).    Interestingly, Raul's done a good job handling both lefty and righty pitchers this year.  Given the Yankees current offensive woes, that 135 wRC+ sure is enticing for a half-year rental — even if he is really exclusively a DH at this point.
In terms of cost, the Mariners signed Ibanez for a single season at a modest $2.75M.  In terms of dollars he certainly wouldn't break the Yankees bank as a midseason acquisition.  Assuming the trade price for Ibanez isn't too high, I could see the team making a move such as this as a security blanket down the stretch, though I'd be surprised if Ibanez ultimately resurfaces in New York — it's not like the team didn't have plenty of opportunity in the offseason this last go around to bring him back.  I'm also sort of leery of having Wells, Ichiro, and Ibanez in the same lineup day in and day out for a number of reasons.
If I were ruining running the Yankees, I absolutely would not surrender anything beyond a B-level prospect, and I'd probably plan on not re-signing him after the season regardless of how he performed through the second half.  Even if he does well for the rest of the season, my money is on him returning to 2011-2012 form moving forward.  As it stands now, he's only been worth 0.8 fWAR this season so far.  Raul had some big moments in NY for which I'm thankful, but I think that relationship has probably run its course.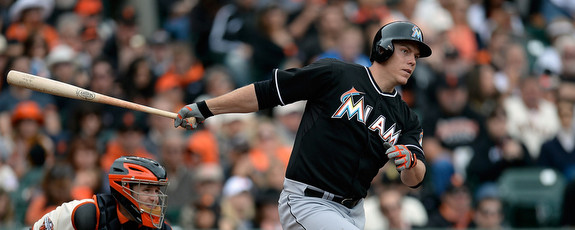 Logan Morrison
The Marlins are awful.  You can bank on them listening to a trade for pretty much any player not named Giancarlo Stanton (who knows, maybe they're secretly listening to offers on him too — eventually he'll be shipped out!).  Morrison has looked pretty good this season in limited playing time.  Over 89 plate appearances, he's batted .304/.382/.557 (.399 wOBA, 157 wRC+).  He's struggled against lefties this season (granted, in a very limited sample), but if last year was any indication, that could be an ongoing issue.  Traditionally, LoMo will show some discipline behind the plate (10.9 career BB%), and doesn't strike out too frequently (17.7 K%).  He'll also hit for some power.
On the plus side, Morrison can handle both first base and the left Field.  He's also only 25 years old.  Contractually, he's making basically nothing (at least relative to most baseball players) and is currently in his final pre-arbitration year.  He'll be eligible for arbitration in each of the next three seasons, meaning he'll be relatively affordable.  On the downside, he's been fairly injury prone during his brief Major League career (most recently coming off knee surgery).
Assuming Logan can stay on the field, he'd definitely represent an upgrade for the Yankees at either position.  I'd probably sign up for this one too, though who knows what the Marlins asking price is.  Given his team friendly salary, I'd have to assume he'd cost a decent prospect, especially since he's been swinging a hot bat since his return.  He's another guy not without some obvious risk though.  He's had only one big league season where he's amassed more than 500 plate appearances.  Durability is a major concern.