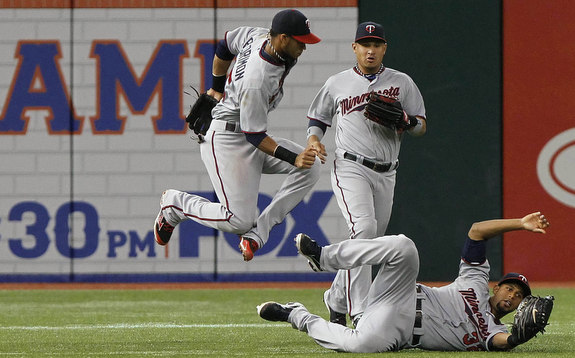 I couldn't think of a better way to finish off the traditional first half than with three games against the Twins at Yankee Stadium. Following last week's four-game sweep in Target Field, the Yankees have won 71 of 91 games against Minnesota during the Ron Gardenhire era. That includes the postseason and is completely ridiculous.
What Have They Done Lately?
Since getting swept by the Yankees, the Twins lost two of three to the Blue Jays and four straight to the Rays. They've lost their last five games and ten of their last eleven games overall. Gardenhire's team is 37-52 with a -55 run differential, the third and fourth worst marks in the league, respectively.
Offense
At 4.1 runs per game with a team 93 wRC+, the Twins are a bit below the league average offensively. They are withing OF Josh Willingham (112 wRC+), who will miss several weeks following knee surgery. OF Darin Mastroianni (50 wRC+) and OF Wilkin Ramirez (57 wRC+) are both on the DL as well. None of the three will return in time for this series.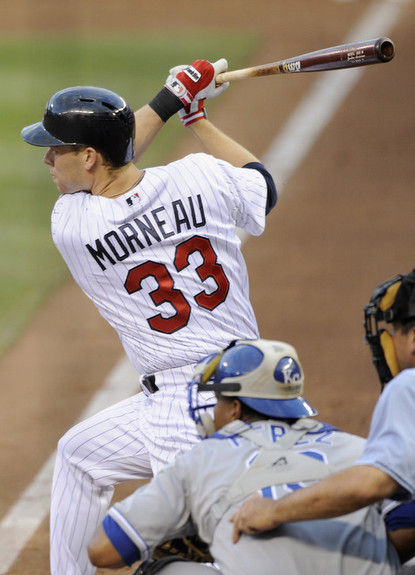 Obviously, the centerpiece here is C Joe Mauer (138 wRC+), who remains one of baseball's great pure hitters. 1B Justin Morneau (102 wRC+) doesn't have the same power he once did, and C/OF/DH Ryan Doumit (90 wRC+) isn't having a great year. 3B Trevor Plouffe (107 wRC+) and OF Oswaldo Arcia (104 wRC+) have been productive though. OF Clete Thomas has had his moments as well (95 wRC+ in limited time).
There's not much to see on the rest of he roster. IF Brian Dozier (92 wRC+) get regular reps at second base and IF Pedro Florimon (65 wRC+) is the starting shortstop. IF Jamey Carroll (46 wRC+) and IF Eduardo Escobar (62 wRC+) are the seldom-used reserves. OF Aaron Hicks (71 wRC+) was banged up the last two times these teams played but has since returned to the lineup full-time.
Starting Pitching Matchups
Friday: RHP Hiroki Kuroda vs. LHP Scott Diamond
Diamond, 26, has become a rotation mainstay after being plucked from the Braves in the Rule 5 Draft a few years ago. He's got a 5.52 ERA (5.08 FIP) in 16 starts with classic Twins peripherals, meaning a low strikeout rate (4.30 K/9 and 11.1 K%), a low walk-rate (2.15 BB/9 and 5.5 BB%), a high homer rate (1.53 HR/9 and 14.4% HR/FB), and a solid ground ball rate (46.8%). Diamond sits in the upper-80s with his four-seamer and in the low-80s with his curveball and changeup. The Yankees scored three runs in 6.2 innings off the southpaw two weeks ago.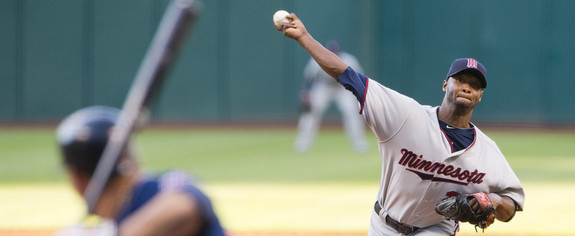 Saturday: RHP Phil Hughes vs. RHP Samuel Deduno
The 30-year-old Deduno was a star for the Dominican Republic during the World Baseball Classic and has been pretty good for the Twins in nine starts (3.90 ERA and 4.13 FIP). He's a big-time ground ball guy (61.1%) who doesn't miss bats (4.55 K/9 and 11.9 K%) but will limit walks (2.77 BB/9 and 7.2 BB%) and homers (0.65 HR/9 and 10.5% HR/FB). Deduno's bread-and-butter is his low-90s four-seamer, but he also throws low-90s cutters, low-80s curveballs, and low-80s changeups. You might remember all those ground balls he induced from the Yankees the last time these two clubs met, when he held New York to three runs in six innings.
Sunday: LHP CC Sabathia vs. RHP Kyle Gibson
This will be the 25-year-old Gibson's fourth career big league start, and in the first three he owns a 7.27 ERA but a 3.12 FIP. He hasn't struck many batters out (5.19 K/9 and 12.8 K%) but he has gotten grounders (54.1%) and kept the walks to a minimum (2.60 BB/9 and 6.4 BB%). Gibson has yet to allow a homer. He is a three-fastball guy, with upper-80s two-seamers, four-seamers, and cutters setting up a mid-70s slider and rarely used low-80s changeup. The Yankees punished Gibson for eight runs in 5.2 innings two starts ago.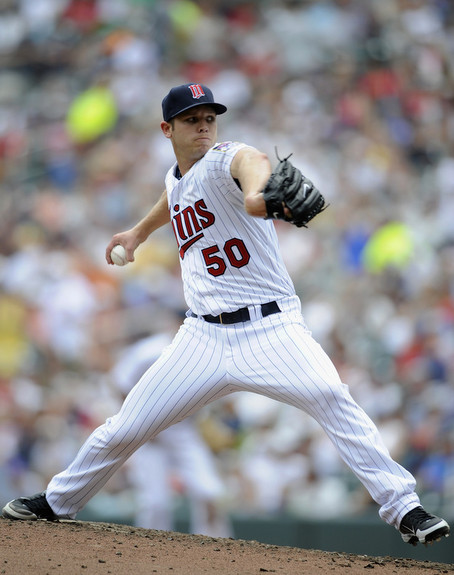 Bullpen Status
The Twins and Rays played a 12-inning game on Wednesday that wrecked the Minnesota bullpen. Closer LHP Glen Perkins (1.84 FIP) is fresh, but LHP Brian Duensing (3.10 FIP), RHP Casey Fien (2.88 FIP), and RHP Josh Roenicke (5.10 FIP) have each appeared in two of the last three games. RHP Jared Burton (3.73 FIP), RHP Anthony Swarzak (3.40 FIP), RHP Ryan Pressly (3.21 FIP), and RHP Michael Tonkin (1.57 FIP in very limited time) round out the eight-man bullpen.
The Yankees are in fine bullpen shape heading into the weekend; no workload concerns here. With the All-Star break coming up, I'm sure Joe Girardi won't have any trouble using guys a little more than normal. Three days in a row, maybe four or five outs instead of three, stuff like that. Our Bullpen Workload page has all the details. Twinkie Town and Aaron Gleeman are my Twins blogs of choice.