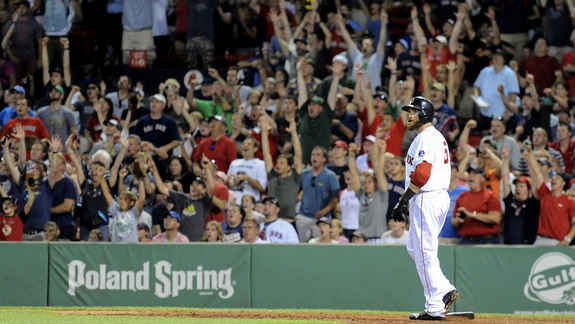 It's hard to believe this is the first time the Yankees have visited Fenway Park this season, isn't it? That means nine of their final 37 road games — roughly one out of every four — will be played up in Boston. It is what it is. The Red Sox have won four of six meetings between the two historic rivals this season.
What Have They Done Lately?
Before the All-Star break, Boston lost two of three to the Athletics and split a ten-game West Coast trip right down the middle, five wins and five losses. At 58-39 with a +91 run differential, the Sawx are in first place in the AL East, have the best record in the AL, and have the third best record in MLB.
Offense
The Red Sox have no trouble putting runs on the board. They lead baseball with an average of 5.13 runs per game and rank second with a team 113 wRC+. They're even better at home (119 wRC+), as you can imagine. Boston is currently without SS Stephen Drew (92 wRC+) and C David Ross (80 wRC+), but Drew is likely to return sometime this weekend. I suppose it could be as soon as tonight.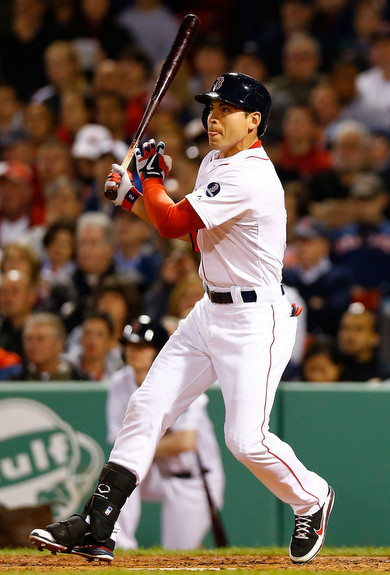 The top of manager John Farrell's lineup falls right into place. CF Jacoby Ellsbury (113 wRC+) leads off, RF Shane Victorino (100 wRC+) bats second, 2B Dustin Pedroia (126 wRC+) bats third, DH David Ortiz (163 wRC+) bats fourth, and 1B Mike Napoli (113 wRC+) bats fifth. OF Daniel Nava (118 wRC+), OF Jonny Gomes (97 wRC+), and 1B/LF Mike Carp (159 wRC+ in limited time) rotate in based on matchups. C Jarrod Saltalamacchia (113 wRC+) is the primary backstop with Ross injured.
IF Brock Holt (73 wRC+) has been playing third with Drew out while IF Jose Iglesias (141 wRC+) subs in at short. Once Drew is healthy, Iglesias will play third. UTIL Brandon Snyder (95 wRC+ in limited time) and C Ryan Lavarnway (77 wRC+ in limited time) round out the bench. The Red Sox are only a middle of the pack homer-hitting team with 98 dingers, but this lineup will wear pitchers down and capitalize on mistakes. It's what the Yankees' offense used to be.
Starting Pitching Matchups
Friday: LHP Andy Pettitte vs. LHP Felix Doubront
The Sox aren't stupid. They know the Yankees struggle against lefties (77 wRC+), so they made sure to line up their rotation accordingly this weekend. Doubront, 25, has a 3.91 ERA (3.63 FIP) in 16 starts and one relief appearance this year. His strikeout rate (8.45 K/9 and 21.6 K%) is down from last year and his walk rate (3.91 BB/9 and 10.1 BB%) is unchanged, so his improvement comes from more grounders (46.7%) and fewer homers (0.73 HR/9 and 8.5% HR/FB). Doubront will use low-90s two- and four-seamers as well as a mid-to-upper-80s cutter to set up his mid-70 curveball and low-80s changeup. He doesn't have much of a platoon split because of that repertoire. The Yankees haven't been able to touch Doubront since the start of the last season, and that includes a six-inning, one-run start earlier this year.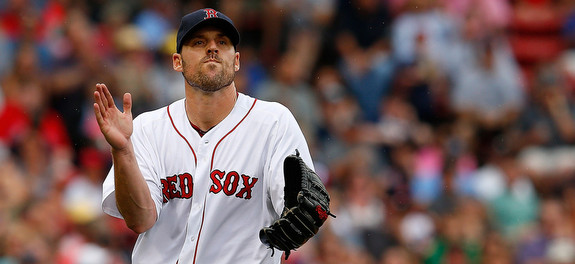 Saturday: RHP Hiroki Kuroda vs. RHP John Lackey
The 34-year-old Lackey has a brand new elbow following Tommy John surgery and the performance results are startling. He's got a 2.78 ERA (3.83 FIP) in 16 starts with dynamite peripherals: 8.34 K/9 (22.5 K%), 2.06 BB/9 (5.6 BB%), 1.26 HR/9 (15.6% HR/FB), and 51.6% grounders. The homers are an eyesore, but you can live with them considering everything else. Lackey is primarily a three-pitch pitcher, using his low-90s four-seamer, mid-to-upper-80s cutter, and upper-70s curveball more than 90% of the time combined. He will, however, mix in the rare low-90s two-seamer, mid-80s slider, and low-80s changeup. Like, one or two of each per start. Lackey has been around a while; the Yankees have seen him plenty over the years.
Sunday: LHP CC Sabathia vs. LHP Jon Lester
Lester, 29, has a 4.58 ERA (4.17 FIP) in 20 starts this year, but it's been a tale of two seasons for him. He had a 2.72 ERA (3.01 FIP) in his first nine starts and a 6.27 ERA (4.98 FIP) in his last eleven starts. I don't get it, he should be so much better. Lester's strikeout (7.38 K/9 and 19.1 K%) and walk (3.22 BB/9 and 8.4 BB%) numbers are good but not great, and he gives up a decent amount of homers (1.07 HR/9 and 11.9% HR/FB) despite getting plenty of grounders (47.8%). He's a true five-pitch pitcher who uses three distinct fastballs — low-90s four-seamer, low-90s sinker, upper-80s cutter — as well as a mid-80s changeup and mid-70s curveball. Word on the street is he gets into trouble when he falls in love with his cutter and starts using it almost exclusively. There are no secrets here, the Yankees have seen Lester plenty of times over the years, both the good and bad versions.
Bullpen Status
Farrell's bullpen is pretty beat up, with LHP Andrew Miller, LHP Franklin Morales, and RHP Joel Hanrahan out long-term. RHP Koji Uehara (2.40 FIP) is the closer right now while RHP Junichi Tazawa (3.11 FIP) and RHP Andrew Bailey (4.77 FIP) do the setup thing. The recently acquired LHP Matt Thornton (4.87 FIP) will be in the late-inning mix as well.
LHP Craig Breslow (3.43 FIP) headlines the rest of the Boston bullpen. RHP Pedro Beato (1.73 FIP in limited time) and LHP Drake Britton (has not pitched) fill out the last two spots. Britton's next appearance will be the first of his big league career. If the Red Sox have a weakness, it's definitely their middle relief.
The All-Star break means both bullpens are fresh, but check out our Bullpen Workload page anyway. Over The Monster is the best of all the Red Sox blogs.