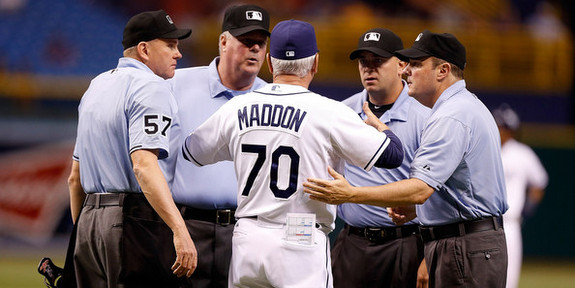 The Yankees aren't on the road anymore, but that doesn't mean the second half schedule gets any easier. The Rays are the hottest team in baseball and they're in the Bronx for a three-game series this weekend. New York and Tampa have split ten games this year with the Yankees outscoring their division rivals 44-38. No, really.
What Have They Done Lately?
Like I said, the Rays are the hottest team in baseball right now. They were rained out yesterday, but they took two of three from the Red Sox in Fenway Park before that and have won 19 of their last 22 (!) games overall. At 60-42 with a +68 run differential, Tampa is a half-game back of Boston in the AL East with the fourth best record in baseball.
Offense
Unlike the last few years, manager Joe Maddon has an above-average lineup at his disposal. The Rays average 4.7 runs per game with a team 111 wRC+, the seventh and second best marks in baseball, respectively. Tampa is perfectly healthy on offense, not a single regular position player on the DL.
As usual, the focal point of Maddon's offense is 3B Evan Longoria (140 wRC+). He's a monster. 2B/OF Ben Zobrist (113 wRC+), DH Luke Scott (135 wRC), OF Wil Myers (134 wRC+ in limited time), 1B James Loney (130 wRC+), 2B/OF Kelly Johnson (121 wRC+), OF Desmond Jennings (118 wRC+), and OF Matt Joyce (112 wRC+) are all above-average contributors as well. That's eight players as good or better than the Yankees second best hitter (Brett Gardner has a 112 wRC+).
The rest of the roster includes SS Yunel Escobar (90 wRC+), UTIL Sean Rodriguez (100 wRC+ in limited time), OF Sam Fuld (55 wRC+ in limited time), and the tandem of C Jose Molina (73 wRC+) and C Jose Lobaton (98 wRC+). They split time behind the plate almost 50/50. Tampa is a top ten homer-hitting team (seventh with 115), but they're just middle of the pack with 56 steals. These aren't your older brother's Rays anymore, they can hit.
Starting Pitching Matchups
Friday: LHP CC Sabathia vs. RHP Jeremy Hellickson
The Yankees caught a bit of a bad break with Tampa's rainout yesterday, because instead of facing the eminently beatable Roberto Hernandez on Sunday, they will instead face the 26-year-old Hellickson tonight. He's got a 4.62 ERA (3.85 FIP) with solid peripherals: 7.34 K/9 (20.0 K%), 2.13 BB/9 (5.8 BB%), 1.17 HR/9 (11.1% HR/FB), and 40.8% grounders. The one they call Hellboy outperformed his peripherals the last two years, but now he's underperforming them for some reason. A 68.2% strand rate (78.9% career) will do that to a guy. Hellickson's top pitch is a fading upper-70s changeup that he throws nearly 30% of the time. Low-90s two and four-seam fastballs set it up. He'll also throw a mid-to-upper-70s curveball. The Yankees have seen Hellickson a few times over the years and he's generally handled them well.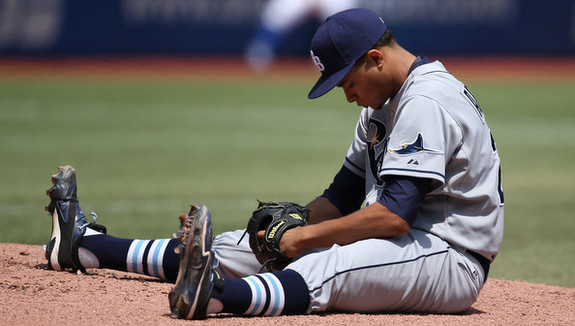 Saturday: RHP Ivan Nova vs. RHP Chris Archer
Another year, another Rays pitching prospect emerges at the big league level. This year it is the 24-year-old Archer, who has a 2.76 ERA (4.29 FIP) in ten starts. He is getting grounders (46.2%) and limiting homers (0.77 HR/9 and 7.9% HR/FB), but his strikeout (6.29 K/9 and 16.9 K%) and walk (3.84 BB/9 and 10.3 BB%) numbers leave something to be desired. Archer has shown four pitches this year, though his mid-90s four-seamer and wipeout mid-80s slider are his calling cards. He'll also throw a low-to-mid-80s two-seamer and a low-to-mid-80s changeup. It's worth noting that Archer has a massive platoon split this year, holding righties to a .223 wOBA while lefties have tagged him for a .321 wOBA. He started against the Yankees late last month and held them to one run in six innings.
Sunday: RHP Phil Hughes vs. LHP Matt Moore
Moore, 24, has a 3.17 ERA (3.56 FIP) in 20 starts this year but he's been dynamite of late, allowing four total runs in his last five starts (35.2 innings). His strikeout (8.66 K/9 and 23.1 K%) and homer (0.62 HR/9 and 6.2% HR/FB) rates are very good, but the walk (4.33 BB/9 and 11.5 BB%) and ground ball (39.0%) numbers leave something to be desired. Moore's fastball velocity has dropped off this year, but he still sits comfortably around 92-93 mph with his twojust and four-seamers. His low-80s slurve — it's more slider than curve at this point — and low-80s changeup are both legit put-away pitches. He's got nasty, nasty stuff. The Yankees have seen Moore a few times since he broke into the league in late-2011, including three times this year. I suppose the good news is that each of those three starts has gotten progressively worse: one run in eight innings in April, one run in six innings in May, and three runs in six innings in July. Hopefully that trend continues.
Bullpen Status
Maddon's bullpen is very well-rested coming into the series. Not only were the rained out yesterday, but David Price threw a complete-game on Wednesday and Moore threw a complete game on Monday. Their relievers have only had to work in just one of the last four days. Lucky them.
RHP Fernando Rodney (3.21 FIP) is the closer and has settled down after a rough start to the season. RHP Joel Peralta (3.55 FIP) is his primary setup man, and the Rays have an excellent pair of power southpaws in LHP Jake McGee (3.49 FIP) and LHP Alex Torres (1.70 FIP). Torres has been close to unhittable. RHP Kyle Farnsworth (4.60 FIP), LHP Cesar Ramos (3.19 FIP), and the steady RHP Jamey Wright (3.09 FIP) round out the relief corps.
The Yankees are in decent bullpen shape. Both David Robertson and Mariano Rivera pitched yesterday, but everyone else should be good to go. Check out our Bullpen Workload page for a look at the team's recent … bullpen workload. DRays Bay and Process Report are my go-to Rays blogs.