Blame the late arrival, right? That's the easy excuse for Monday's boring game and indifferent effort. After all, the Yankees didn't get to their hotel until early in the morning following the late night in Boston. Or, maybe, they just really stink. Yeah, let's go with that. The Rangers shut New York out 3-0 in the series opener.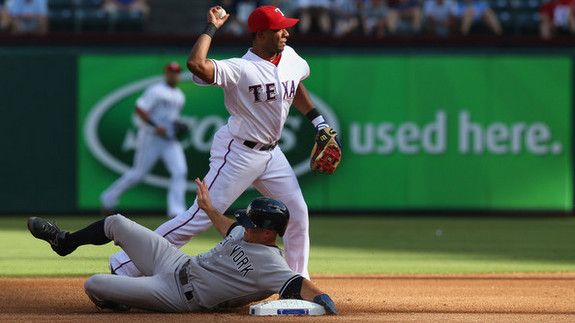 Oh For Offense
To give you an idea of just how hilariously poor the roster is constructed, the Yankees called up two right-handed hitting outfielders on Friday (Thomas Neal and Melky Mesa) but still don't have anyone to use as a pinch-hitter for Travis Hafner against a lefty reliever. He bounced into an inning-ending double play with two on in the seventh, their best chance to score. What a joke.
The Yankees hit one ball hard all night — Brett Gardner lined a ball into the right-center field gap in the sixth that was run down by Nelson Cruz for an out. That was it, everything else was blooped or lined softly or completely routine. Lyle Overbay had two hits (one bloop, one little flare) and Ichiro Suzuki had one (little flare). That's all, just three hits. Vernon Wells and Travis Hafner drew walks and Gardner was hit by a pitch for the team's only other base-runners. Not a single Yankee reached third base.
There really isn't much left to say about the offense at this point. It's putrid. An embarrassment given the team's payroll, really. We've also pretty much reached the point where any move they make to bring in another bat or three will be too little, too late. The season is almost two-thirds complete and the deficit in the various races grows larger by the day. New York has now lost five of their last six and eight of their last 12 games, yet there still seems to be zero sense of urgency with regards to getting help. Help in the form that is a player who wasn't released by another team, I mean.

Leftovers
Ivan Nova pitched fine, allowing three runs in seven innings of work. He probably shouldn't have gone out for the seventh — he allowed a solo homer to Cruz in the inning — but the bullpen was a mess following Sunday's extra-inning loss and Joe Girardi extended his starter a little longer than usual. Nova struck out four and walked three, throwing a first pitch strike to just ten of 31 batters. Not the prettiest outing, but serviceable for sure.
N0t one, but two players forgot how many outs there were. Leonys Martin struck out in the fourth and started taking off his equipment near the batter's box, waiting for someone to bring him his glove so he could go out to center field. Of course, it was only the second out of the inning. In the fifth, Overbay caught an infield popup and casually walked back to first base to continue the inning. It was the third out though; his teammates were all coming off the field. Kinda funny.
Gardner had a 14-pitch at-bat in the ninth, one day after having a 15-pitch at-bat against the Red Sox. The Yankees had two 14+ pitches at-bats total from 2007-2012 — Derek Jeter and Andruw Jones did it, both in 2011 — and Gardner has now done it in back-to-back nights. Pretty cool.
The Yankees were shutout for the eighth time last season, two more times than all of last season. It also equals their shutout totals from 2007, 2008, 2010, and 2011. That is pretty awful.
Box Score, WPA Graph & Standings
MLB.com has the box score and video highlights, FanGraphs some other stats, and ESPN the updated standings. The Yankees are six back of the Red Sox in the AL East and four back of the second wildcard spot in the loss column.

Source: FanGraphs
Up Next
It's game two of this four-game series. Alexi Ogando is scheduled to come off the DL to make the start for Texas on Tuesday, and he'll be opposed by Phil Hughes.