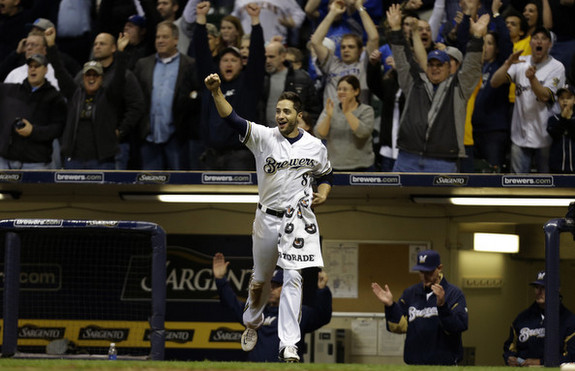 On Monday afternoon, the baseball world was rocked with the news of Ryan Braun's season-ending suspension stemming from his connection to the South Florida performance-enhancing drug hub Biogenesis. The 2011 NL MVP effectively admitted to taking a performance-enhancer(s) without being specific — "I have made some mistakes," he said in a statement — and agreed to a modified suspension term (65 games, officially). So, just like that, he's done for the year.
Naturally, Alex Rodriguez is now firmly in the PED/Biogenesis cross hairs. He and Braun were said to be MLB's top two targets given their past indiscretions — A-Rod admitted to using PEDs in 2009 and Braun successfully appealed a suspension back in 2011. That made them public enemies number one and two. One and 1A, really. Now that one is suspended, the focus shifts to 1A.
Before we can figure out if Braun's suspension impacts A-Rod, we first have to take a second to fully understand the situation. Braun met with MLB's investigators recently, at which point they laid out the evidence they have against him and reportedly proposed a plea agreement. Braun's camp eventually decided to accept the settlement and skip the appeals process. The timing is crucial for the following reasons:
Braun is hurt: He's been dealing with a nerve problem in his right thumb/hand pretty much all year, including spending close to a month on the DL.
The Brewers stink: Following Monday's loss to the Padres, Milwaukee has the third worst record in baseball at 41-57. They are total non-contenders and were prepared to sell long before Braun's suspension.
Braun's salary: The suspension is without pay, and Braun was scheduled to make $8.5M in 2013. That jumps to $10M next year and $12M in 2014.
By accepting the plea agreement and serving the suspension now, Braun gets to rest his thumb and lose the least amount of salary possible. The Brewers aren't contending, so his absence won't hurt their chances either. If he was going to be suspended — obviously he felt that was inevitable based on the evidence presented by MLB during their interview, otherwise he wouldn't have accepted the plea deal — this was the best possible time to serve it.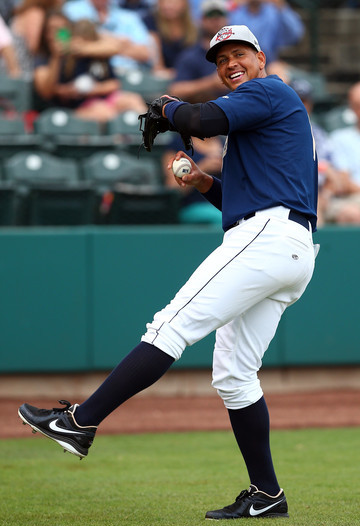 With A-Rod, the circumstances are a little different. Yes, he's hurt right now and the Yankees pretty much stink, so in that sense getting a suspension out of the way now seems like a good idea. On the other hand, Alex's contract is front-loaded, which is not common at all. He'll earn $28M this year, $25M next year, and $21M in 2015. By appealing and potentially pushing the suspension back to next year, A-Rod will be saving himself money because his salary will be lower.
"My understanding is he's trying to make a deal," said a source to Wally Matthews yesterday. A-Rod's legal team has been reportedly mulling over a plea deal in recent days, but the nature of that deal is unknown. T.J. Quinn reported yesterday that MLB's evidence against Alex is "far beyond" what they had for Braun, so chances are a settlement would be much more harsh. We've seen a 150-game suspension suggested at one point, but who really knows. The general consensus seems to be that they want to hit A-Rod with the stiffest penalty possible.
As far as the Yankees are concerned, I'm not sure if there is a "best time" for Alex to serve the suspension. Is it better to have him serve it this year — while he's hurt and the team is a fringe contender at best — just to get it out of the way? Or is it better to wait until next year, when they would save a huge chunk of his salary towards that all-important $189M luxury tax threshold*? There's a case to be made for both scenarios and I've gone back and forth between the two already.
So, to answer the question in the title, I don't think the Braun suspension tells us anything about what A-Rod will have to deal with other than a) MLB means business, and b) it'll be hard to discredit former Biogenesis chief Anthony Bosch. That was probably Alex's legal team's primary plan of attack, to discredit the guy who reportedly tried to extort a six-figure payout from A-Rod before getting into bed with MLB. These are two different (but similar) cases and it's impossible to know if the two sides will work out a plea deal or go the suspension/appeals route. Braun's suspension was just first of what figures to many, but unfortunately it really doesn't clarify anything as far A-Rod's situation and its impact on the Yankees. We're left in wait and see mode, as we have since the start of the Biogenesis investigation.
* No, A-Rod's salary does not count against the luxury tax while he's suspended. I don't know how the calculation works, but I know it doesn't count. He also won't count against the 40-man roster, so there's that.