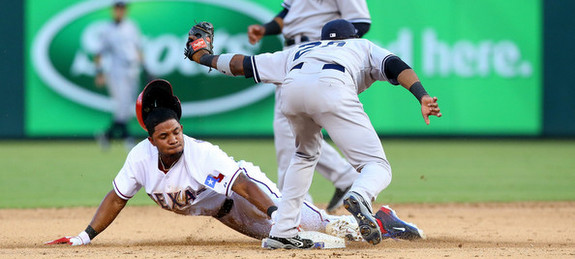 The Yankees have not had an extra-base hit in 22 innings now, not since Eduardo Nunez doubled off John Lackey in the seventh inning of Saturday's game. They haven't hit a single homerun since the All-Star break and their last 20 hits overall have been singles. That's awful, and to make matters worse, it's the second time they've had a stretch of 20+ hits without an extra-base hit this month (!). It's very hard to win when you can only move batters one base at a time. I'll settle for some shots down the line or into the gap, but let's hope the Yankees manage to actually hit the ball over the fence tonight. Here's the lineup that will face right-hander Alexi Ogando:
CF Brett Gardner
RF Ichiro Suzuki
2B Robinson Cano
1B Lyle Overbay
DH Vernon Wells
SS Eduardo Nunez
3B Brent Lillibridge
LF Melky Mesa
C Austin Romine
And on the mound for the Yankees is right-hander Phil Hughes, who is making his first start of the traditional second half.
It's another hot but clear night in Dallas, and there's no threat of rain. First pitch is scheduled for 8:05pm ET and can be seen on My9 locally and MLB Network nationally. Try to enjoy.
Rotation Update: The newly-acquired Matt Garza will make his first start for the Rangers tomorrow night. Derek Holland will be pushed back to Thursday's series finale. Thursday's started had been listed as TBA until the Garza deal.