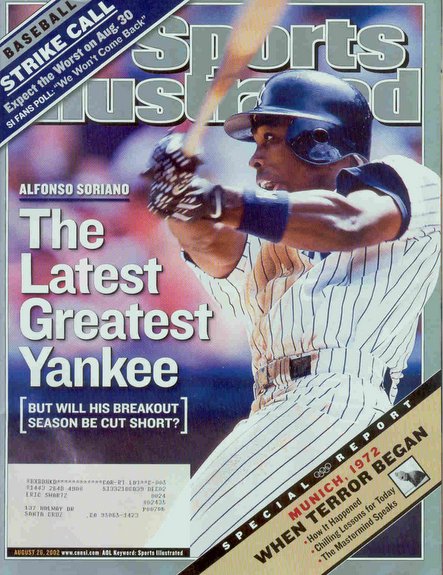 Nine years and five months ago, the Yankees traded Alfonso Soriano (and Joaquin Arias) to the Rangers for Alex Rodriguez. Today, Soriano makes his return to New York after being acquired from the Cubs for a minor league right-hander Corey Black.
The Yankees were — and still are, really — desperate for power, particularly from the right side, which is why Soriano made sense. He's a flawed player, no doubt about it, but the Bombers needed another guy who can put runs on the board with one swing of the bat. Having only one player who can do that is no way to go through life in a small ballpark in the AL East. Here's the lineup that will face right-hander Jeremy Hellickson:
CF Brett Gardner
RF Ichiro Suzuki
2B Robinson Cano
LF Alfonso Soriano
1B Lyle Overbay
SS Eduardo Nunez
DH Travis Hafner
3B Brent Lillibridge
C Austin Romine
Soriano's return is the big story, but the Yankees really need a strong outing from tonight's starter, left-hander CC Sabathia. The team's nominal ace has a 5.19 ERA and 4.37 FIP in his last eleven starts, which includes 14 (!) homers allowed in 76.1 innings. He needs to be better and he knows it. Tonight would be a good night to start being better.
It's a little cloudy outside but the weather is fine in New York. High-70s/low-80s with some humidity and no threat of rain. Pretty good baseball weather. First pitch is scheduled for 7:05pm ET and can be seen on My9. Enjoy.
Roster Updates: Obviously, the Soriano trade is official. He will wear #12 with Vernon Wells switching to #22 … Thomas Neal was sent back to Triple-A Scranton to clear a 25-man roster spot for Soriano. The team already had an open 40-man roster spot.
Injury Updates: Alex Rodriguez (quad) did non-baseball activity today and will progress to fielding drills and soft-toss hitting tomorrow … Derek Jeter (quad) continued to hit and run the bases today. He's scheduled for a check-up and another workout tomorrow. If all goes well, he could come off the DL on Saturday, the first day he's eligible … Frankie Cervelli (hand) has some soreness and will be re-evaluated.