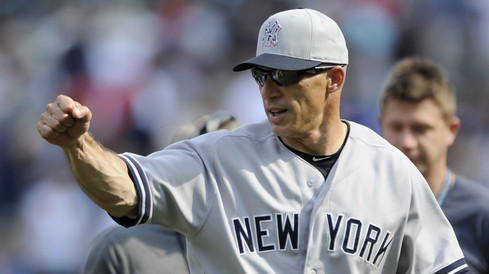 Last weekend, the Orioles swept the Yankees in a three-game series that wasn't all that competitive. They out-hit, out-pitched, out-defended, out-everythinged New York. It was a lopsided sweep that put the Yankees on the brink of last place in the AL East.
Since then, the Bombers won four straight against the lowly Twins to remain in the division race. Next week brings seven straight games against the Royals and Twins, so these three games against the Orioles in Yankee Stadium represent the start of a ten-game, first half-ending homestand that will more or less define how the team approaches the trade deadline. Ten straight home games, including seven against sub-.500 teams. Time to make some noise. Here's the lineup that will face right-hander Miguel Gonzalez:
CF Brett Gardner
RF Ichiro Suzuki
2B Robinson Cano
DH Travis Hafner
LF Vernon Wells
1B Lyle Overbay
SS Luis Cruz
C Chris Stewart
3B David Adams
And on the mound is right-hander Ivan Nova, who is spot starting for the injured Hiroki Kuroda. Kuroda is dealing with a sore left hip flexor and is expected to return to the rotation soon.
We've got baseball weather in New York, as long as you consider baseball to be 90° temperatures with a staggering amount of humidity. I had no interest in going outside today. It is gross. First pitch is scheduled for 7:05pm ET and can be seen on YES locally and MLB Network nationally. Enjoy.
Injury Updates: Kuroda was re-evaluated and cleared to throw a bullpen session today. No word on when he'll rejoin the rotation, but it seems like it happen as soon as Monday. Nothing official yet though.