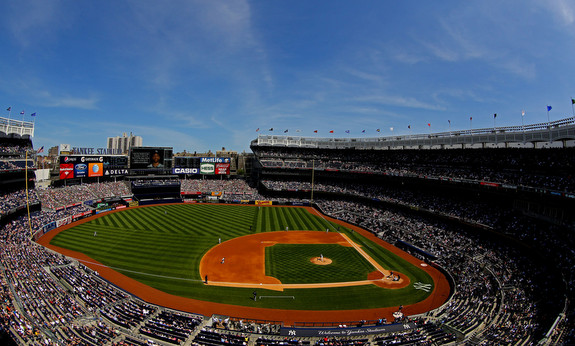 The Yankees have won five straight, and during that time they've picked up exactly zero games on the Red Sox in the AL East race. They have moved into a tie with the Orioles for the second wildcard spot though, and this afternoon they have a chance to leap over them to claim that spot outright. It's not much in early-July, but hey, sitting in a playoff spot feels better than being on the outside looking in. Here's the lineup Joe Girardi is running out there against right-hander Chris Tillman:
CF Brett Gardner
RF Ichiro Suzuki
1B Robinson Cano
DH Travis Hafner
LF Zoilo Almonte
1B Lyle Overbay
3B Luis Cruz
SS Eduardo Nunez
C Chris Stewart
And on the mound is 1996 AL Cy Young Award runner-up, left-hander Andy Pettitte. I remember being outraged Pettitte (21-8) finished behind Pat Hentgen (20-10) at the time, but nowadays I'm surprised to see the vote was so close. Hentgen was way better than year.
It is crazy hot and humid in New York right now, and the temperatures are supposed to reach the mid-90s before it is all said and done this afternoon. I love live baseball as much as the next guy, but this is one game I'll happily watch in my air-conditioned home. First pitch is scheduled for 1:05pm ET and can be seen on both YES locally and MLB Network nationally. Enjoy.
Rotation Update: Hiroki Kuroda (hip) came through yesterday's bullpen session just fine, so he will start tomorrow's game instead of Phil Hughes. Hughes now goes Monday with CC Sabathia to follow on Tuesday and Ivan Nova on Wednesday. David Phelps (forearm) was placed on the DL earlier today. Pitching, eh? Just when you think you have too much of it…