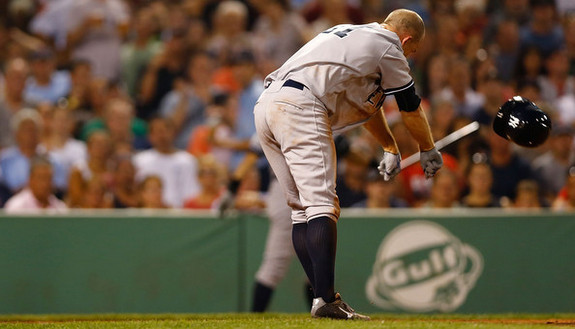 This seven-game series is the most important stretch of the season (to date), and things got off to a rocky start with last night's series opening loss to the Red Sox. The Yankees are seven back of first place in the AL East for the first time since 2008 — not coincidentally, they also have their worst record after 96 games since that playoffs-less season as well — so at this point they have to focus on getting into a wildcard spot. They can get greedy and shoot for the AL East after that. Here's the starting lineup that will face right-hander John Lackey:
CF Brett Gardner
RF Ichiro Suzuki
2B Robinson Cano
1B Lyle Overbay
LF Vernon Wells
DH Travis Hafner
SS Eduardo Nunez
C Chris Stewart
3B Luis Cruz
And on the mound is right-hander Hiroki Kuroda, who invoked his no-trade clause to block a deal to the Red Sox at the 2011 trade deadline. He was a True Yankee™ even before he wore the pinstripes.
It's hot and humid in Boston, and there is a chance of showers later this evening. That might be a factor if they go to extra innings or if this one lasts as long a typical Yankees-Red Sox game from like, 1997-2011. First pitch is scheduled for a little after 4pm ET and can be seen on FOX. Enjoy.
Injury Updates: Derek Jeter (quad) has started riding a bike and is receiving treatment … David Phelps (forearm) threw a lengthy bullpen session earlier this week and will make a rehab start on Tuesday. Brian Cashman confirmed he won't automatically re-enter the rotation when healthy … Jayson Nix (hamstring) will begin a rehab assignment soon … Frankie Cervelli (hand, elbow) has started throwing again.
Rotation Updates: Ivan Nova will start on Monday against the Rangers while Phil Hughes will follow on Tuesday … the Red Sox pushed Jon Lester back due to "wear and tear," so Ryan Dempster will start tomorrow's series finale instead.
Update (3:46pm): The start of the game will be delayed due to the threat of rain. No word on a start time just yet.
Update (3:55pm): First pitch is scheduled for 4:25pm ET.