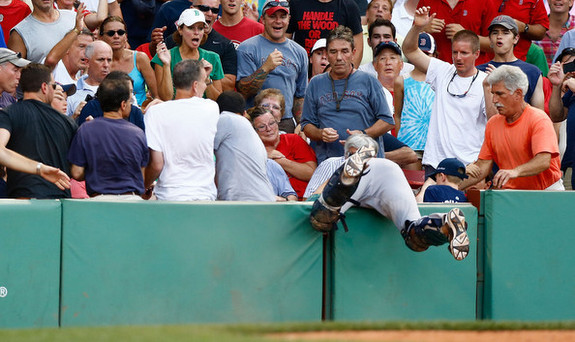 The Yankees did exactly what they were supposed yesterday: they took advantage of a(nother) Hiroki Kuroda gem, which was important because they dropped the first game of this three-game series. Tonight's rubber game is rather important for both clubs — New York can't afford to lose any more ground in any race and the Red Sox don't want to fall into a tie with the Rays atop the division. Obviously, the Yankees' situation is a little more dire.
Here's the lineup Joe Girardi is running out there against right-hander Ryan Dempster, who is starting in place of the worn-down Jon Lester:
CF Brett Gardner
RF Ichiro Suzuki
2B Robinson Cano
1B Lyle Overbay
LF Vernon Wells
DH Travis Hafner
SS Eduardo Nunez
C Chris Stewart
3B Luis Cruz
And on the mound is left-hander and birthday boy CC Sabathia. He turns 33 today. Happy birthday, big man. Go toss a gem.
It's cloudy in Boston and it rained this afternoon, but there are no showers in the forecast tonight. It's pretty cool as well, low-70s with just a little humidity. First pitch is scheduled for a little after 8pm ET and can be seen on ESPN. Enjoy.
Injury Updates: Derek Jeter (quad) has not resumed any baseball activity, but he did stand in the box and track pitches while Andy Pettitte and Phil Hughes threw their between-starts bullpens … Curtis Granderson (hand) has started taking batting practice … Frankie Cervelli (hand, elbow) is taking dry swings.