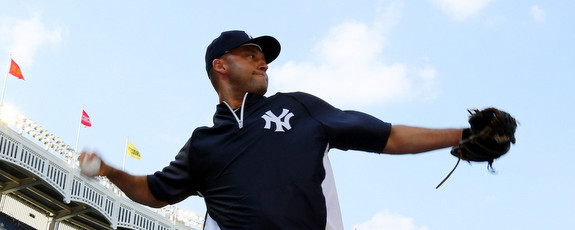 Some injury updates, courtesy of Zach Braziller and George King:
Derek Jeter (ankle) is close to beginning a minor league rehab assignment. He continues to take simulated at-bats in Tampa, and he is running the bases after each one. The Yankees haven't set a date for the rehab assignment yet, but Brian Cashman said "he's doing real well. He's really progressing well."
Curtis Granderson (hand) swung a pipe 20 times underwater. He has to progress to a short bat and a weighted short bat underwater before taking real live batting practice. So yeah, Granderson isn't close to a return.
Hiroki Kuroda (hip) will be re-evaluated by a doctor today. An MRI revealed no tear and the plan is to get him back into the rotation shortly. Ivan Nova is starting in Kuroda's place tonight.
Michael Pineda (shoulder) will make his final rehab start with Triple-A Scranton tomorrow. His 30-day rehab window expires on Monday and it seems likely the Yankees will option him to Triple-A for some more tune-up starts at that time.
In case you missed it yesterday, Frankie Cervelli suffered a stress reaction in his elbow and has been shut down for at least two weeks. He isn't expected to return until sometime in August now.